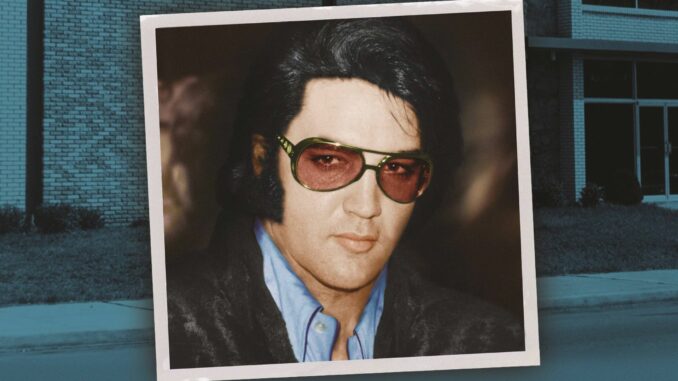 Das ist Elvis pur! Näher kann man dem King of Rock 'n' Roll 44 Jahre nach seinem Tod nicht kommen. Die 4-CD-Box "Elvis Back In Nashville" präsentiert 82 Studio-Originalaufnahmen – unbearbeitet und rein. Kleiner Tipp: Wer sie über Kopfhörer anhört, hat das Gefühl, mitten im Studio zu stehen. Der Klang ist überragend.
Von Dylan Cem Akalin
Das Besondere: Es sind die letzten Aufnahmen, die Elvis in Nashville machte. Aus den Sessions, die von Mai bis Juni 1971 entstanden, gingen die Alben "Elvis Sings the Wonderful World of Christmas" (1971), das Grammy-gekrönte Gospel-Album "He Touched Me" (1972) sowie  "Elvis Now" (1972) und "Elvis" von 1973 – allerdings alle nachträglich mit Orchester und Gesangs-Overdubs versehen.
1971 hatte sich zwischen Elvis und dem Label RCA eine Arbeitsweise etabliert, mit der man seit 1969 ziemlich gut gefahren war. Man ging zwei Wochen ins Studio und nahm so viele Songs wie möglich auf. Dann hatte man genug Material für die nächste Zeit, um ein Album nach dem anderen herauszugeben – eine Arbeitsweise, die man sicherlich nur mit Vollprofis vom Schlage Elvis' machen konnte. Die vorliegenden Aufnahmen sind 1971 entstanden, als RCA ein neues Weihnachtsalbum, ein Gospel Album, ein Pop Album und mehrere neue Singles für den Sommer und Herbst plante.
Auf der CD 1 von "Elvis Back In Nashville" sind 18 Titel mit Country/Folk- Aufnahmen, darunter auch ein unveröffentlichtes Elvis-Projekt mit Songs von Ewan McColl, Gordon Lightfoot, Kris Kristofferson, Buffy Sainte-Marie und Bob Dylan. Wer bei Elvis' Version von Dylans "Don't Think Twice, It's All Right" keine gute Laune bekommt, dem kann nicht geholfen werden. Die sparsam instrumentierte Begleitung zu "It's Still Here" macht den Trennungssong zu einer ehrlich-empfundenen Schmerzerfahrung. Und auch bei einem Song wie "I'll Take You Home Kathleen" zeigt der King bei einfacher Klavierbegleitung was für ein großartiger Sänger er war. Und seine Version von "My Way" mit einem kleinen Versprecher, über den er lacht. Einfach himmlisch!
"Elvis Back In Nashville"
Neben diesen sogenannten Piano Recordings umfasst die CD die Pop-Sessions: klassische Pop-Kompositionen wie "Padre", "Fools Rush In Where Angels Fear To Tread" und dem wunderschönen "I'm Leavin'". Das Lied wurde von Sonny Charles und Michael Jarrett geschrieben und wurde ursprünglich 1971 als Single veröffentlicht – mit "Heart of Rome" (aus dem Album "Love Letters") auf der B-Seite. Hier hören wir den Song in seiner unverfälschten, puren, einfachen Schönheit.
Die anderen drei CDs passen gut in die Vorweihnachtszeit. Die zweite Disc von "Elvis Back In Nashville" enthält 25 Tracks, die zwischen den spirituell inspirierten Liedern (Gospel) und den Christmas-Songs aufgeteilt sind. Da sind zum Beispiel die Originalaufnahmen vom Album "He Touched Me", dem 17. Studioalbum des amerikanischen Sängers, das am 1. April 1972 veröffentlicht wurde. Es besteht aus zeitgenössische Gospelsongs wie "He Touched Me", "I've Got Confidence" und das sentimentale "Seeing Is Believing". Der zweite Teil der CD besteht aus klassischen Weihnachtsliedern: "The Christmas Sides".
"We Can Make the Morning"
Auf CD 3 sind 19 Songs aus dem Country-Pop-Repertoire und ein paar Rock 'n' Roll-Tracks zu hören, darunter eine epische Interpretation von Bob Dylans "Don't Think Twice, (It's Alright)", neue Interpretationen von "Help Me Make It Through The Night", "Early Morning Rain" und einiges mehr. Highlights sind "Love Me, Love the Life I Lead" und "We Can Make the Morning", Gänsehautmusik, die wieder einmal zeigt, dass Elvis sicherlich mehr Musiker und Künstler inspiriert und beeinflusst hat, als man denkt. Überhaupt fällt beim Durchhören der Stücke auf, was für ein vielseitiger Künstler Elvis Presley gewesen ist. Ein Genuss: die improvisierten Darbietungen von "Johnny B. Goode" und "Lady Madonna".
Disc 4 von "Elvis Back In Nashville" enthält 20 weitere Titel, die Outtakes der Gospel- und Christmas-Sessions vereinen.
Was großartig ist, ist auch die Verpackung: Die CD stecken in einem Klappcover, das die Hüllen der Originaltonbänder zeigt. Dazu gibt es ein attraktives Booklet mit 28 Seiten. Für Elvis-Fans ist das sicherlich ein Must have, für alle anderen Musikfreunde ein hübsches Weihnachtsgeschenk.
Trackliste:
Elvis Back In Nashville – CD 1
01. The First Time Ever I Saw Your Face (Takes 11-12)
02. Amazing Grace
03. Early Mornin' Rain
04. (That's What You Get) For Lovin' Me
05. Help Me Make It Through The Night
06. Until It's Time For You To Go
07. Don't Think Twice, It's All Right (Unedited Version)
08. It's Still Here
09. I'll Take You Home Again Kathleen
10. I Will Be True
11. Padre
12. Fools Rush In (Where Angels Fear To Tread)
13. My Way (Takes 2-3 Master)
14. I'm Leavin'
15. It's Only Love
16. We Can Make The Morning
17. Love Me, Love The Life I Lead
18. Until It's Time For You To Go (Remake)
Elvis Back In Nashville – CD 2
01. He Touched Me
02. I've Got Confidence
03. Seeing Is Believing
04. He Is My Everything
05. Bosom Of Abraham
06. An Evening Prayer
07. Lead Me, Guide Me
08. There Is No God But God
09. A Thing Called Love
10. I, John
11. Reach Out To Jesus
12. Put Your Hand In The Hand
13. Miracle Of The Rosary
14. O Come, All Ye Faithful
15. The First Noel
16. On A Snowy Christmas Night
17. Winter Wonderland
18. The Wonderful World Of Christmas
19. It Won't Seem Like Christmas (Without You)
20. I'll Be Home On Christmas Day
21. If I Get Home On Christmas Day
22. Holly Leaves And Christmas Trees
23. Merry Christmas Baby (Unedited Version)
24. Silver Bells
25. I'll Be Home On Christmas Day (Remake)
Elvis Back In Nashville – CD 3
01. It's Only Love (Takes 8 & 9)
02. Love Me, Love The Life I Lead (Takes 5 & 6)
03. We Can Make The Morning (Master With Backing Vocals)
04. I'm Leavin' (Take 1)
05. Johnny B. Goode (Impromptu Performance)
06. Padre (Takes 1 & 11)
07. Lady Madonna (Impromptu Performance)
08. Fools Rush In (Where Angels Fear To Tread) (Take 6)
09. Are You Lonesome Tonight? (Fragment-Impromptu Performance)
10. I Will Be True (Takes 1-2)
11. It's Still Here (Takes 1 & 3)
12. Help Me Make It Through The Night (Takes 1-3)
13. (That's What You Get) For Lovin' Me (Take 1)
14. Until It's Time For You To Go (Take 5)
15. Early Mornin' Rain (Takes 1 & 11)
16. I Shall Be Released (Impromptu Performance)
17. Don't Think Twice, It's All Right (Remake)
18. Put Your Hand In The Hand (Rehearsal And Take 1)
19. Amazing Grace (Takes 1-2)
Elvis Back In Nashville – CD 4
01. Miracle Of The Rosary (Take 1)
02. The Lord's Prayer (Impromptu Performance)
03. He Touched Me (Takes 1-2)
04. I've Got Confidence (Take 1)
05. An Evening Prayer (Takes 1-2)
06. Seeing Is Believing (Takes 1, 2, & 4)
07. A Thing Called Love (Take 3)
08. Reach Out To Jesus (Takes 1, 2, & 9)
09. He Is My Everything (Take 1)
10. There Is No God But God (Takes 1-2)
11. Bosom Of Abraham (Takes 2-3)
12. I'll Be Home On Christmas Day (Take 3)
13. It Won't Seem Like Christmas (Without You) (Takes 1 & 6)
14. If I Get Home On Christmas Day (Take 3)
15. Holly Leaves And Christmas Trees (Take 4)
16. Silver Bells (Take 1)
17. I'll Be Home On Christmas Day (Take 4)
18. Winter Wonderland (Take 7)
19. O Come, All Ye Faithful (Take 2)
20. I'll Be Home On Christmas Day (Remake) (Takes 1, 4, 5, & 10)