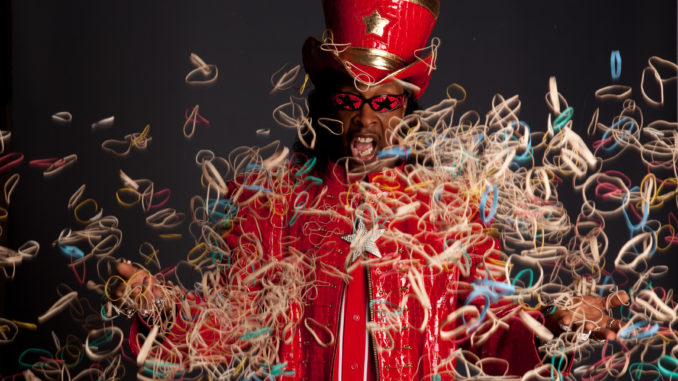 Six years after "Tha Funk Capital Of The World", Bootsy Collins released his twelfth studio album "World Wide Funk" on Mascot Records on 27.10.2017. Together with old and new musical companions, he recorded "World Wide Funk" in his "Bootzilla Re-Hab" studio in Cincinnati. It contains both the classic P-radio as well as its latest sound creations. He is supported by high-profile rappers such as Doug E. Fresh, Big Daddy Kane, DJ Quik, Dru Down and Chuck D., guitarist Buckethead and many new musical faces.
George Clinton once said: "Free your mind and your ass will follow"! That seems to be the guiding theme of "World Wide Funk" as well, right?!
Bootsy Collins: Yeah! I would say so, pretty much! Just getting it all out there for, you know, the old funkateers and the new funkateers that we don't even know about yet, you know?! So we wanna spread that whole message to all of them
"World Wide Funk" means your first album-release after a period of six years. Tell me about your feelings releasing these 15 new masterpieces now: Is it like breathing fresh air or business as usual?
Bootsy: Well, no, it was more like breathin fresh air, because got the chance to do some of my old kinda stuff and then I got the chance to work with the younger people,  younger generation that really don't get that kinda exposure that we get from being out on the road. Now they have to do more of the social media-thang! And a lot of these young, gifted musicians and artists, they don't get a chance or platform to be seen, or to be heard! So, I wanted to use this record not only for me recording songs, but a platform for them to expose their talent! Because to me, you know, it's more about them, right now, than me trying to be me! I have already established the Bootzilla-monster, so that guy's, he's pretty much there! Now we have to try make ways for the people that don't have voices!
In between a lot of things happened! The whole music scene changed, we lost many musicians, such as Prince and your longtime-partner and friend Bernie Worrell! But the good thing is: "Funk is forever coming, funk is never going anywhere!" Right?
Bootsy: No! No, no, no, I mean: Funk don't die, just multiplies, you know! Ha!
You recorded most of the new songs in your "Bootzilla Re-Hab"-Studio in Cincinnati!
Bootsy: Yeah! Yeah! We did 70, about 70 % of it, here at the Re-Hab! And then we would go out an do stuff with other people, you know. So it allows me to still stay connected! Just like back in the day, you know, we were out there so much! You were always connected, you know, so it allows me to still feel like I'm connected with people and that's a good thing!
"World Wide Funk" is a kinda wake up-call  to all the the fans getting up, discovering the funk again and sharing it with others!
Bootsy: Yeah, yeah! And I would say hats off to Bruno Mars for waking up a new generation to the funk, you know! All of the stuff that, you know, he's done today, you know, it like it kinda all leads back that era, that funk-era, the P-funk-era! I mean the whole thang, you know, and it's so important that the dots are connected and the kids get the chance to do that themselves! They'll start, you know, puttin stuff together and singing like: Aaauh, wow, with aah, aah! And I think it's all good, because he point them in the right direction and now they're coming, now it's up to us to keep the funk alive!
So it seems that 2017 and 2018 as well might be the years of the funkateers!
Bootsy: It is definetely the year of the funkateer! Yeah, is finely here! Just feel good about it, I feel the good energy the youngsters just brought to the project. I feel good about the energy the oldskool-HipHop, the real HipHop-artist brought, you know! When they introduced HipHop, you know, Daddy Kane and Doug E. Fresh! I mean, so to get these guys on the album was like, it was like major to me!
On "World Wide Funk" you take the listener on a great journey thru time'n'space! Looking back onto something old and a lot of new stuff, just combining then & now!
Bootsy: Well that's definetely what I attempting to do! The intention was there! You know, all I could do is do it and put it there and see if the fans get it, or if they even wanna get it! You know! But I felt good about it! And everybody that was involved that just felt good and then I let kids hear some stuff, you know! And it was overall just a good, happy feeling about it! And so, yeah, I'm ready to roll with it!
There are so many friends, new ones, old ones, but in the end you're still are one big family, so "World Wide Funk" is a family affair in true sense! Or like James Brown once said: Everybody, I Know You Got Soul!
Bootsy: Yeees, there you go! That's exactly what it is, man! And sometimes people need to hear that coming from somebody's that's been around, you know! And once they hear it and not in a preachy type way, just when they hear it, it's like those who have ears, let them hear!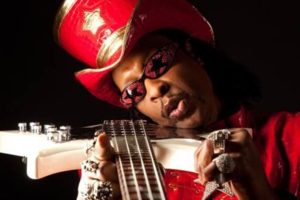 "World Wide Funk" (feat. Doug E. Fresh, Buckethead & Alissia Benveniste). It's a great way to start the album with that message right in the beginning, mentioning that "Bootsy Collins was born a long, long time ago …"!
Bootsy: That's Iggy Pop, you know, haha! I asked him to do something for me, because he was doing a record and he re-did "Purple Haze"! And he wanted me to do bass on it! And so I did that and then I realize I was working on my album! So I asked him to do something on my record! And he said: Yeah! Give me a couple of days and I'll send you some! So, the couple of days went by and he hit me! And he hit me with that opening! And I was like: Wwwooowww! You know, I was like: This got to open the record!
"Bass-Rigged-System" (feat. Victor Wooten, Stanley Clarke, Manou Gallo, Alissia Benveniste & World-Wide-Funkdrive) turns out to be a great bass-party-animal!
Bootsy: That to me is like, I got a chance to get my friends and a couple of new friends: Manou Gallo from west-africa. She's a bassist, that I'm actually doin a lot of work with now on her album! Her and Alissia, Stanley Clarke, Victor Wooten! I mean, you know, you can't have no better company! So, man, it was my pleasure to have that kinda surrounding and to actually them feeling good about doin this record with me. It was awesome!
"Pusherman" (feat. Dru Down, BlvckSeeds, Mr. Talkbox) is talking about women in a business-world?
Bootsy: Yeah, yeah! It's like women comin! I was thinking of how to do this: We've been doin it so much as men, like, you know: Men are doin this and men are doin that! I was getting the feeling like, women coming around now and they're getting, not actually just wearing the pants, but they're getting into the business more! And they got their own pusherman-kinda-thang  going on! And thru these young rappers, BlvckSeeds, I figured that I wanted to get them noticed and out there! And they stepped up, you know! It's all about the woman-thang! Cool!  Let's do it!
"Thera-P" (feat. Tyshawn Colquitt & Alissia Benveniste), that is the perfect motivation for everybody, just getting up again!
Bootsy: Yeah, yeah! It was one of those kinda things: Build your self-esteem and to get you up and get you thinking about, I mean it's bad, but it ain't that bad! C'mon! You know, and then it gets you into the dancing kinda thang, into a happier space!
"Hot Saucer" (feat. Musiq Soulchild & Big Daddy Kane) we can call a real radio-funk-monster!
Bootsy: Yeah, "Boot-Rapp-A-Fella" came at me and I almost didn't do that, when, you know, he was like: That's too radio, man! I was like: C'mon man! I need at least one good radio-song, you know! At least one!! And he kinda let me slide with that one! And then Musiq Soulchild ,he came and put the grease on it, man, with the vocals, you know! Yeah, we was blessed with that one!
"Heaven Yes" turns is a great ballad talking about special times!
Bootsy: I had been thinking about that one for a while, quite a while! And it never made way into one of the records, you know! And it was like: I got to do this song, on this record, this time, you know! It was one of those kind that sticks to you and, you know, you always gonna come back to it! So, I said: This got to go on the record! And, you know, it just reminds me of those special times, you know! And I want to share those with the people!
With "Ladies Nite" (feat. MC Eiht & Blvck Seeds) you're back on the dancefloor again!
Bootsy: Yeah, yeah! Actually DJ Quick was one that really, really thooked that one up! And I just came in and peed, you know, kinda peed on it a little bit! But, yeah, he helped me out a lot on that one!
"Candy Coated Lover" (feat. X-Zact, Kali Uchis & World-Wide-Funkdrive) is a very sunshiny-groovy-jam, like they used to do in the 70s & 80s!
Bootsy: Yeah, hahahaha! You remember that?! Oh, man! Ha ha! Actually Tufu, who's out of New York, he does a lot of Lady Gaga-stuff, a lot of different remixes for Rihanna, you know, the kinda newskool, that kinda-thang! And I want to get him involved on this record. He did an excellent job!
"Snow Bunny" (feat. Tyshawn Colquitt, Snowbunny & World-Wide-Funkdrive) is another special one!
Bootsy: Yeah, hahaha! That was funny! I had this young singer, you know, and she had this voice! Yeah, you listen to that soft, sexy voice that she got. We were in the studio, cause I'm so used to naming people and I say: Yeah, you know, you look like "Snow Bunny"! And everybody started laughing, you know, and I was like: Wow! And then she started liking it! So I was like: Okay! Let's go on the tracks "Snow Bunny", you know, and next time, you know, it winded up in the lyrics!
"Hi-On-Heels" (feat. October London) is a nice slow-jam dealin with a "public figur"!
Bootsy: Yeah! Well actually Snoop, we were doin' a whole album of those kinda songs! That's what Snoop wanted to do, a whole album of those kinda songs and I told him, that would be the next project, but, you know, we'll put this on here, we'll put this on the album, to let people know that  that's what we're working on!
"A Salute To Bernie" (feat. Dr. G. Bernie Worrell), on the one hand, is bringing back great memories, on the other hand it's a touching, deep and uplifting hommage to the keyboard pioneer Dr. G.Worrell! That song makes my skin crawl!
Bootsy: I did too, ever since we recorded it! I just never knew, or never felt what to do with it! Even when we recorded it, because it was a deep day when we recorded that! It was about, maybe five or six years ago! I got so many recordings we did, I had to go thru stuff to find out what should I do? And that one just really spoke to me, because I remembered the day we recorded it! He was in a place, you know, in a certain place and, you know, it was like I could feel him, in this song! And that's the way he always communicated: Thru his keyboards! And so, when I played it that day and I was like: Yeah! This is the one that got to go on the album. And he played it all the keyboard!
In "Boomerang" (feat. Justin Johnson) you are telling that  "Victoria got a secret and I can't tell …"!
Bootsy: Hahahaha! You like that?! Aaah, man! Yeah, I hooked up with a guy to Nashville, a young guy, his name is Justin Johnson, and we was tryin to figure it out, what we will gonna do together, cause we had to do something! And we're gonna be working on his new record now, but before than is like: Okay, we need to do something on my record, is coming out now, so he had about five different ideas! And I pick this one to work on and write a song to! And that was the one that came out. He's ultra-happy and so am I! And I think the fans will be all funked-up about it too!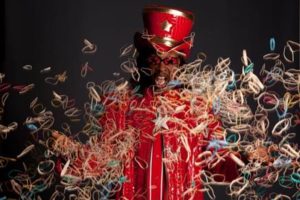 "Worth My While" (feat. Kali Uchis) seems to be the school for fools in love! A true love-song by Bootsy …
Bootsy: Yeah, hahaha! Yeah, but, you know, it's so true, I mean, the school of fools, you know, the love thing just makes you crazy, I mean, you know, this song really I think came from Kalis heart, cause she came up with the title, the "Worth My While"! She had got to a point, I guess in her life: Is this guy really "Worth My While"? I see him foolin around, I see him doin this and the other. And a lot of chicks askin that, so, you know: Is it really "Worth My While"? And she was at that point! So, when we're doing that song I was like: Wow! We definetely got to do this, because she was feeling it so much! You know, when I'm recording I really check that out to see, if a person really feelin it or just readin it. And she was feelin it.
"Come Back Bootsy" (feat. Eric Gales, Dennis Chambers & World-Wide-Funkdrive), a hommage to yourself?
Bootsy: Yeah, yeah, huuuuhuuu! We usualy play that at the end of the show when I go out in the audience! And so it started working so good, you know, on these tours we've been doin. And the audience starts sayin, you know, when the knew the show is over and I was gettin ready to leave, they started sayin (whispering): Come back Bootsy, come back. Come back Bootsy, come back! So I was like: Oooh, man! We gotta do something with that in the studio, you know! That's actually what that came from: The audience was singing that! And so I had to put that on record!
The final track "Illusions" (feat. Chuck D, Buckethead & BlvckSeeds) is a real rocking one ending with a "big laughter"!
Bootsy: Yeah, yeah! Buckethead, Blvckseeds and Chuck D.! I really want to end it up in a big way!
Is there a special favourite on "World Wide Funk" you like most?
Bootsy: I don't know if I got anything special. I think the one that's gonna probably hit the funkateers most, I know I really like "Bass-Rigged-System" and I really like "Pusherman", because I know the twist that we gonna do on the "Pusherman"- and the "Pusherwoman"-thing! So, I feel good about that! Oh, man, it's hard to pick a …, you know, it's hard to pick my baby, cause I love my baby! Hahaha!
You are the one who pioneered Funk as being focused more on the bass-side. How would you define your position in that music scene today?
Bootsy: I'm just really glad to still be around to see how things having evolved. And the people, you know, for some reason, feel like I'm still relevant, you know! I mean that to me is mind-blowin to me and feel like they kinda approach me and for me that's just being a normal, natural human! I mean, you know, they can communicate. I mean it's so hard I guess for people to communicate nowadays, but is so easy for me! I've been doing that for years, to be able to communicate with young, old, black, white, green, no matter what the religion is! That's the honour! I'm just so honoured to be able to do that without trying. I mean it's all bigger than what we think it is, you know! Music brings all of that together, you know, and I really can't take credit for why I'm still relevant, or why I'm still in the picture, I can't really take credit for it, because I don't even know! I'm just as amazes anybody to comes up to me!
Another important matter is the "Bootsy Collins foundation:" Tell our listeners a bit more about this organisation and it's goals!
Bootsy: Oh man! That's my wife's category! She handles it the Bootsy Collins Foundation. But I tell you what the slogan is: Say it loud, an instrument for every child! And where that came from was when I used to go to school, you know, in the music-program. We had a music-program, first of all, and then we got a chance to take the instruments home to practice! You know, you would think that that would never end, you know, but nowadays they're throwing the music-programs out and the kids have no instruments! And so we're getting the kids instruments and uplifting the purpose of having the school-programs, because in reality that motivated me to go to school was the music-class! And I can imagine how they can affect the kid that really wanna do something in music-class and you can't do it, you know! Or you got music-class and you don't have an instrument and your parents can't get you one! So that's what we're dealing with the Bootsy Collins Foundation
Is there a chance to see you live on stage over here in Germany for the time being?
Bootsy: 2018, we're looking forward to puttin it all back together. The doctor advised me. You know I had got this tumor on my right ear and they took it off. And it was cool, you know, I didn't have what nothing else wrong, it was just, you know, get my balance back and they don't want me to fly! Yeah,man, oh I can't wait man! And I will get the chance to play some of my new stuff and it have been already out, so people would know some of the new music! It would be great man!
So touring will be you personal plans for the nearest future, right?!
Bootsy: That's definetely the plan, because I will have been finished with the recording-thing and get back on track so I can just go ahead and just kick it, man, just kick it!