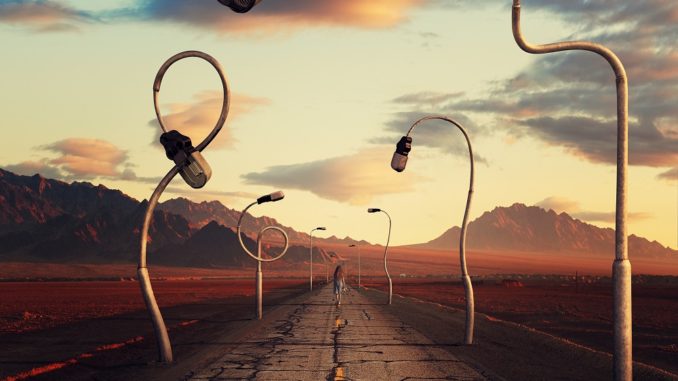 Die Fortsetzung von Pink Floyd nach Roger Waters ist etwas, was Dave Gilmour und Nick Mason oft zu rechtfertigen versuchen. Was hat sie zusammen mit dem inzwischen verstorbenen Rick Wright motiviert weiterzumachen? Reichtum? Ego? Größenwahn? Höchstwahrscheinlich war es die Tatsache, dass sie nach so vielen Jahren als Band einfach wussten, wie es geht…. Bereits im November 2016 veröffentlichten sie "The Early Years 1968 -1972", pünktlich zum Weihnachtsgeschäft bringen die Progrock-Veteranen jetzt The Later Years
heraus, Ende November kam eine "abgespeckte Version" heraus, am 13. Dezember 2019 erscheint mit Pink Floyd The Later Years
die ultimative Sammlung mit unveröffentlichtem Material seit 1987.
Von Dylan Cem Akalin
Ein Großteil des Materials hat die Fans gespalten und wird sie spalten. Der Vorstoß der Band in die moderne Produktion und die Unfähigkeit, den Schritten ihrer größten konzeptuellen Meisterleistungen zu entsprechen, sind ja häufige Streitpunkte. Die Arbeit, die Pink Floyd nach dem Ausstieg von Roger Waters im Jahr 1985 herausbrachte, glänzt nicht mit der zeitlosen Qualität von "The Dark Side of the Moon", "The Wall", "Wish You Were Here" oder "Piper at The Gates of Dawn".
Für Hardcore-Fans wird die Deluxe Box
mit seinen fünf CDs, fünf Blu-Ray Discs, fünf DVDs einer BR Audio sowie zwei 7″-Singles mit mehr als 13 Stunden unveröffentlichtem Audio- und Videomaterial, darunter vom Konzert in Venedig 1989 und dem Knebworth Konzert von 1990 wohl sowas wie der heilige Pink-Floyd-Gral sein – für läppische 345 Euro.
Abgespeckte Version
Als Alternative gibt es eine abgespeckte CD- bzw. Doppelvinyl-Version mit zwölf Stücken und einer Laufzeit von 80 Minuten. Die Zusammenstellung zwischen einer Live-Version von "Shine On You Crazy Diamond" und dem Remix von "Run Like Hell" wirkt ein wenig unmotiviert: ein bisschen was vom1990er Knebworth Konzert im 2019er Remix, ein paar Studio-Remixe (One Slip, Sorrow, On The Turning Away), ein paar Livestücke von Delicate Sound Of Thunder und ein paar Frühversionen von "High Hopes" und "Marooned Jam". "Lost For Words" stammt aus einer Tournee-Probe von 1994 und zeigt, dass das erweiterte Ensemble die straffe, bittersüße Selbstbeobachtung von "The Division Bell" beibehält. Sicherlich nichts für Fans, sondern für jene Musikliebhaber, die gerne einen guten Sound von ihren Boxen hören und ihre Sammlung vervollständigen wollen.
Das aufwändig designtes Box-Set dokumentiert die Karriere der britischen Kultband der Post-Roger-Waters-Ära. Dazu gibt es eine erweiterte Version eines Live-Albums und jede Menge unveröffentlichtes und seltenes Audio- und Videomaterial. Mit der Veröffentlichung von "The Endless River" im Jahre 2014 wurden ja bereits unveröffentlichte Aufnahmen aus der Division-Bell-Zeit herausgegeben. Auf den fünf CDs in der neuen Box befinden sich aber tatsächlich noch einige Aufnahmen, die in irgendwelchen Archiven vor sich hin verstaubten. Da gibt es sieben Stücke zu hören, die so noch nie veröffentlicht worden waren.
"A Momentary Lapse of Reason"
Mit einer neu gemixte Version von "A Momentary Lapse of Reason", die 1987 erschienene LP der Band und die erste Veröffentlichung ohne Roger Waters, startet das Set. Gilmour und Ingenieur Andy Jackson leiteten den Remix, nahmen mit Nick Mason neue Drum-Tracks auf und überarbeiteten Wrights Keyboard-Parts. Das Duo fügte "Delicate Sound of Thunder" einen neuen Anstrich hinzu und remixte das 1988 erschienene Live-Album für Pink Floyd The Later Years
.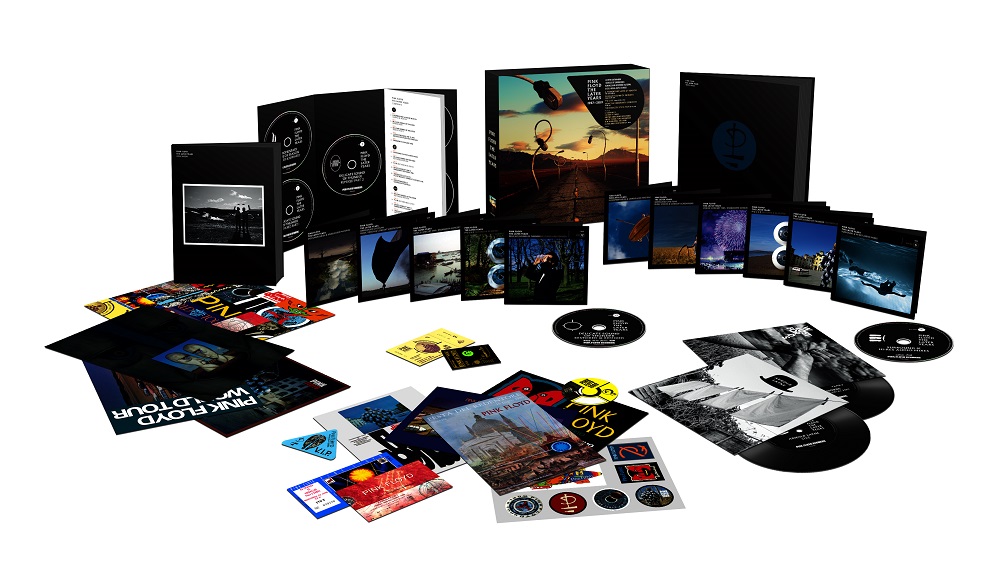 Weitere Highlights sind zwei bisher unveröffentlichte Auftritte der Band. An erster Stelle steht ein Konzert von 1989 in Venedig, das auf einer schwimmenden Bühne vor dem Markusplatz aufgeführt wurde und so viele Kontroversen hervorrief, dass der Stadtrat und der Bürgermeister zum Rücktritt gezwungen wurden. Bei den Silver Clef Awards in Knebworth, England, wurde 1990 ein Set aufgeführt, bei dem Pink Floyd von einer All-Stars-Besetzung unterstützt wurde – unter anderem von Paul McCartney, Dire Straits, Phil Collins und Eric Clapton.
Tribute für Syd Barrett
Auch schön: In Video- und Audioform ist Pink Floyds letzte Live-Performance mit Gilmour, Mason und Wright zu sehen. Die Bandkollegen trafen sich am 10. Mai 2007 zu einem Tributekonzert für ihren ehemaligen Bandkollegen, Pink Floyd-Gründer Syd Barrett.
Und wem das noch nicht ausreicht, dem bietet das Set auch Musikvideos, Dokumentarfilme und Live-Bonustracks, außerdem Reproduktionen von Tourgrafiken, Postern, Programmen, Tourlaminaten und ein 60-seitigen Hardcover-Fotobuch mit mehreren noch nie dagewesenen Bildern.
CD: 'A Momentary Lapse of Reason' (Updated and Remixed)
1. Signs Of Life
2. Learning To Fly
3. The Dogs Of War
4. One Slip
5. On The Turning Away
6. Yet Another Movie
7. Round And Around
8. A New Machine Part 1
9. Terminal Frost
10. A New Machine Part 2
11. Sorrow
CD: 'Delicate Sound of Thunder' (Remixed)
1. Shine On You Crazy Diamond, Parts 1-5
2. Signs Of Life
3. Learning To Fly
4. Yet Another Movie
5. Round And Around
6. A New Machine Part 1
7. Terminal Frost
8. A New Machine Part 2
9. Sorrow
10. The Dogs Of War
11. On The Turning Away
CD: 'Delicate Sound of Thunder' (continued)
1. One Of These Days
2. Time
3. On The Run
4. The Great Gig In The Sky
5. Wish You Were Here
6. Welcome To The Machine
7. Us And Them
8. Money
9. Another Brick In The Wall, Part 2
10. Comfortably Numb
11. One Slip
12. Run Like Hell
CD: 1987 & 1994 Live Recordings / Unreleased Studio Recordings
1. One Of These Days (live in Hanover 1994)
2. Astronomy Domine (live in Miami 1994)
3. The Dogs Of War (live in Atlanta 1987)
4. On The Turning Away (live in Atlanta 1987)
5. Run Like Hell (live in Atlanta 1987)
6. Blues 1 (unreleased 1994 recording)
7. Slippery Guitar (unreleased 1994 recording)
8. Rick's Theme (unreleased 1994 recording)
9. David's Blues (unreleased 1994 recording)
10. Marooned Jam (unreleased 1994 recording)
11. Nervana (unreleased 1994 recording)
12. High Hopes (Early version) (unreleased 1994 recording)
CD: 1990 Knebworth Concert (Remixed)
1. Shine On You Crazy Diamond, Parts 1-5
2. The Great Gig In The Sky
3. Wish You Were Here
4. Sorrow
5. Money
6. Comfortably Numb
7. Run Like Hell
Blu-ray: 'A Momentary Lapse Of Reason' Surround and High Resolution Audio (Updated & Remixed)
1. Signs Of Life
2. Learning To Fly
3. The Dogs Of War
4. One Slip
5. On The Turning Away
6. Yet Another Movie
7. Round And Around
8. A New Machine Part 1
9. Terminal Frost
10. A New Machine Part 2
11. Sorrow
'The Division Bell' (2014 Remix)
1. Cluster One
2. What Do You Want From Me
3. Poles Apart
4. Marooned
5. A Great Day For Freedom
6. Wearing The Inside Out
7. Take It Back
8. Coming Back To Life
9. Keep Talking
10. Lost For Words
11. High Hopes
Unreleased Studio Recordings
1. Blues 1 (unreleased 1994 recording 5.1 mix)
2. Slippery Guitar (unreleased 1994 recording 5.1 mix)
3. Rick's Theme (unreleased 1994 recording 5.1 mix)
4. David's Blues (unreleased 1994 recording 5.1 mix)
5. Marooned Jam (unreleased 1994 recording 5.1 mix)
6. Nervana (unreleased 1994 recording 5.1 mix)
7. High Hopes (Early Version) (Alternative Version 5.1 mix)
Blu-ray: 'Delicate Sound of Thunder' (Restored & Remixed)
1. Shine On You Crazy Diamond, Parts 1-5
2. Signs Of Life
3. Learning To Fly
4. Sorrow
5. The Dogs Of War
6. On The Turning Away
7. One Of These Days
8. Time
9. On The Run
10. The Great Gig In The Sky
11. Wish You Were Here
12. Us And Them
13. Money
14. Comfortably Numb
15. One Slip
16. Run Like Hell
Blu-ray: 'Pulse' (Restored & Re-edited)
1. Shine On You Crazy Diamond, Parts 1-5, 7
2. Learning To Fly
3. High Hopes
4. Take It Back
5. Coming Back To Life
6. Sorrow
7. Keep Talking
8. Another Brick In The Wall, Part 2
9. One Of These Days
10. Speak To Me
11. Breathe (In The Air)
12. On The Run
13. Time
14. The Great Gig In The Sky
15. Money
16. Us And Them
17. Any Colour You Like
18. Brain Damage
19. Eclipse
20. Wish You Were Here
21. Comfortably Numb
22. Run Like Hell
Blu-ray: 1989/1990 Venice Concert and Knebworth Concert
Venice Concert
1. Shine On You Crazy Diamond, Part 1
2. Learning To Fly
3. Yet Another Movie
4. Round And Around
5. Sorrow
6. The Dogs Of War
7. On The Turning Away
8. Time
9. The Great Gig In The Sky
10. Wish You Were Here
11. Money
12. Another Brick In The Wall, Part 2
13. Comfortably Numb
14. Run Like Hell
15. Fireworks
Knebworth Concert
1. Shine On You Crazy Diamond, Parts 1-5
2. The Great Gig In The Sky
3. Wish You Were Here
4. Sorrow
5. Money
6. Comfortably Numb
7. Run Like Hell
Disc 10 – Blu-ray: Unreleased Live Films, Music Videos & Screen Films
Music Videos
1. Learning To Fly
2. Marooned
3. Take It Back
4. High Hopes
5. Louder Than Words
6. Learning To Fly (alternate version)
Bonus Live Tracks from 'Delicate Sound of Thunder'
1. Yet Another Movie
2. Round And Around
3. A New Machine Part 1
4. Terminal Frost
5. A New Machine Part 2
Tour Rehearsal 1994
1. A Great Day for Freedom Version 1
2. A Great Day for Freedom Version 2
3. Lost for Words
Concert Screen Films 1987
1. Signs of Life
2. Learning To Fly
3. The Dogs of War
4. One Of These Days
5. Speak To Me
6. On The Run
7. Us And Them
8. Money
9. Brain Damage + Eclipse
Concert Screen Films 1994
1. Shine On You Crazy Diamond, Parts 1-4, 7
2. Speak To Me
3. Time
4. The Great Gig In The Sky
5. Money
6. Us And Them (Black & White)
7. Us And Them (Colour)
8. Brain Damage + Eclipse – North American dates
9. Brain Damage + Eclipse – European dates
10. Brain Damage – Earls Court, London dates
Wish You Were (Rock & Roll Hall Of Fame Induction)
1. Wish You Were Here with Billy Corgan
Blu-ray: Documentaries And Unreleased Material
1. Arnold Layne (Live at Syd Barrett Tribute 2007)
2. 'A Momentary Lapse of Reason' – Album Cover Photo Shoot
3. 'The Division Bell' heads album cover photography (Ely, Cambridgeshire, UK)
4. 'Pulse' TV ad 1995
5. 'The Endless River' film By Ian Emes
6. 'A Momentary Lapse of Reason' cover shoot interview with David Gilmour and Storm Thorgerson
7. 'The Division Bell' Airships 1994
8. Behind The Scenes – 'The Division Bell' Tour
9. Arnold Layne Rehearsal (Syd Barrett tribute 2007)
10. 'The Endless River' – Launch Event 2014
11. 'The Endless River' EPK 2014
DVD: 'Delicate Sound of Thunder' (Restored & Remixed)
1. Shine On You Crazy Diamond, Parts 1-5
2. Signs Of Life
3. Learning To Fly
4. Sorrow
5. The Dogs Of War
6. On The Turning Away
7. One Of These Days
8. Time
9. On The Run
10. The Great Gig In The Sky
11. Wish You Were Here
12. Us And Them
13. Money
14. Comfortably Numb
15. One Slip
16. Run Like Hell
DVD: 'Pulse' Restored & Re-edited
1. Shine On You Crazy Diamond, Parts 1-5, 7
2. Learning To Fly
3. High Hopes
4. Take It Back
5. Coming Back To Life
6. Sorrow
7. Keep Talking
8. Another Brick In The Wall, Part 2
9. One Of These Day
10. Speak To Me
11. Breathe (In The Air)
12. On The Run
13. Time
14. The Great Gig In The Sky
15. Money
16. Us And Them
17. Any Colour You Like
18. Brain Damage
19. Eclipse
20. Wish You Were Here
21. Comfortably Numb
22. Run Like Hell
DVD: 1989/1990 Venice Concert and Knebworth Concerts
Venice Concert
1. Shine On You Crazy Diamond, Part 1
2. Learning To Fly
3. Yet Another Movie
4. Round And Around
5. Sorrow
6. The Dogs Of War
7. On The Turning Away
8. Time
9. The Great Gig In The Sky
10. Wish You Were Here
11. Money
12. Another Brick In The Wall, Part 2
13. Comfortably Numb
14. Run Like Hell
15. Fireworks
Knebworth Concert
1. Shine On You Crazy Diamond, Parts 1-5
2. The Great Gig In The Sky
3. Wish You Were Here
4. Sorrow
5. Money
6. Comfortably Numb
7. Run Like Hell
DVD: Unreleased Live Films, Music Videos & Screen Films
Music Videos
1. Learning To Fly
2. Marooned
3. Take It Back
4. High Hopes
5. Louder Than Words
6. Learning To Fly (alternate version)
Bonus Live Tracks from 'Delicate Sound of Thunder'
1. Yet Another Movie
2. Round And Around
3. A New Machine Part 1
4. Terminal Frost
5. A New Machine Part 2
Tour Rehearsal 1994
1. A Great Day for Freedom Version 1
2. A Great Day for Freedom Version 2
3. Lost for Words
Concert Screen Films 1987
1. Signs of Life
2. Learning To Fly
3. The Dogs of War
4. One Of These Days
5. Speak To Me
6. On The Run
7. Us And Them
8. Money
9. Brain Damage + Eclipse
Concert Screen Films 1994
1. Shine On You Crazy Diamond, Parts 1-4, 7
2. Speak To Me
3. Time
4. The Great Gig In The Sky
5. Money
6. Us And Them (Black & White)
7. Us And Them (Colour)
8. Brain Damage + Eclipse – North American dates
9. Brain Damage + Eclipse – European dates
10. Brain Damage – Earls Court, London dates
Wish You Were (Rock & Roll Hall Of Fame Induction)
1. Wish You Were Here with Billy Corgan
DVD: Documentaries and Unreleased Material
1. Arnold Layne (Live at Syd Barrett Tribute 2007)
2. 'A Momentary Lapse of Reason' – Album Cover Photo Shoot
3. 'The Division Bell' heads album cover photography (Ely, Cambridgeshire, UK)
4. 'Pulse' TV ad 1995
5. 'The Endless River' film By Ian Emes
6. 'A Momentary Lapse of Reason' cover shoot interview with David Gilmour and Storm Thorgerson
7. 'The Division Bell' Airships 1994
8. Behind The Scenes – 'The Division Bell' Tour
9. Arnold Layne Rehearsal (Syd Barrett tribute 2007)
10. 'The Endless River' – Launch Event 2014
11. 'The Endless River EPK' 2014