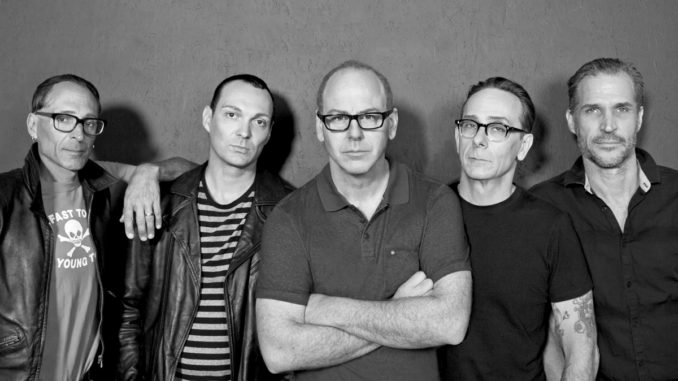 (Für DEUTSCH, bitte runterscrollen!!) Acclaimed Los Angeles punk rock band Bad Religion will release a new album entitled Age Of Unreason
on Epitaph Records on May 3. Since the group's formative years they have steadfastly advocated for humanism, reason, and individualism. Now, when these values are in decline and nationalism and bigotry are on the rise, Bad Religion's message has never been more essential. Age of Unreason delivers a powerful and inspired response – a political and deeply personal treatise on all they believe in.
"The band has always stood for enlightenment values," co-songwriter and guitarist Brett Gurewitz explains. "Today, these values of truth, freedom, equality, tolerance, and science, are in real danger. This record is our response."
References to Trump's election
The songs on Age Of Unreason
are both furious and meticulously crafted. There are references to contemporary events; racist rallies, Trump's election, the erosion of the middle class, Colin Kaepernick's protest, alternative facts, conspiracy theories, and there are homages to the literary and philosophical works that have long inspired the band.
The track "Chaos From Within" uses the band's iconic fast, powerful and melodic sound to examine the current border wall controversy with the lyrics, "Threat is urgent, existential / with patience wearing thin / but the danger's elemental / it's chaos from within." As co-songwriter and lead singer Greg Graffin says, "Throughout history, walls have been used to keep the barbarians out, but it seems to me that the truly barbaric aspect of a civilization is the chaos that comes from within."
You can listen to "Chaos From Within" by going here:
Age of Unreason is Bad Religion's 17th studio album and was co-produced by Carlos de la Garza. It is a timely work of immense power and one of their very best. Society's step backwards has propelled the legendary band decidedly forward. There is an elevated craft in the way the song "Candidate" vividly evokes the current president, "I am your candidate / I am bloody lips and makeup /I'm your caliphate, opioids and mutilation / a celebrity and my name is competition." Another track, entitled "The Approach," addresses the possible demise of democracy with the lyrics, "There's a moral and intellectual vacuum / and you're right to be lookin' askance / philosophically moribund, revolution hasn't a chance."
A dire warning and testament to resilience
This record is both a dire warning and testament to resilience. The overall message being – seek truth about the world and oneself. As Graffin, who holds a PhD in the history of science, says, "When I saw all these headlines about how terrible our world had become, I started doing a lot of reading. I read about the French revolution, the American Revolution, the Civil War, and I started to recognize that this is a pattern of history and something we should never venture into. There are ample warnings against it. Every school child should know this but it's hard to get people to read about these things. Maybe this album can help. Because right now, with social media, we are just playing a version of kill the guy with the ball."
Bad Religion will be touring Europe in May in support of their new album. See below for the list of dates.
Tickets for the Punk In Drublic shows are on sale now, tickets for the headline shows will go on sale tomorrow, Wednesday Feb 27th via https://badreligion.com/
DEUTSCH:
Bad Religion veröffentlicht am 3. Mai neues Album
Termine für Europäische Festivals und Headline-Konzerte für Mai bestätigt
Die renommierte Los Angeles Punk Rock Band Bad Religion wird am 3. Mai 2019 ein neues Album mit dem Titel Age Of Unreason
auf Epitaph Records veröffentlichen. Seit ihren Gründungsjahren setzen sie sich unermüdlich für Humanismus, Vernunft und Individualismus ein. Wenn diese Werte im Niedergang begriffen sind und Nationalismus und Bigotterie auf dem Vormarsch sind, war die Botschaft von Bad Religion noch nie so wichtig. Age of Unreason liefert eine kraftvolle und inspirierte Antwort – eine politische und zutiefst persönliche Abhandlung über alles, woran sie glauben.
"Diese Platte ist unsere Antwort"
"Die Band hat immer für aufklärerische Werte gestanden", erklärt Co-Songwriter und Gitarrist Brett Gurewitz. "Heute sind diese Werte wie Wahrheit, Freiheit, Gleichheit, Toleranz und Wissenschaft in echter Gefahr. Diese Platte ist unsere Antwort darauf."
Die Songs zu Age Of Unreason
sind sowohl wütend als auch akribisch ausgearbeitet. Es gibt Bezüge auf zeitgenössische Ereignisse; rassistische Kundgebungen, Trumps Wahl, die Aushöhlung der Mittelklasse, Colin Kaepernicks Protest, alternative Fakten, Verschwörungstheorien, und es gibt Hommagen an die literarischen und philosophischen Werke, die die Band lange inspiriert haben.
Trumps Mauer
Der Track "Chaos From Within" untersucht den aktuellen, kontroversen Grenzwand-Streit mit dem Text über den ikonischen, schnellen, kraftvollen und melodischen Sound der Band: "Threat is urgent, existential / with patience wearing thin / but the danger's elemental / it's chaos from within." Wie Co-Songwriter und Sänger Greg Graffin sagt:" In der Geschichte wurden Mauern dazu benutzt, die Barbaren fernzuhalten, aber es scheint mir, dass der wirklich barbarische Aspekt einer Zivilisation das Chaos ist, das von innen kommt."
Age of Unreason ist das 17. Studioalbum von Bad Religion und wurde von Carlos de la Garza co-produziert. Es ist ein zeitgemäßes Werk von immenser Kraft und eines ihrer besten. Der Rückschritt der Gesellschaft hat die legendäre Band entschlossen nach vorne gebracht, sagen sie. Im Lied "Candidate" ruft die Band den aktuellen Präsidenten auf lebhafte Weise an: "Ich bin Ihr Kandidat / Ich bin blutige Lippen und Make-up / Ich bin Ihr Kalifat, Opioide und Verstümmelungen / eine Berühmtheit und mein Name ist Konkurrenz. "
Moralisches und intellektuelles Vakuum
Ein anderer Titel mit dem Titel "The Approach" befasst sich mit dem möglichen Ende der Demokratie: "There's a moral and intellectual vacuum / and you're right to be lookin' askance / philosophically moribund, revolution hasn't a chance."
Dieses Album ist gleichzeitig eine Warnung und ein Beleg für die Widerstandsfähigkeit. Die Gesamtbotschaft ist die Suche nach der Wahrheit über die Welt und über sich selbst, erklärt die Band. Graffin, der in Wissenschaftsgeschichte promoviert hat, sagt: "Als ich all diese Schlagzeilen darüber sah, wie schrecklich unsere Welt geworden war, begann ich viel zu lesen. Ich las über die Französische Revolution, die Amerikanische Revolution, den Bürgerkrieg und erkannte, dass dies ein Muster der Geschichte ist und in das wir uns niemals begeben sollten. Es gibt zahlreiche Warnungen dagegen. Jedes Schulkind sollte das wissen, aber es ist schwer, die Leute dazuzubringen, über diese Dinge zu lesen. Vielleicht kann dieses Album helfen. Denn gerade jetzt, mit Social Media, spielen wir einfach eine Version von Kill the Guy with the ball."
Bad Religion wird im Mai in Europa auf Tour gehen, um ihr neues Album zu supporten.
Tickets für die Punk In Drublic-Shows sind ab sofort erhältlich, Tickets für die Headline-Shows werden, Mittwoch, den 27. Februar, in den Verkauf gehen
European Tour Dates
* Punk in Drublic shows
*3 May – Tanzbrunnen, Cologne (DE)*
4 May – Faust Wiese, Hannover (DE) – SOLD OUT
6 May – AB, Brussels (BE)
7 May – Trianon, Paris (FR)
*8 May – La Nef, Angouleme (FR)
*10 May – Saarlandhalle, Saarbrücken (DE)
*11 May – S'Oliver Halle, Wärzburg (DE) – SOLD OUT
*12 May – Messehalle, Dornbirn (AT)*
14 May – Wizink, Madrid (ES)
15 May – Altice Arena-Sala Teyo, Lisbon (PT)*
17 May – Poble Espanol, Barcelona (ES) – SOLD OUT
*18 May – Iradier Arena, Vitoria (ES)
21 May – Arena-Open Air Buehne, Vienna (AT)
22 May – Effenaar, Eindhoven (NL)*
25 May – Slamdunk Festival, Leeds (UK)*
26 May – Slamdunk Festival, Hatfield (UK)

More dates to be announced!
*Punk in Drublic shows