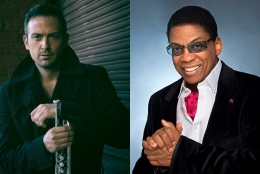 Im Rahmen einer bisher beispiellosen Reihe von weltweiten Veranstaltungen am International Jazz Day haben sich die Organisation der Vereinten Nationen für Bildung, Wissenschaft und Kultur (UNESCO) und das Thelonious Monk Institute of Jazz zusammengetan, um Jazz als Vermittler für die Ausdrucksfreiheit und den Dialog zwischen den Kulturen zu feiern und anzuerkennen.
Mit Veranstaltungen, die sich in mehr als 190 Ländern auf der ganzen Welt abspielten, feierte der International Jazz Day 2015 seinen Höhepunkt mit einem All-Star Global Concert im UNESCO-Hauptsitz in Paris. Dort wurden herausragende Auftritte von Künstlern geboten, unter anderem von Annie Lennox, Herbie Hancock, Marcus Miller, Dee Dee Bridgewater, Wayne Shorter, Dianne Reeves, Al Jarreau, Femi Kuti, Hugh Masekela, Gregoire Maret, Claudio Roditi, Terri Lyne Carrington, Lee Ritenour, Ben Williams, John Beasley (Musical Director) und vielen weiteren. Das Konzert, das auch Grußworte des Generalsekretärs der Vereinten Nationen Ban Ki-moon einbezog, war ein bedeutendes Highlight der Feierlichkeiten anlässlich des 70-jährigen Jubiläums der UNESCO.
Each year, the All-Star Global Concert brings together acclaimed jazz artists from around the world for a performance spanning styles, cultures, and languages. In the spirit of International Jazz Day, the Global All Star Concert takes place in a venue imbued with rich historical significance, representing jazz's ability to connect disparate traditions and cultural identities. The 2015 All-Star Global Concert will feature a cast of internationally renowned jazz artists including pianists John Beasley (Music Director), A Bu, Eliane Elias, Antonio Faraò, Isfar Sarabski and Herbie Hancock; trumpeters Till Brönner, Avishai Cohen, Hugh Masekela and Claudio Roditi; vocalists Dee Dee Bridgewater, Al Jarreau, Annie Lennox, Rudy Pérez and Dianne Reeves; saxophonists Igor Butman, Femi Kuti, Guillaume Perret and Wayne Shorter; bassists James Genus, Marcus Miller and Ben Williams; guitarist Lee Ritenour; drummer Terri Lyne Carrington, percussionist Mino Cinelu, harmonica player Grégoire Maret, and oud player Dhafer Youssef.
https://www.youtube.com/watch?feature=player_embedded&v=5c-txtspmAA