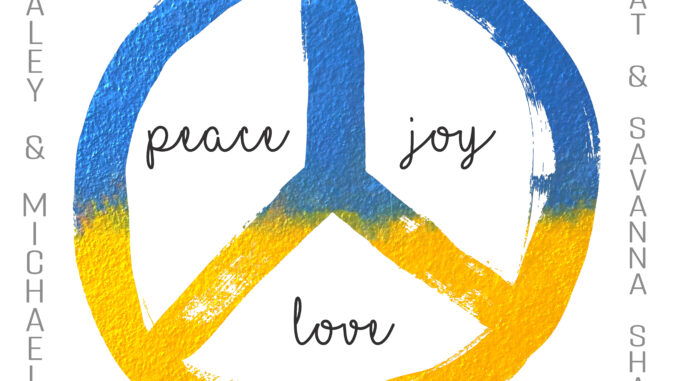 Artists across the United States have banded together to collaborate with the Ukrainian Chorus Dumka of New York, to record a brand new song with an inspiring message of hope, 'Peace Joy Love', which is available to stream/download worldwide now.
2x GRAMMY-nominated pianist Jim Brickman, hit-making husband and wife duo Haley & Michaels, and #1 selling father-daughter duo Mat and Savanna Shaw collaborated with the Ukrainian Chorus Dumka NY on the recording and came together in New York to create a unique and moving video, filmed in the historic surroundings of The Ukrainian Institute of America, a non-profit organisation dedicated to promoting the art, music and literature of Ukraine.
All proceeds from downloads and streams of the single will be donated to Ukrainian President Volodymyr Zelensky's UNITED24 fundraising platform to aid the rebuilding of the country's damaged infrastructure.
Through the project, inspired by President Zelensky's speech at the 2022 Grammys, calling musicians to "fill the silence with music," the artists hope to bring a positive and hopeful message.

Ryan Michaels, who produced the project, said "It's important to us as artists and songwriters to use our voice and platform to do everything we can and speak up against injustice. It has been an incredible honor to work with Vasyl [Hrechynsky], the Ukrainian Chorus Dumka and so many talented artists."
Shannon Haley added, "We wrote this song to send a message of peace and hope into the world as we stand in solidarity with the people of Ukraine."
Ukrainian Chorus Dumka NY's acclaimed musical director, Vasyl Hrechynsky, whose sweeping choral arrangement lifts the song, said: "The lyrics are so timely, given that Ukraine is fighting a war since Russia's invasion. This is an especially difficult time because Ukraine is the native country of the majority of the members of the chorus. I hope and pray that the lives of the Ukrainian people will once again be filled with peace, love and joy."
Savanna Shaw described the song as a "message of what we hope the world will become and invites everyone who listens to take action," while her father and duo partner Mat Shaw added that "music is really powerful in its ability to help people process difficult situations, and it helps us heal and unite us in a cause. This one is especially important – we are so privileged to be part of this."
The music video features all the artists involved, bringing together more than fifty singers and musicians including members of the Ukrainian Children's Chorus Moloda of New York, whose innocence captures the power behind the song's message. It premiered exclusively on People.com this Wednesday, Aug 24 and is available to watch here.
"When you add the Ukrainian Chorus Dumka the song becomes an anthem and a chant that you can really take in," shared Brickman. "It's rare to have so many talented collaborators work so beautifully together – and that's part of what makes this project so meaningful."
'Peace Joy Love' – Jim Brickman, Haley & Michaels, Mat and Savanna Shaw, FT. Ukrainian Chorus Dumka NY, is out today worldwide. Stream or download the song here / watch the official music video here.
ABOUT THE UKRAINIAN CHORUS DUMKA OF NEW YORK:
For 70 years the Ukrainian Chorus Dumka of New York has enriched the cultural and spiritual life of the Ukrainian diaspora while also generating enthusiasm in the American and European public, including through a recent performance of 'Prayer For Ukraine', which opened an episode of Saturday Night Live.
With a wide repertoire, including Ukrainian folk, classical and sacred music, the chorus has performed at Carnegie Hall, Alice Tully Hall, Avery Fisher Hall, Town Hall, Madison Square Garden, the Brooklyn Academy of Music, St. Patrick's Cathedral in New York, the Kennedy Center for Performing Arts in Washington, D.C., the PNC Bank Arts Center in New Jersey, as well as concert halls of many European capitals, among them, the Royal Albert Hall in London.
In 1990, the Chorus made a successful concert tour of England, Austria, Germany, France and Ukraine where it was received with great enthusiasm in Kyiv, Lviv, Poltava, and Kaniv. The first musical director of the Chorus was L. Krushelnycky. His work was continued by O. Mykytiuk, R. Stepaniak, I. Zukowsky, I. Zadorozny, I. Sonevycky, A. Bernyk and S. Komirny. Since 1991 "Dumka" has performed under the direction of Vasyl Hrechynsky.
The Ukrainian Chorus Dumka of New York consists of approximately 50-60 members, and performs at various venues throughout the year.