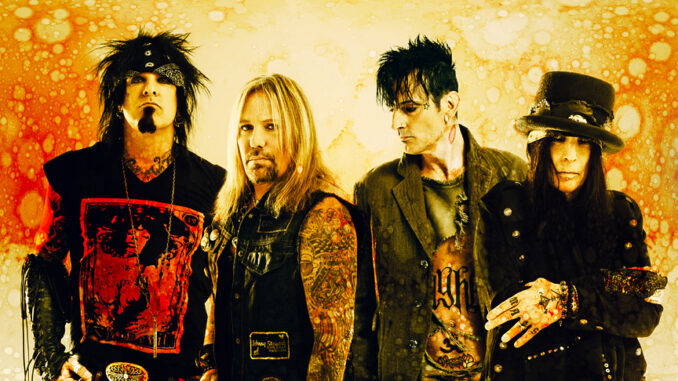 Heute veröffentlichen Mötley Crüe den digitalen Remaster ihres legendären Albums Dr. Feelgood und setzen damit die Feierlichkeiten zu ihrem 40-jährigen Bandjubiläum fort. Das dekadente und kompromisslos unterhaltsame Album ist plattformübergreifend erhältlich und enthält verstärkte Versionen von Hits wie "Dr. Feelgood", "'Kickstart My Heart", "Without You", "Same Ol' Situation (S.O.S.)" und "Don't Go Away Mad (Just Go Away)". Als erster Top-Ten-Hit der Band kletterte der Titeltrack bis auf Platz 6 und war 16 Wochen lang in den USA in den Charts vertreten und wurde ihre erste Single, die den Gold-Status erreichte.
Dr. Feelgood wurde ursprünglich im September 1989 veröffentlicht und wurde von Musikkritikern und Fans als eines der besten Werke der Band aller Zeiten angesehen und bleibt mit über 6 Millionen verkauften Exemplaren weltweit das meistverkaufte Album der Band. Das Album erreichte Platz 1 der Billboard 200 Charts, zusammen mit 7 weiteren Top 10 Charting-Positionen weltweit. Die vollständige Titelliste des Albums findet ihr unten.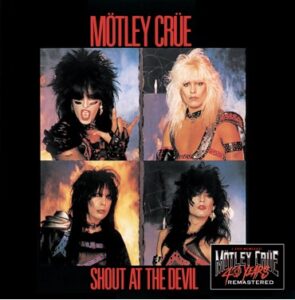 Das 1983 veröffentlichte zweite Studioalbum der Band brachte ihnen ihre erste Platin-Zertifizierung in den USA ein. Shout At The Devil war der Durchbruch der Band und festigte Mötley Crüe als einen der meistverkauften Rock-Acts in der modernen Musik mit über 200.000 verkauften Exemplaren in die ersten zwei Wochen nach der Veröffentlichung. Zuletzt rangierte das Rolling Stone-Magazin das Album auf Platz 44 in seiner Liste der "100 größten Metal-Alben aller Zeiten".
Die neuen Remaster gesellen sich zu den kürzlich veröffentlichten digitalen Remastern von Girls, Girls, Girls und Theatre of Pain, die Anfang des Jahres die Feierlichkeiten zum 40-jährigen Jubiläum der Band eröffneten. Die Band wird am 17. September auch neuen exklusiven Dr. Feelgood Merch in ihrem Webstore veröffentlichen. Um den neuen Merchandise-Artikel zu kaufen, besuchen Sie: https://store.motley.com/.
Dr. Feelgood Track listing:
T.n.T. (Terror 'n Tinseltown)
Dr. Feelgood
Slice of Your Pie
Rattlesnake Shake
Kickstart My Heart
Without You
Same Ol' Situation (S.O.S.)
Sticky Sweet
She Goes Down
Don't Go Away Mad (Just Go Away)
Time for Change
ÜBER MÖTLEY CRÜE
MÖTLEY CRÜE ist die berüchtigtste Rockband der Welt. Das aus Los Angeles, CA, stammende Quartett – Vince Neil (Gesang), Mick Mars (Gitarre), Nikki Sixx (Bass) und Tommy Lee (Schlagzeug) – kapert seit 40 Jahren das Rock-Pantheon.
Sie haben weltweit mehr als 100 Millionen Alben verkauft, 7 Platin- und Multi-Platin-Alben, 22 Top-40-Mainstream-Rock-Hits, 6 Top-20-Pop-Singles, 3 GRAMMY-Nominierungen, 4 New York Times-Bestseller und sogar einen Stern in Hollywoods Walk of Fame bekommen.
English
Today, Mötley Crüe releases the digital remaster of their legendary album Dr. Feelgood, continuing the celebrations of their 40th anniversary as a band. The decadent and unapologetically fun album is available across platforms, featuring amplified versions of hits such as "Dr. Feelgood," "'Kickstart My Heart," "Without You," "Same Ol' Situation (S.O.S.)," and "Don't Go Away Mad (Just Go Away)." As the band's first Top Ten hit, the title track climbed as high as #6 and charted for 16 weeks in the U.S., becoming their first single to achieve Gold status.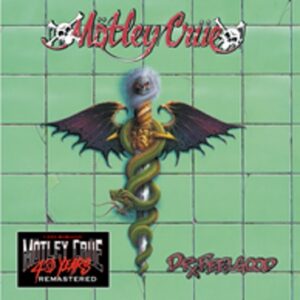 Originally released in September 1989, Dr. Feelgood was highly regarded by music critics and fans as some of the band's best work ever and remains the band's best selling album with sales of over 6 million copies worldwide. The album hit #1 on the Billboard 200 Chart, along with 7 other Top 10 Charting positions worldwide. See full track listing for the album below. To relive the history of this groundbreaking album, listen to the digital remaster of Dr. Feelgood HERE and watch the title track video HERE.

Mötley Crüe will continue commemorating their anniversary with a digital remaster of their album Shout At The Devil available across platforms worldwide on October 1, now available for pre-order and pre-save HERE. Released in 1983, the band's second studio album earned them their first-ever Platinum certification in the U.S. Shout At The Devil was the band's breakthrough album, solidifying Mötley Crüe as one of the top selling rock acts in modern music, selling over 200,000 copies in the first two weeks after its release. Most recently, Rolling Stone magazine ranked the album at 44th, in its list of "The 100 Greatest Metal Albums of All Time."

The new remasters join the recently released digital remasters of Girls, Girls, Girls and Theatre of Pain, which kicked off the band's 40th anniversary celebrations earlier this year. The band will also be dropping new Dr. Feelgood exclusive merch on their webstore on September 17th. To purchase the new merch, visit: https://store.motley.com/.

The recently launched Mötley Crüe 101 Spotify Playlist includes hits from the band's entire discography. It gives new and existing fans a comprehensive guide to the band's iconic musical legacy, taking them on a celebratory sonic journey for this special anniversary. LISTEN NOW.

Dr. Feelgood Track listing:
T.n.T. (Terror 'n Tinseltown)
Dr. Feelgood
Slice of Your Pie
Rattlesnake Shake
Kickstart My Heart
Without You
Same Ol' Situation (S.O.S.)
Sticky Sweet
She Goes Down
Don't Go Away Mad (Just Go Away)
Time for Change

ABOUT MÖTLEY CRÜE
MÖTLEY CRÜE is The World's Most Notorious Rock Band. Hailing from Los Angeles, CA, the quartet—Vince Neil (vocals), Mick Mars (guitars), Nikki Sixx (bass), and Tommy Lee (drums)— has commandeered the rock pantheon for 40 years. 
 
They've accumulated worldwide album sales exceeding 100m, 7 platinum and multi-platinum albums, 22 Top 40 mainstream rock hits, 6 Top 20 pop singles, 3 GRAMMY nominations, 4 New York Times best-sellers and even landed a star on the Hollywood Walk of Fame. 
 
With utmost success from their Netflix biopic, The Dirt and its soundtrack, the band landed another #1 album on iTunes and Top 10 worldwide with 22 chart-topping singles and 7 albums on the charts. Its massive global success saw Mötley Crüe's popularity soar to new highs, catapulting the band's music back to the top of the worldwide charts with the younger 18-44 demographic now representing 64% of the band's fanbase. 
 
In the six months following the release of THE DIRT, Mötley Crüe has celebrated a meteoric rise of almost 350% increase in streams of their music across all streaming platforms. Known for their iconic live performances, they've sold-out countless tours across the globe in front of millions of fans with groundbreaking production highlights such as Tommy Lee's, Crüecifly-Drum-Rollercoaster and Nikki Sixx's Flame-Throwing-Bass.     (Quelle: Head of PR)