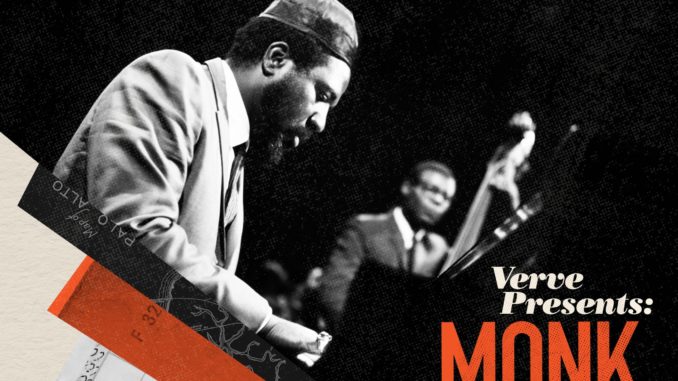 Verve/Impulse! Records and podcast creative studio PopCult are pleased to announce Verve Presents: Monk Goes To School, an innovative podcast that tells the story of Thelonious Monk's storied visit, concert, and subsequent recording at Palo Alto High School in 1968. The Podcast is available on all major platforms, including Apple Podcasts, Spotify, Amazon, Pandora, and more. Listen to the podcast HERE.
The album Palo Alto was released on September 18 and is available here: https://theloniousmonk.lnk.to/paloaltoPR
In the fall of 1968, a sixteen-year old high school student named Danny Scher had a dream to invite legendary jazz pianist and composer Thelonious Monk and his all-star quartet to perform a concert at his local high school in Palo Alto, CA. In a series of twists and turns, against a backdrop of racial tension and political volatility, that concert was recorded by the school's janitor and finally released in 2020.
Verve Presents: Monk Goes To School tells this story in innovative detail, interweaving the voices of Danny Scher, Thelonius Monk's son T.S. Monk, monk biographer Robin D.G. Kelley and engineer/mixer Grandmixer DXT with narrator Anthony Valadez from KCRW.
The podcast is unique in that there is no hosted interview segment – it takes the listener on an immersive journey featuring the voices of the cast, sound design and music clips from the record throughout.
PopCult Founder/Creative Director Dennis Scheyer says, "Once we heard the story of how the record came to be we felt that it deserved more than the usual 'interview-based' portrayal. It's the kind of show we created our company to produce, and Verve fully supported us."
Recorded entirely "at home" with high-quality microphones across the United States, this podcast deftly weaves through multiple voices, telling this story of Thelonious Monk, the unexpected concert, and of course, uses the music to illustrate this important part of musical history.
EVP of Verve/Impulse! Jamie Krents says, "We're thrilled to collaborate with PopCult on Monk Goes to School. This podcast brilliantly captures the real story of the Palo Alto recording, and puts it in historical context with brilliant narration from all the key players. Impulse! and Verve Records have such a rich history of music that we're very excited to continue to illustrate in partnership with PopCult."
PopCult Partner, Strategy and Marketing Lars Murray says, "We were excited to help Verve establish a leadership position among labels by creating a high-quality narrative podcast that integrates their music seamlessly and tells a great story about a landmark release. Verve demonstrated that a label's access to licensed music is a huge advantage in podcasting."
Palo Alto – Thelonious Monk
Ruby, My Dear
Well, You Needn't
Don't Blame Me
Blue Monk
Epistrophy
I Love You Sweetheart of All My Dreams
About Impulse! Records:
For nearly sixty years, Impulse! Records has stood as a label of musical integrity and lasting cultural significance. Known as the "house that Trane built" in honor of its best-selling artist John Coltrane, the label produced music exciting in its experimental charge, and spiritual in its priority. Sonny Rollins, Quincy Jones, Max Roach, Ray Charles, Alice Coltrane, Keith Jarrett, Charles Mingus, Sun Ra, and Pharoah Sanders were but a few of the legendary musicians who helped define the label's sound and message. To this day, Impulse! continues to proudly wear its distinctive orange-and-black color scheme, and be home to the new vanguard of creative musicians including Shabaka Hutchings and his groups Sons of Kemet, Shabaka & the Ancestors, and the psychedelic jazz trio The Comet Is Coming.