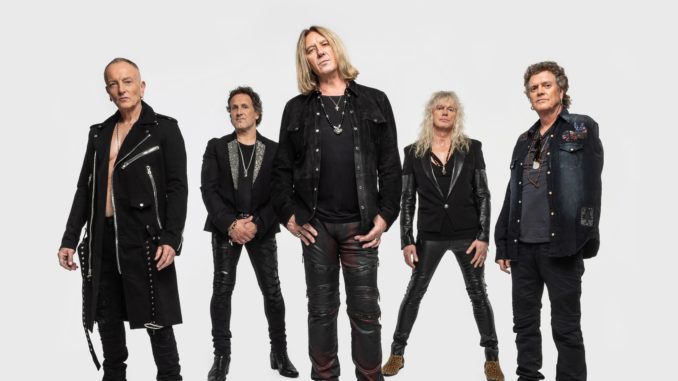 (Deutsch bitte runterscrollen!) Legendary British rock'n'roll icons Def Leppard are proud to announce their induction into the Rock & Roll Hall of Fame®. The band will be inducted into the 2019 Performer Category alongside The Cure, Janet Jackson, Stevie Nicks, Radiohead, Roxy Music and The Zombies. Presented by Klipsch Audio, the 2019 Rock & Roll Hall of Fame® Induction Ceremony will take place on the 29th March 2019 in Brooklyn, NY at Barclays Center.
Def Leppard join a long list of legends to receive this coveted honor, in addition to standing shoulder-to-shoulder with the impressive "Class of 2019." With sales eclipsing 100 million albums and a reputation as one of rock's most enduring and influential bands, this represents yet another massive milestone for the legendary British rock icons.
About the induction, Def Leppard said:
Joe Elliott: "First of all, a massive thanks to all our fans & past inductees who voted for us. Congratulations to all our fellow inductees, we stand alongside some amazing artists, past & present. What an absolute honour."
Phil Collen: "We started 2018 off at the Royal Albert Hall and to now cap it all off with a nod into the Rock and Roll Hall of Fame is brilliant."
Rick Savage: "Being inducted into the Rock and Roll Hall of Fame puts Def Leppard in a class of peers that we've always appreciated and admired. We're looking forward to the ceremony."
Vivian Campbell: "Coming into Def Leppard after stints with other bands, it was immediately apparent to me that Leppard had ambition far beyond most. As a fan from the early years, I'd heard that ambition in the music, blending genres to craft the unique Leppard sound. After 26 years as the new guy, I can assure you that the work ethic and the collective focus of this band is just as strong to this day."
Rick Allen: "What an honour for Def Leppard to be included in this year's induction with so many other talented and deserving artists."
Def Leppard sold 1,000,000 tickets
Following the close of their historic 2018 co-headline stadium and arena run in North America, Def Leppard sold a staggering 1,000,000 tickets and the tour grossed over $100,000,000.00, a massive feat in today's touring world. The band are currently in the UK performing their iconic album Hysteria to sold out arenas – see below for remaining dates – and set to tour Europe in 2019. As always, the group keep pushing forward with their electrifying live shows that have transcended the test of time.
Right now, the band has its sights set on a massive 2019 with major announcements on the horizon.
About Def Leppard
With more than 100 million albums sold worldwide and two prestigious Diamond Awards in the U.S., Def Leppard – Joe Elliott (vocals), Phil Collen (guitar), Rick "Sav" Savage (bass), Vivian Campbell (guitar) and Rick Allen (drums) – continue to be one of the most important forces in rock music. Over the course of their career the band has produced a series of classic ground-breaking albums that set the bar for generations of music fans and artists alike. The group's spectacular live shows and arsenal of hits have become synonymous with their name, leading Def Leppard to be heralded as an institution in both the music and touring industry.
Def Leppard's influential career includes numerous hit singles and ground-breaking multi-platinum albums—including two of the best-selling albums of all time, Pyromania and Hysteria, capturing the group's legendary tracks, bringing together classic Leppard hits such as "Rock of Ages", Pour Some Sugar on Me" and "Foolin." The band's 2015 self-titled studio album debuted at #1 on Billboard's Top Rock Albums and Top Independent Albums charts. The album also took the #5 spot on Billboard's Top Current Albums and #10 spot on the Top 200, as well as claiming 15 top 10 debuts around the world. For the first time, in January 2018 Def Leppard debuted their full recording catalog worldwide via streaming and download platforms. As they did with the original release of their records, Def Leppard dominated the worldwide charts again. Chart stats saw their albums charting in the iTunes Top 10 in more than 30 countries, including Hysteria at #3 in the US, and #5 in the UK. Def Leppard had the #1, #2 and #3 records on the US catalog albums chart.
Def Leppard remaining UK and European dates in 2018, and 2019 tour dates, are as follows:
Tour Dates
2018
Fri 14th December – Sheffield, FlyDSA Arena UK
Sat 15th December – Liverpool, Echo Arena UK
Mon 17th December – Birmingham, Arena Birmingham UK
Tues 18th December – London, The SSE Arena Wembley UK (extra date added)
2019
Thurs 6th June – Solvesborg, Sweden Rock Festival SWEDEN
Sun 9th June – Helsinki, Rockfest FINLAND
Tues 11th June – Sonderborg, Slagmarken DENMARK w/Bon Jovi
Fri 14th June – Donington Park, Download Festival, UK
Mon 17th June – Prague, O2 Arena CZECH REPUBLIC
Wed 19th June – Milan, Mediolanum Forum ITALY w/Whitesnake
Thurs 20th June – Hinwil, Rock The Ring Festival SWITZERLAND
Sat 22nd June – Clisson, Hellfest FRANCE
Sun 23rd June – Dessel, Graspop Festival BELGIUM
Thurs 27th June – Trondheim, Trondheim Rocks NORWAY
Sat 29th June – Oslo, Tons Of Rock Festival NORWAY
Tues 2nd July – Berlin, Zitadelle GERMANY
Wed 3rd July – Dusseldorf, Merkur Spiel-Arena GERMANY w/Bon Jovi
Fri 5th July – Munich, Olympiastadion GERMANY w/Bon Jovi
DEUTSCH: Die legendäre britische Rock'n'roll-Band Def Leppard verkündet stolz, dass sie in die Rock & Roll Hall of Fame® aufgenommen wird. Die Band wird neben The Cure, Janet Jackson, Stevie Nicks, Radiohead, Roxy Music und The Zombies in die Performer-Kategorie 2019 aufgenommen. Die von Klipsch Audio präsentierte Rock & Roll-Hall of Fame®-Einführungszeremonie wird am 29. März 2019 in Brooklyn, New York, im Barclays Center stattfinden.
Mit mehr als 100 Millionen verkaufter Alben und einem Ruf als eine der beständigsten und einflussreichsten Bands des Rock hat sich die Band diesen weiteren Meilenstein absolut verdient. Def Leppard mit Joe Elliott (Gesang), Phil Collen (Gitarre), Rick "Sav" Savage (Bass), Vivian Campbell (Gitarre) und Rick Allen ( Schlagzeug) gehören weiterhin zu den wichtigsten Kräften in der Rockmusik. Im Laufe ihrer Karriere hat die Band eine Reihe klassischer, wegweisender Alben produziert, die die Messlatte für Generationen von Musikfans und Künstlern gleichermaßen setze.
Die spektakulären Live-Shows der Gruppe und das Arsenal der Hits sind gleichbedeutend mit ihrem Namen, was Def Leppard zu einer Institution in der Musik- und Touristikbranche macht. Def Leppards einflussreiche Karriere umfasst zahlreiche Hit-Singles und bahnbrechende Multi-Platin-Alben – darunter zwei der meistverkauften Alben aller Zeiten, Pyromania und Hysteria, die die legendären Tracks der Gruppe einfangen und klassische Leppard-Hits wie "Rock of Ages", "Pour Some Sugar on Me" und "Foolin".