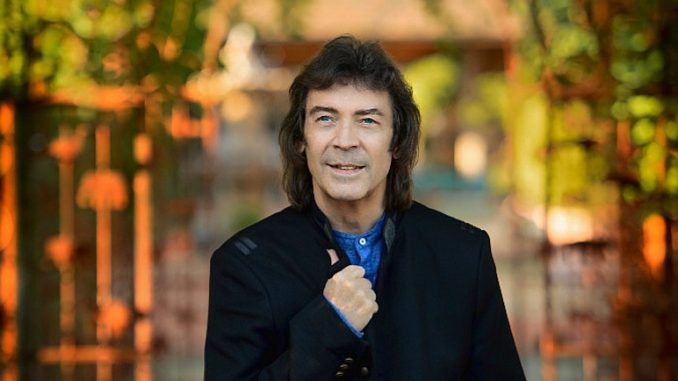 (Deutsch, bitte runterscrollen!) Former Genesis guitarist Steve Hackett announces the release of his new studio album 'At The Edge Of Light' on the 25th January 2019. The album which features ten songs, sees Steve unite a vast amount of styles ranging from guitar driven rock to epic orchestration, from world music to the reflective and atmospheric all brought together in Steve Hackett's unique style.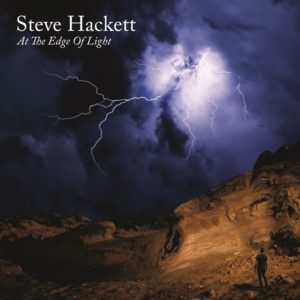 Steve says: "In these dangerous times, deep shadows feel even sharper than usual and we find ourselves standing at the edge of light… The contrast between dark and light weaves its way throughout the album in many ways, from the sense of good fighting evil through to the interplay of dark and light opposites magically combining in cultures, including the heartbeat of India and primal tribal rhythms. Ultimately, this album embraces the need for all musical forms and cultures to connect and celebrate the wonder of unity in this divided world."
Solo career began in 1975
Steve Hackett has established himself as one of Rock music's finest and recognisable guitarists through his time with the legendary Genesis who he joined in 1971 and a solo career following his departure from Genesis in 1977 and is a hugely influential guitarist particularly in the Progressive Rock genre. 'At The Edge Of Light' will be Hackett's 26th studio album in a solo career that began in 1975 with the release of his debut solo album Voyage Of The Acolyte.
'At The Edge Of Light' was mainly recorded in Steve's own studio but also around the world. The album features international artists, including Lorelei and Durga McBroom, wellknown for their backing vocals for Pink Floyd, drummers Nick D'Virgilio and Simon Phillips from USA, Sheema on sitar from India, Icelandic drummer/percussionist Gulli Briem, tar player Malik Mansurov and Swedish bass player Jonas Reingold… This album also features Paul Stillwell on didgeridoo, Rob Townsend on sax, bass clarinet and duduk, Amanda Lehmann on vocals, John Hackett on flute, drummer Gary O'Toole, Roger King and Ben Fenner on keyboards, Dick Driver on double bass, violinist and viola player Christine Townsend… All magically honed and engineered by Roger King.
Selling England By The Pound & Spectral Mornings & Album Highlights
The album is released shortly before Steve performs as special guest on the Cruise To The Edge in February 2019 and the On The Blue cruise featuring Justin Hayward, also in February.
Hackett recently played a series of Genesis Revisited shows with Orchestra and will perform two UK dates with acoustic sets in early December before touring Europe in April/May 2019 and has just announced a UK tour in November 2019 with a much anticipated 'Selling England By The Pound & Spectral Mornings & Album Highlights' set. You can find a full list of upcoming tour dates here: http://www.hackettsongs.com/tour.html
The full track-listing is as follows:
1. Fallen Walls and Pedestals
2. Beasts In Our Time
3. Under The Eye of the Sun
4. Underground Railroad
5. Those Golden Wings
6. Shadow and Flame
7. Hungry Years
8. Descent
9. Conflict
10. Peace
Steve Hackett kündigt neues Album an
Ex-Genesis-Gitarrist Steve Hackett hat ein neues Studioalbum angekündigt. "At The Edge Of Light" soll am 25. Januar 2019 erscheinen. Auf dem Album, das zehn Songs enthält, vereint Steve eine Vielzahl von Stilen, von gitarrengetriebenem Rock bis zu epischen Orchestrierungen, von Weltmusik bis zu reflektierenden und atmosphärischen Stücken, die alle in Steve Hacketts einzigartigem Stil vereint sind.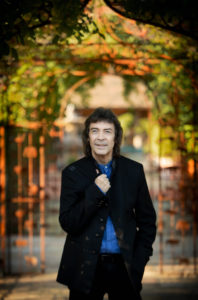 Steve sagt: "In diesen gefährlichen Zeiten fühlen sich tiefe Schatten noch schärfer als üblich an und wir stehen am Rand des Lichts … Der Kontrast zwischen Dunkel und Licht zieht sich in vielerlei Hinsicht durch das Album. Vom Sinn des Guten, das Böse zu bekämpfen, bis hin zum Zusammenspiel von dunklen und hellen Gegensätzen, die sich magisch in Kulturen verbinden, einschließlich des Herzschlags von Indien und urzeitlichen Stammesrhythmen. Letztendlich beinhaltet dieses Album die Notwendigkeit, dass alle musikalischen Formen und Kulturen das Wunder der Einheit in dieser gespaltenen Welt verbinden und feiern."
26. Studioalbum seiner Solokarriere
Steve Hackett hat sich durch seine Zeit mit der legendären Band Genesis, der er 1971 beigetreten ist, und einer Solo-Karriere, die er nach seinem Ausscheiden von Genesis 1977 startete, als einer der besten Gitarristen in der Rockmusik mit hohem Wiedererkennungswert etabliert. Er ist vor allem im Progressive Rock ein einflussreicher Musiker. "At The Edge Of Light" wird Hacketts 26. Studioalbum seiner Solokarriere sein. 1975 erschien mit "Voyage Of The Acolyte" sein Debütalbum.
"At The Edge Of Light" wurde hauptsächlich in Steves Studio, aber auch auf der ganzen Welt aufgenommen. Das Album umfasst internationale Künstler, darunter die Schwestern Lorelei und Durga McBroom, bekannt durch ihren Backgroundgesang bei Pink Floyd, die Schlagzeuger Nick D'Virgilio und Simon Phillips aus den USA, Sheema auf Sitar aus Indien, der  isländischen Schlagzeuger/Perkussionist Gulli Briem, der Tar-Spieler Malik Mansurov und der schwedische Bassist Jonas Reingold. Auf dem Album spielen auch Paul Stillwell (Didgeridoo), Rob Townsend (Saxophon), Bassklarinette und Duduk, Amanda Lehmann (Gesang), John Hackett (Flöte), Schlagzeuger Gary O'Toole, Roger King und Ben Fenner (Keyboards), Dick Driver (Doppel) Bassist, Violinistin und Bratschistin Christine Townsend … Alles von Roger King magisch geschliffen und konstruiert.
UK-Tournee im November 2019
Das Album erscheint kurz bevor Steve als Special Guest auf der Cruise To The Edge im Februar 2019 und der On The Blue-Kreuzfahrt mit Justin Hayward im Februar erscheint.Hackett spielte kürzlich eine Reihe von Genesis Revisited-Shows mit Orchestra und wird Anfang Dezember zwei UK-Termine mit akustischen Sets geben, bevor er im April / Mai 2019 durch Europa tourte.
Gerade gab er eine mit Spannung erwartete UK-Tournee im November 2019 mit Aufführungen von "Selling England By The Pound " "Spectral Mornings" & einem Set mit Album Highlights bekannt. Eine vollständige Liste der kommenden Tourdaten finden Sie hier: