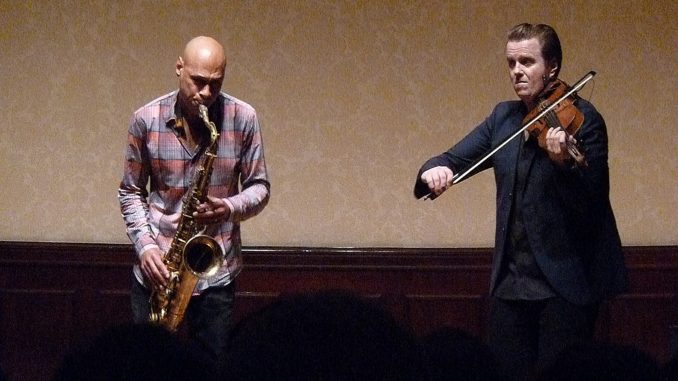 (english version, please scroll down!) "Kann man es eine Reise nennen?" Ola Kvernberg schaut zu Joshua Redman rüber, der nickt. Für Redman ist das Konzert in der Londoner Wigmore Hall quasi ein Heimspiel, hat er doch vor einigen Jahren hier eine Jazzreihe kuratiert. Für den norwegischen Geiger indes, so gibt er zu, "wurde ein Traum wahr, hier einmal mit Josh aufzutreten". Der US-amerikanische Tenorsaxofonist und Kvernberg nahmen das Publikum in der Wigmore Hall tatsächlich auf eine ganz besondere Reise mit – auch wenn es nicht immer leichte Kost war. Die Folge des Sets hätte tatsächlich einen besseren Spannungsbogen vertragen. Insgesamt aber war es ein einzigartiges Erlebnis, das es so schnell nicht wieder zu hören geben wird.
Von Dylan Cem Akalin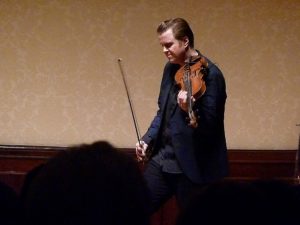 Ola Kvernberg (37) ist sicherlich der Radikalere von beiden, wenn es darum geht, Grenzen des Genres und seines Instruments niederzureißen. Der Mann mit den drei Geigen am Ständer neben sich und der Batterie von Effektgeräten auf dem Boden spielt sein Instrument nicht nur herkömmlich mit dem Bogen, sondern nutzt es auch mal wie eine Gitarre, um Arpeggios oder Hooks zu zupfen, schlägt Akkorde darauf oder lässt es wie ein ganzes Quartett erklingen, indem er einen Bogen nutzt, der alle Saiten gleichzeitig streicht. Und manchmal nähern sich die beiden mit ihrem Sound so aneinander, dass es in wilden Momenten kaum zu unterscheiden ist, von wem nun welche Linie stammt.
Dabei geht es immer konzentriert, aber tänzerisch zu. Das Paar inspiriert sich gegenseitig, sie tauschten Riffs aus und springen tänzerisch um die Ideen des anderen. Das ist nicht nur für das Publikum auch durchaus eine intellektuelle Herausforderung.
Sezierung von John Coltranes "Wise One"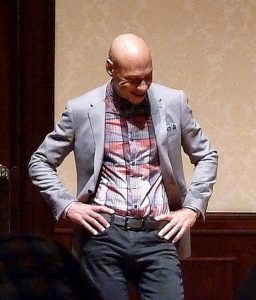 Das gut 30-minütige Eröffnungsstück basiert auf einer Sezierung von John Coltranes "Wise One". Das klingt bisweilen wie angereichert mit norwegischen Folk-Themen, Kvernbergs Geige vereinzelt wie eine Mischung aus Balalaika und Harfe, er schafft immer wieder wunderschöne Streicher und Schleifen als Boden für Joshua Redmans (49) Linien, die zum Ende hin ungewöhnlich legato gespielt sind, besonders in den tiefen Lagen ungemein samtig klingen. Faszinierend, wie sich das Stück zu Rachmaninows "Vocalise" bewegt.
Oscar Pettifords "Blues in the Closet" klingt da schon etwas gefälliger, vor allem wegen des sehr bluesigen Starts. Das Stück geht dann aber stark in Richtung Bebop. Die beiden Musiker werfen sich die Bälle wie bei einem rasanten Pingpong-Spiel zu.  "Zarafah" hat vielleicht einen noch stärkeren orientalischen Touch als im Original auf Redmans Album "Back East". Da hörte man auch einige Elemente aus Ola Kvernberg "Boog", das sich von seiner Grundstimmung her tatsächlich unglaublich gut in Redmans Stück  einfügt. Man wähnt sich bei manchen Passagen gar in der mongolischen Steppe. Das Stück verliert im Verlauf seine Zurückhaltung, die beiden Musiker peitschen sich geradezu an. Kvernberg verlässt seine eher tonale, strukturierte und minimalistische Umgebung und rast in eine freie Zone – bis die beiden zunächst wieder zurück am Ausgangspunkt landen. Und sich mehr dem Rhythmischen aussetzen. Es ist aber wie bei fast allen Stücken diesen Abends, dass die Songs immer wieder einen anderen Verlauf nehmen, als man erwartet. Es ist schon wie auf einer Reise – ins Ungewisse.
Immer wieder beeindruckend
Vielleicht der Höhepunkt des Abends ist die fulminante Version von Miles Davis "Dig", das ja schon im Original ein rasanter Flug der Instrumente ist. Kvernbergs leitet das Stück mit einem Django Reinhard-Mood ein. Bei diesen exakten, rasanten Läufen, die sie mal unisono gemeinsam meistern, mal gegeneinander, mal gespiegelt, mal versetzt, mal mit kleinen Melodien versetzt, mal sehr abstrakt, konnte man nur noch den Atem anhalten. Fantastisch.
Immer wieder beeindruckend, wie sich Redman seinen Weg mit Phrasierung und enormer Sensibilität bahnt. Ein tolles Konzert!
Joshua Redman & Ola Kvernberg in London
"Can you call it a journey?" Ola Kvernberg (37) looks over at Joshua Redman (49), who nods. For Redman, the concert in London's Wigmore Hall is almost a home game, as he curated a jazz series here a few years ago. For the Norwegian violinist, however, he admits, "it became a dream come true to perform here with Josh". The American tenor saxophonist and Kvernberg actually took the crowd on a very special journey at Wigmore Hall – though it was not always light musical fare. The episode of the set would have actually taken a better arc of tension. All in all, it was a unique experience that will not be heard again so quickly.
By Dylan Cem Akalin
Ola Kvernberg is certainly the more radical of the two when it comes to tear down boundaries of the genre and its instrument. The man with the three violins on the stand next to him and the battery of effect devices on the floor not only plays his instrument with the bow, but also uses it like a guitar to pluck arpeggios or hooks, beats it or let it sound like an entire quartet using a bow that strokes all the strings simultaneously. And sometimes the two approach with their sound to each other so that it is hardly distinguishable in wild moments, from whom now which line comes.
Dancing around the other's ideas
It is always focused, but prancing and bouncing too. The couple inspires each other, exchanging riffs and dancing around the other's ideas. This is not only an intellectual challenge for the audience.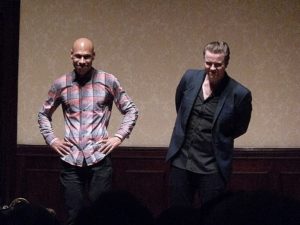 The 30-minute opening is based on a dissection of John Coltrane's "Wise one" and ending with the Rachmaninov "Vocalise". At times that sounds like an enrichment to Norwegian folk themes, Kvernberg's violin sometimes sounds like a mixture of balalaika and harp, he always creates beautiful strings and loops as grounds for Redman's lines, which are played unusually legato at the end, especially in the deep Layers he sounds very velvety.
Oscar Pettiford's "Blues in the Closet" sounds a bit more pleasing, especially because of the very bluesy start. The piece then goes strong in the direction of bebop. The two musicians throw the balls like in a fast-ping pong game. "Zarafah" may have an even stronger oriental touch than the original on Redman's album "Back East". You could hear some elements from Ola Kvernberg's "Boog", which actually fits incredibly well into Redman's piece. One even thinks of some passages in the Mongolian steppe. The piece loses its restraint in the course, the two musicians whipping themselves down. Kvernberg leaves his rather tonal, structured and minimalist environment and races into a free zone – until the two first land back at the starting point – and expose themselfes more to the rhythmic. However, as with almost every track this evening, the songs always take a different course than expected. It's already like on a journey – into the unknown.
Brilliant version of Miles Davis "Dig"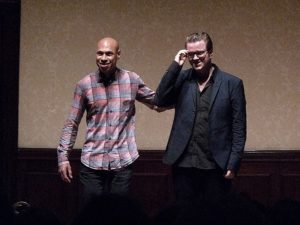 Perhaps the highlight of the evening is the brilliant version of Miles Davis "Dig", which is already in the original a rapid flight of the instruments. Kvernbergs introduces the piece with a Django Reinhard-Mood. In these exact, fast-paced races, which they master together in unison, sometimes against each other, sometimes mirrored, sometimes offset, sometimes with small melodies, sometimes very abstract, you could only hold your breath. Fantastic.
Always impressive, how Redman makes his way with phrasing and enormous sensibility. A great concert!