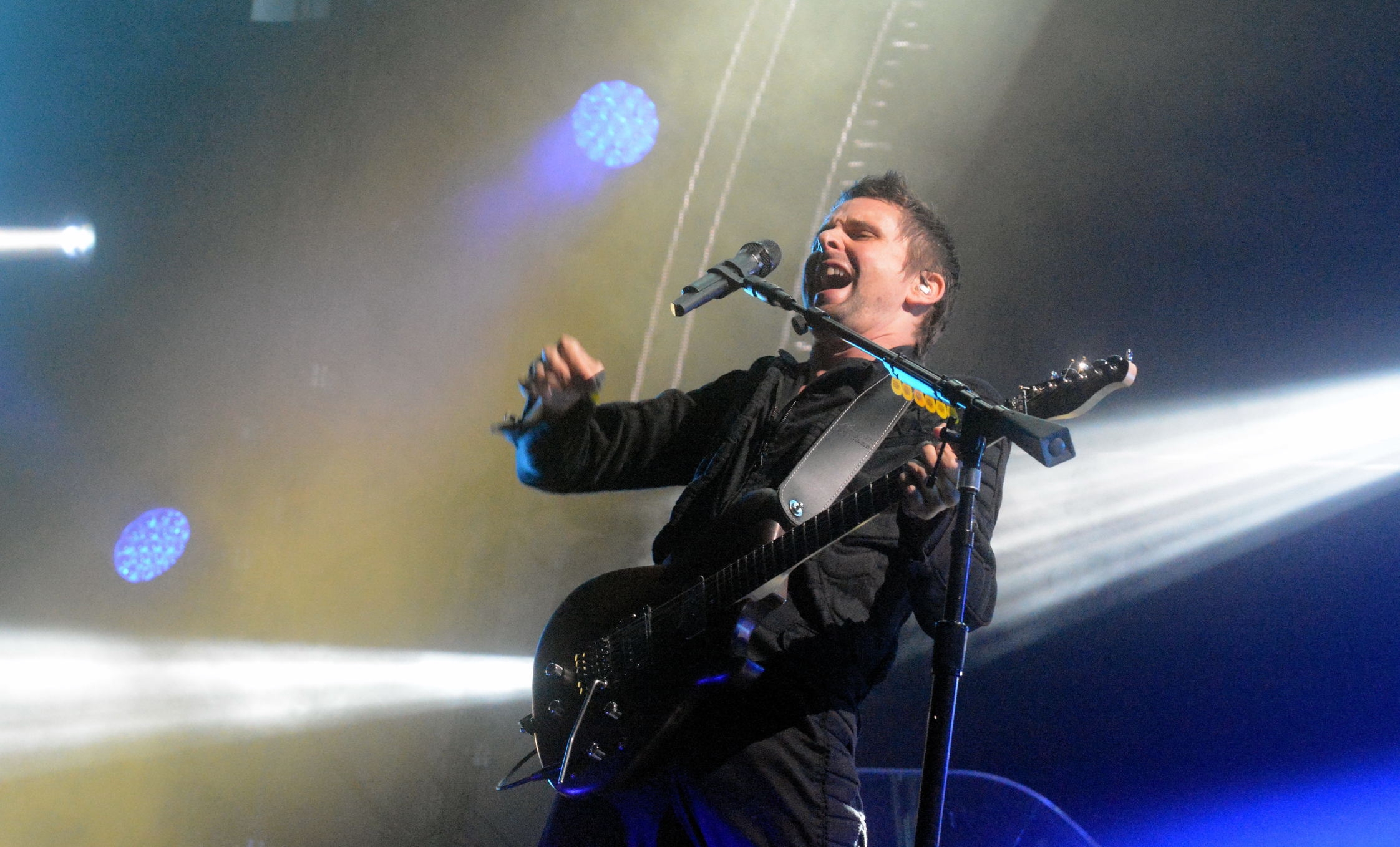 You have to see a band like Muse live in order to understand their idea of sound aesthetics, drama and avant-garde afflicted pop culture to its full potential. Their love for visual presentation, their desire to exquisite images, colours, light spectacles leads to an almost perfectly presented piece of sophisticated rock and pop music show – and that with the emotional gestures of an Italian opera. That's what makes Muse. 55,000 fans proved the British Grammy-winning trio their honor, with frenetic applause and text safe Choir support. The first Pinkpop Festival Day in Dutch Landgraaf ended Friday night with many happy faces.
By Dylan Cem Akalin
(Much more photos please see here!)
And the weather was largely with the fans. A strong afternoon downpour shocked audience and organizers. But thank God it was the only rain on this day. The rest of the festival could be enjoyed in overcast but pleasant temperatures.
The range of less-known and large acts is the hallmark of this festival, which is among the oldest in Europe. 1970 it started as a one-day pop event at Pentecost (hence the name mocked Pinkpop), and is now with his three-day, high-caliber program one of the most prestigious festivals in Europe.
George Ezra and Above & Beyond
But there were also weaknesses in the program. English singer / songwriter George Ezra, who celebrated his 22nd birthday just a few days ago, was not necessarily the right thing for a festival. He could not convince the audience anyway. With "Cassy O '" he began his concert rather promising, but his static stage presence was about to swallow a lot of the otherwise very sensitive song potential. Songs like "Benjamin Twine" or the hit "Budapest" are probably better performed in a club atmosphere.
What the crowd wanted, was to get in high spirits. Something that people like Slash or Above & Beyond could easily do! British trance project of music producer Jonathan "Jono" Grant, Tony McGuinness and Paavo Siljamäki turned the big circus tent "Brand Bier Stage" into a hot party zone. Although it first startet with rather gentle sounds ("Quieter is Louder"), fat basses and elegant rhythm games couldn't come quickly enough with songs like "We Are All We Need". What a crazy fun, that ended with spherical, almost esoteric synth sounds.
Slash feat. Myles Kennedy & The Conspirators
There was not much space at the gig by Slash feat. Myles Kennedy & The Conspirators at the 3FM stage. And already during the first typical rock riffs of "You're A Lie" the audience could jump to the rhythm. Slash, as always checked in cylinder, sunglasses, red and black lumberjack shirt was very playful and had fun at a wide range of Guns N 'Roses-pieces such as the even harder than the original performed "Night Train", "You Could Be Mine" or "Sweet Child O 'mine". The audience wanted pure rock 'n' roll – and got it. Myles Kennedy is always a first-class singer. The Slash should definitely keep him. A better combo than the two is hardly conceivable.
Faith No More
Previously, the stage was filled by Faith No More. Very floral. Very Zen somehow. All in white, with pearl necklaces – almost like sannyasins of rock. So Mike Patton and the rest of the troop were standing amidst the lush flower arrangement on the stage. Who had seen them in Munich in Rockavaria or in Gelsenkirchen would have been very surprised. The California Quitett that stands like no other rock band for limitless mergers, had totally disappointed in Munich and Gelsenkirchen, but here at the Pinkpop Festival they really put the hammer down. Even the opener "Motherfucker" came in a rarely seen hardness. So also with "From Out Of Nowhere". Patton proved versatile, powerful voice, as it is known of him. Barking announced then what followed: hypnotic-heavy guitar riffs accompanied the singing outbreak to "Caffeine". It are these wild opposites when on heavy metal riffs songs comes a full glass beauty song as "Evidence", or the Commodores hit "Easy" after pounding rock anthem "midlife crisis". Faith No More have reconciled with her performance in Landgraaf again. A concert, as you would really expect from the masters of crossover rock.
Quite different was the case with Elbow on the big stage. Elbow – this is music that does not seem out of this world anyway. Even these delicate, dreamy, sometimes a little enigmatic lyrics that are sung to this completely decelerated rock music. Time stands still when Guy Garvey and his band take the stage. And it speaks for his enthusiasm and by Mark Potter (guitar), Craig Potter (keyboards), Pete Turner (bass) and Richard Jupp (drums), they are not stingy and occur with great band Instrumentation. Real strings, real brass. No sequencer, no false bottom. As magical as it sounds, they showed with their opening track "The Birds". Or the song "One Day Like This" which is supported by strings, a song full of confidence and sun … Even "Fly Boy Blue / Lunette" is a piece full of loving musical details, and then these tender-hearted song of Guy Garvey – what a cinematic performance!
And then the grand entrance of Muse. This perfectly staged show, supported by a flood of mostly black and white some images, film clips, supported by theatrical white light cones is probably no soon forget: the red and white streamers, suddenly shot up in the sky in front of the dark stage backdrop, the oversized black balls that floated away as if from nowhere, like extraterrestrial eggs above the audience. For this purpose this outstanding musical ability of the trio with an almost scary-present Matthew Bellamy, who has such incredible vocal quality, but also on guitar is a creative virtuoso and sound artists to experiment. Muse employ in their music from everything the creative species has created: structures from the classical period, from the progressive rock rhythms, the musical gestures of emotional pop and the vast landscapes of cinematic soundtrack world. As Queen, Oasis, Prince, Radiohead and Rush are fused with a lot of own shares amalgam to an entirely new art form. That sounds even metal hard and angry, sometimes melancholic and hymnal. By no means boring and trite. Muse have certainly by no means reached the zenith.