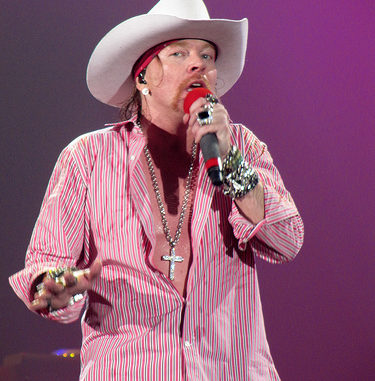 Guns N 'Roses will be playing a series of stadium concerts in Europe next year. They will continue their lucrative reunion, which once seemed unlikely. The hard rockers announced on Monday to play 18 concerts in Europe. Start will be in Dublin on May 27, 2017. Also a show in Tel Aviv on 15 July 2017 is planned. Guns N 'Roses singer Axl Rose and guitarist Slash have played together again this year for the first time since 1993. It is one of the most exciting reunions of one of the most successful bands in rock history.
Guns N 'Roses wird im nächsten Jahr eine Reihe von Stadionkonzerten in Europa spielen. Damit werden sie ihre lukrative Wiedervereinigung, die einst als unwahrscheinlich erschienen war, fortsetzen. Die Hard Rocker kündigten am Montag an, 18 Konzerte in Europa zu spielen. Start wird in Dublin am 27. Mai 2017 sein. Auch eine Show in Tel Aviv am 15. Juli 2017 ist geplant.Guns N 'Roses Sänger Axl Rose und Gitarrist Slash haben in diesem Jahr wieder zum ersten Mal seit 1993 zusammen gespielt. Es ist eines der aufregendsten Wiedervereinigungen einer der erfolgreichsten Bands in der Rockgeschichte.
Welcome back to the Jungle! 2017 kommen sie auf ihrer "Not In This Lifetime Tour" auch nach Deutschland.
Di, 13.06.17 Olympiastadion München
Do, 22.06.17 Messegelände Hannover
Die Tickets gibt's hier
Die Tickets gibt es zuerst für Fanclub-Mitglieder: Alle bestehenden Mitglieder erhalten ihr persönliches Passwort direkt vom Fanclub. Wer neu dabei sein möchte, kann sich die Mitgliedschaft ab heute 13 Uhr direkt beim Ticketkauf sichern und erhält dafür sofort Zugang zu den besten Tickets.
Am Mittwoch (07.12. | 10 Uhr) startet der Ticketmaster Presale für alle!