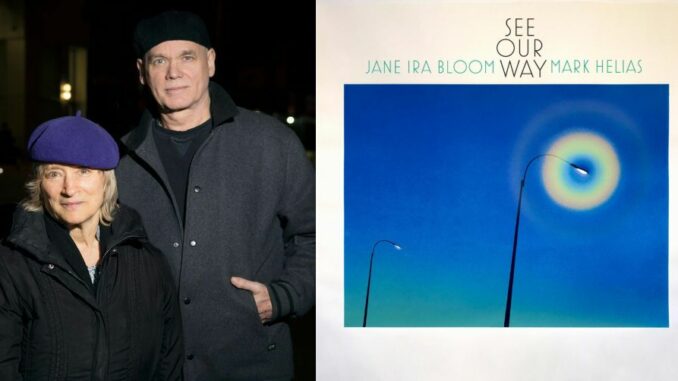 The sax/ bass duo of soprano saxophonist Jane Ira Bloom and bassist Mark Helias has deepened on their latest digital release See Our Way now available on Bandcamp on Radiolegs Records (RL023). Thirteen mind-bending improvised duets performed by two masterful jazz improvisers who know how to coax composition out of the air and then some. From breathtaking ballads like "Folks Sing" and "As Close As It Gets, to hard driving tempos like "Cut to the Chase" and "Hard Science," to the space chasing adventures of "Laser Plane" and "Time Shear," these musicians have no boundaries to their multi-dimensional creativity.
The beauty and adventure of their acoustic sound together is mesmerizing from the start of each song. Their sound is both warm and electric with a depth that is hard to describe. The tracks were recorded from February 2021 through January 2022 and exquisitely mixed and mastered by Helias. Following on the heels of their critically acclaimed 2021 release Some Kind of Tomorrow, Bloom & Helias have brought their listeners ever deeper into their musical universe. Sound and silence are equal partners in their music so they have divided their setlist into three "Multiverses" for listeners to savor in short sections with space in between for breath and reflection. Listen in your own time and enjoy these duo tracks from two seasoned improvisors who love to play music by jumping off the high board. It's magical, it's exhilarating, and out of this world. Hear and See Our Way.
This music was recorded in multiple sessions over several months in 2021-22. It was done at Chateau Beyond Studio in upstate NY. The mixing and mastering was completed at Radio Legs Music in NYC. The pieces were collaboratively improvised and we allowed ourselves the freedom to just be with the music and create the sound as the moment moved us. It comes on the heels of our first duo release "Some Kind of Tomorrow" in 2020. It's hard to put into words how extraordinary it feels to collaborate with a musician who you can coax composition out of the air with. It's exhilarating, it's dangerous, it's like jumping off the high board and it's our way.
Mark Helias Radio Legs Music /BMI
Jane Ira Bloom Outline Music/ BMI
Recorded by Mark Helias & Jane Ira Bloom
Mixed & mastered by Mark Helias
Joseph Helias – Audio Consultant
Cover Artwork "Street Lamps" by Ching Ho Cheng
Cover Design by Christopher Drukker
© 2022 Estate of Ching Ho Cheng/Artists Rights Society (ARS), New York