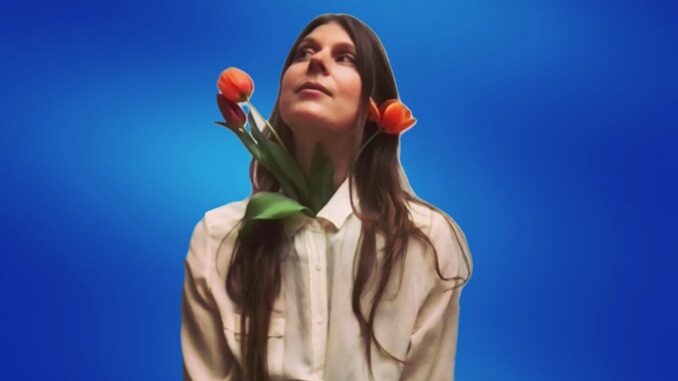 Singer, composer and producer Lydia Ainsworth shares new single "Queen of Darkness Reimagined"; "The Queen of Darkness offers protection to her subjects in the most shadowy of times. The song is dedicated to her highness." Queen of Darkness Reimagined is off Lydia Ainsworth's forthcoming fifth album "Sparkles & Debris Reimagined" out on May 2 via Zombie Cat Records.
"Lydia Ainsworth's pop experiments sound like they're made for big screens. Close your eyes … and let the considerable power of her orchestral strings, horns, and dense harmonies transport you to a dark cinema, where surreal images tumble like falling skies, and it's not quite clear what comes next."— Pitchfork
Acclaimed singer, film composer and producer Lydia Ainsworth will share her upcoming fifth album Sparkles & Debris Reimagined on May 2 via Zombie Cat Records. The new record is the composer's orchestral interpretation of her 2021's experimental pop album "Sparkles & Debris" and blends a live ensemble of strings, horns, harp, saxophone, and boy soprano with Ainsworth's signature evocative vocals. The title single "Sparkles & Debris Reimagined" was released on February 28.
"As a cellist in my youth I relished playing at the back of the orchestra (where I sat because I wasn't a very good cellist!). I loved having my own secret perspective where I could soak in the vibrations and textures of the orchestra to observe from the sidelines. Following scores by composers from a different time and place, it felt like my fellow classmates and I were uncovering some kind of very exciting spell; a magical experience to my young ears and soul. Over the past decade I have explored writing/ producing experimental pop albums but this new album is a return to my classical roots and where I feel most alive at this point in time. During the pandemic I began to reimagine the songs of my album Sparkles & Debris for a chamber ensemble. Beginning with strings which always feels the most natural for me I branched out to also incorporate horns, harp, saxophone and boy soprano. Creating this album I found myself once again chasing the magical feeling I encountered at the back of the orchestra.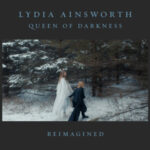 Composing the title single 'Sparkles & Debris Reimagined' was much like shaking up a puzzle and piecing it back together…however not a standard puzzle…. it was more like a gooey mercurial puddle of phosphorescent pieces that were hot to touch. The whole thing was uncertain and emotional, and I made sure to luxuriate in it all. The original version of the song expresses lyrical content about the myth of Athena and Arachne, but for the reimagining I chose to turn inward to a more personal theme of a broken relationship. I took vocal fragments from the bridge of the original that could reflect this theme head on.
The accompanying new instrumental I composed is inspired by the way in which the mind ruminates and replays events when dealing with loss; when you can't quite grasp reality. I used a repetitive figure in harp and clarinet to represent this theme and act as the backbone to the piece. This title track reimagining is the furthest from the original on the album.
I've always loved to incorporate dance and theater in my live performances. I have the good fortune to be sisters with a talented director, Abby Ainsworth, who has for this album directed a united series of accompanying visuals, a journey that will unfold over the course of the album release." ~ Lydia Ainsworth
Awarded a grant by the Canada Council for the Arts for the creation and recording of the album, Lydia Ainsworth composed and produced Sparkles & Debris Reimagined over the past year in Toronto, Ontario. The album features Toronto's Chamber Soloists and was recorded at Noble St Studios, Dessert Fish, and mixed in Dolby Atmos by Jeff Wolpert.
Reviews
"…magnetic and exhilarating … [Ainsworth] has seemingly taken all that she has learnt throughout her lauded career and with it fashioned something truly special…Sparkles & Debris is songwriting and production at their finest."
Northern Transmissions
"Ainsworth has always projected a mad scientist slash sorceress aura, consistently serving up meticulously arranged, ethereal concoctions. But with its layers of electronic programming and live instrumentation, Sparkles & Debris is especially immersive, solidifying Ainsworth's status as dance- pop's reigning 'queen of darkness,' to borrow a phrase from one of her new album's most transfixing cuts."
Pop Dust
About
Lydia Ainsworth is an internationally acclaimed singer, film composer, and producer whose 2015 debut album Right from Real was nominated for a Juno Award for best electronic album and shortlisted for the Polaris Prize. In 2017 her second LP, Darling of the Afterglow, brought with it headlining tours of North America, Europe and Japan as well as support tours with Perfume Genius. In 2019 she released Phantom Forest, and that same year, "Earth Song," her collaboration with Kyle Dixon and Michael Stein, appeared in the last episode of Season 3 of Stranger Things. Her original scores for film and commercials have screened at festivals such as Sundance, Cannes and Hot Docs.