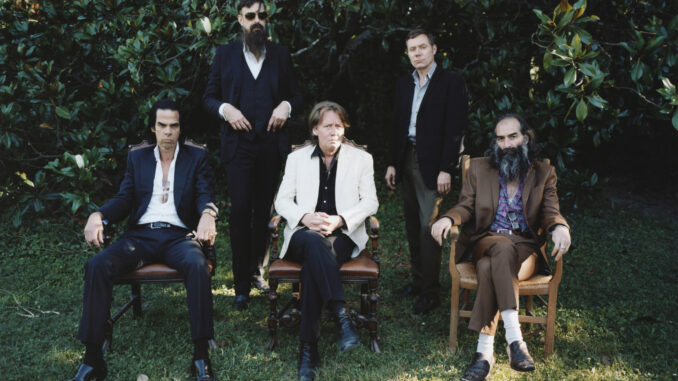 Nick Cave & The Bad Seeds veröffentlichen am 22. Oktober B-Sides & Rarities Part II, den lang erwarteten Nachfolger des 2005 erschienenen Albums B-Sides & Rarities, auf Doppel-Vinyl, Doppel-CD, Deluxe-Doppel-CD und allen digitalen Plattformen.
Heute teilen Nick Cave & The Bad Seeds "Earthlings", einen unveröffentlichten Track aus den Sessions 2018/2019, aus denen das gefeierte Album "Ghosteen" hervorging. Nick hat über den Song gesagt, dass einige ihn für "den besten Track der Ghosteen-Sessions" halten.
B-Sides & Rarities Part I und Part II werden auch zusammen als Limited Edition Deluxe 7 Vinyl Box Set mit 83 raren Tracks und exklusiven Liner Notes veröffentlicht.
B-Sides & Rarities Part II wurde von Nick Cave und Warren Ellis zusammengestellt und enthält 27 rare und unveröffentlichte Tracks aus den Jahren 2006-2020, darunter die ersten Aufnahmen von 'Skeleton Tree', 'Girl In Amber' und 'Bright Horses'.
Der bisher unveröffentlichte Song 'Vortex' ist ebenfalls vorab als Stream verfügbar. Er stammt von B-Sides & Rarities Part II und wurde 2006 von Nick Cave, Warren Ellis, Martyn Casey und Jim Sclavunos geschrieben und aufgenommen. Da die Band nie in der Lage war, den Song entweder als Grinderman oder Bad Seeds zu definieren, blieb er unveröffentlicht.
Das Original B-Sides & Rarities Part I wurde 2005 veröffentlicht – zusammengestellt von Mick Harvey umfasst es 56 Tracks, darunter Raritäten, Outtakes, Cover und B-Seiten aus den Jahren 1988-2005. Dies ist das erste Mal, dass das Album auf Vinyl erhältlich ist.
"I always liked the original B-Sides & Rarities more than any of our other albums. It's the only one I'd listen to willingly. It seems more relaxed, even a bit nonsensical in places, but with some beautiful songs throughout. There is something, too, about the smallness of certain songs that is closer to their original spirit.

B-Sides & Rarities Part II continues this strange and beautiful collection of lost songs from The Bad Seeds. I love the final side of the last disc because it reveals the small and fragile beginnings of some of my favourite Bad Seeds songs. 'Waiting For You' complete with bizarre 'canning factory' rhythm track, a gorgeous 'Life Per Se' deemed too sad for Skeleton Tree, and 'Earthlings' that some consider the finest track of the Ghosteen sessions." – Nick Cave
ALBUM PRE-ORDER HIER
NICK CAVE & THE BAD SEEDS LIVE 2022 –
27.06.2022 Köln, Lanxess Arena
29.06.2022 Berlin – Waldbühne
03.08.2022 Rastatt – Ehrenhof im Residenzschloss