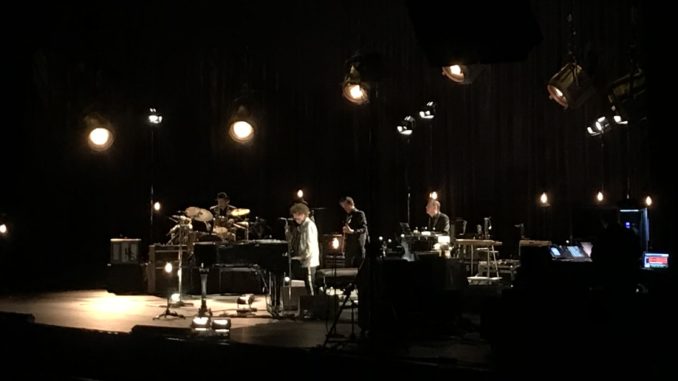 I'm with Bob Dylan like him with Bobby Vee from The Shadows. I just have to come across his name somewhere and it's as if he's standing next to me. And when I put on any of his records, I think back: It was a long way, it was a long and narrow way. You're right next to me / But you're far from home. A tribute to Bob Dylan's 80th birthday.
By Dylan Cem Akalin
Maybe we owe it to Mike Seeger that Bob Dylan gave us all the songs, that he even started writing his own songs. The folksinger was just too good, wrote Dylan in his "Chronicles". If you wanted to be as good as Mike Seeger, he thought, you basically had to be him and no one else. And so it occurred to him that he might have to write his own songs, songs Mike didn't know. "And then I realized that this was all new territory for me. You open the door to a dark room and think you know what to expect, where everything is, but in reality, you don't know anything until you enter. "
That was the way it was in the 1960s, there was a search for creativity, for lyrics that mattered, and the loss of creativity that sometimes came with aging was an omnipresent fear. "Let me die in my footsteps," sang young Bob Dylan. Good thing that didn't happen. And now he's celebrating his 80th birthday.
Bob Dylan instead of Robert Allyn
Bob Dylan was born as Robert Allen Zimmerman on May 24, 1941 at St. Mary's Hospital in Duluth, Minnesota, and grew up in Hibbing, Minnesota. The young man was described as polite but not overly friendly. In May 1960, Dylan dropped out of college at the end of his freshman year and travelled to New York City in January 1961 to seek his fortune as a folk singer in clubs. He originally wanted to call himself Robert Allyn as a musician. The fact that this became Bob Dylan was due to the poems of the Welsh poet Dylan Thomas, which he had just discovered for himself at the time.
Dylan must have taken the advice of his maternal grandmother to heart that happiness is not just somewhere on the wayside, but that happiness is the way itself. He has been on his Never Ending Tour since 1988 and has given more than 3000 concerts. He is restless, which is probably in his blood.
Ancestors from Turkey
He describes his paternal grandmother as a dark-type lady who smoked pipe and spoke with a gruesome accent. Apparently, a woman who had gotten to know the hardest side of life. She had immigrated to America from southern Russia, but originally came from Turkey. Her family came from Kagizman, a Turkish town near the Armenian border, and her maiden name was Kirghiz. The ancestors came from Constantinople. She had crossed the Black Sea from the port city of Trabzon. Anna Kirghiz and Zigman Zimmerman emigrated from Odessa to the United States after the pogroms of 1905. His maternal grandparents, Florence and Ben Stone, were Lithuanian Jews who came to the United States in 1902.
Dylan is the "artist with countless masks", I read, the "man who kept reinventing himself". Apart from the fact that I can't do anything with such empty phrases, is it really like that? Or is he just an artist who has always continued to develop his artistic persona? Well, there were records on which the blues dominated, jazz lounge-oriented recordings, funk, jazz, folk, reggae, pop and rock, yes, he absorbed all of that, maybe even shaped a lot of these genres. But he was and is a poet who neither wanted to be captured nor to be pegged. He didn't fit into any category is displeasing to music critics. In his biography he describes how he was once announced at the Newport Folk Festival with the words: "And there he is … grab it. He's yours!", which disturbed him. "As far as I knew, I didn't belong to anyone then – any more than I do now."
He wanted to be like Picasso
No, this man did not want to be a spokesman or a prophet. All he cared about was moving on. It was useless. His house in Woodstock was besieged, people invaded his property, climbed the roof, followed him to New York, and held vigils in front of the apartment building. Dylan was on the run. He fled from the intrusive fans, from fellow musicians like Joan Baez, who with the song "Diamonds and Rust" even asked her friend to take part in the protests.
"Picasso had broken into the world of art and pushed its boundaries. He was a revolutionist. I wanted to be like that too," he wrote about his youth. For him that only referred to the music. People saw Dylan as a protest singer because some songs suggested that idea. For Dylan, folk songs told the truth about life, "and life is more or less a lie, but then again, we don't want it any other way. If it were different, we wouldn't feel good." He knew himself that his folk songs weren't catchy. Nor should they be. They shouldn't be cheerful, either. "They don't splash gently on the bank. It's fair to say that they weren't commercial. And not only that, my style was too unpredictable and difficult to classify for the radio, and songs mean more to me than just light entertainment. They were my guiding star and my guide on the way to a different perception of reality, to another country, a liberated country. "
1966 at the Royal Albert Hall
Being unpredictable soon became part of the concept. When he played the electric guitar in 1966 and first confused and then annoyed the audience at the legendary concert in London's Royal Albert Hall, it had nothing to do with ingratiating himself with the young audience of the burgeoning beat generation. On the contrary. It was always about his personal, artistic freedom – and about testing limits. How did the audience react to country? How does an album based on Chekhov's stories go down? What about "Pat Garrett Chasing Billy the Kid"? He did not want to be the "chief populace of rebellion" or "high priest of protest".
The man with the many faces. Perhaps because his visit to Pope John Paul II in 1997 confused many? A Jewish boy from Hibbing, Minnesota who converted to Christianity in 1979 visits the Vatican?
Or because he did not accept his Nobel Prize at the 2016 ceremony in person? And instead asked his girlfriend Patti Smith to replace him and sing "Hard Rain"? Was that really surprising? After receiving his first honorary doctorate, Dylan stopped accepting awards and honors. He hated being captured or set up as a torchbearer again, for whatever cause.
Forever Young
Dylan remains ageless and timeless for me. With age, he never had any quarrel, even if in a song, he wished for his friends staying "forever young". When his fingers stiffened, he gave up playing the guitar all evening and switched to the piano.
On "Freewheelin' already, "Dylan sounded old, croaking and brittle – a voice that was probably modeled on that of his hero Woody Guthrie. On "Talkin 'World War III Blues" he sounds like a preacher in an apocalyptic mood. And "A Hard Rain's a-Gonna Fall" was the prophecy of a world in which things went wrong. His voice would change over and over again over the years. The nasal voice on some of the songs of "Good As I Been To You" is actually irritating at times.
And his songs offer space for discovery. "Songs are like dreams that you try to make come true. They are like foreign countries that you travel to," he wrote. The characters in some of his songs stroll through feverish dreams, "they had seen life, interfered and broken hearts". The man wrote the most beautiful love songs and the most famous melodies, which were reinterpreted by several other musicians. But Dylan makes no secret of the fact that songwriting is hard work. "You don't see the songs coming and you ask them to come in through the door. It's not that simple. You want to write songs that are bigger than life. You want to report what strange things happened to you, what strange things you saw. You need knowledge and understanding and you have to grow beyond everyday language," he describes it himself.
Over the years, Dylan's songs have shaped our private memories and flooded our souls, as he himself sings about in "Precious Memories". Or in "Open the Door, Homer": "Take care of all your memories/Said my friend, Mick/For you cannot relive them".