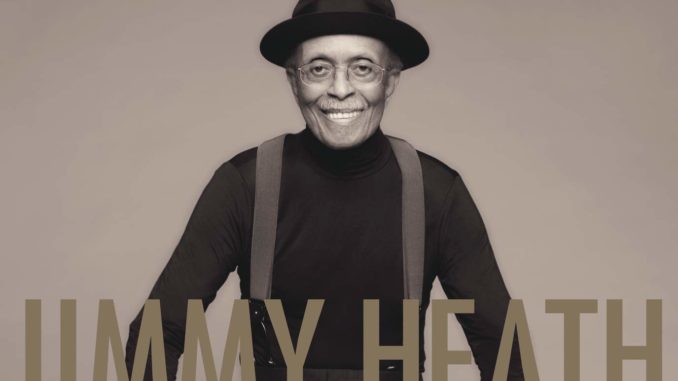 Verve Records releases Love Letter, the first all-ballads album from magisterial tenor saxophonist-composer Jimmy Heath. In addition to his original material, this elegant collection offers the jazz ambassador's beautiful take on ballad classics, and includes songs written by Billie Holiday, Mal Waldron, Dizzy Gillespie, Kenny Dorham, and Gordon Parks. The album also features 21st century vocal superstars Gregory Porter and Cécile McLorin Salvant, and trumpet icon Wynton Marsalis.  Love Letter is available worldwide now and you can listen to the album here.
For Love Letter, Jimmy presided over a brilliant cast of colleagues and friends. Joining Maestro Heath is a multi-generational all-star unit, including NEA Jazz Master pianist Kenny Barron, esteemed guitarist Russell Malone, soulful vibraphone veteran Monte Croft, New York first-call bassist David Wong, and all-world drummer Lewis Nash. Love Letter features all new arrangements by Heath on Gillespie's "Con Alma," Dorham's "La Mesha" (featuring Marsalis), Gordon Parks' "Don't Misunderstand," and "Left Alone" the Billie Holiday Mal Waldron collaboration, as well as three originals chosen from his vast body of work. Heath's soulful, trenchant, urbane solo flights evoke his poetic spirit with old master concision and the authoritative chops of a musician half his age.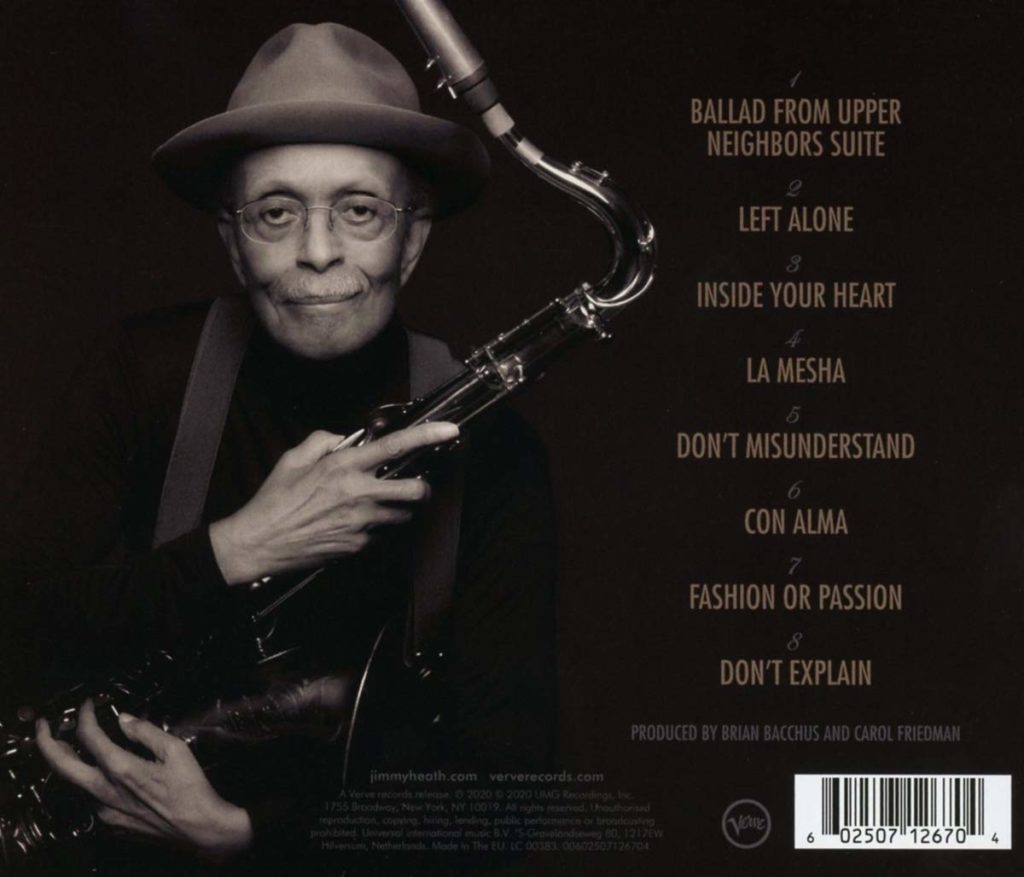 A listener unfamiliar with the backstory of Love Letter would not imagine that the orchestrator and primary instrumental voice on this recording is a jockey-framed, spirited, 93-year-old man, who with the full breadth of his intellectual powers, delivers his final, magnificent salvo. 
Jimmy Heath Bio
Jimmy Heath has long been recognized as a brilliant instrumentalist and a magnificent composer and arranger. Jimmy is the middle brother of the legendary Heath Brothers (Percy Heath/bass and Tootie Heath/drums), and is the father of James 'Mtume', Roslyn and Jeffery. He has performed with nearly all the jazz greats of the last 50 years, from Howard McGhee, Dizzy Gillespie, and Miles Davis to Wynton Marsalis. In 1948 at the age of 21, he performed in the First International Jazz Festival in Paris with McGhee, sharing the stage with Coleman Hawkins, Slam Stewart, and Erroll Garner. One of Heath's earliest big bands (1947-1948) in Philadelphia included John Coltrane, Benny Golson, Specs Wright, Cal Massey, Johnny Coles, Ray Bryant, and Nelson Boyd. Charlie Parker and Max Roach sat in on one occasion.
During his career, Jimmy Heath has performed on more than 100 record albums including seven with The Heath Brothers and twelve as a leader. Jimmy has also written more than 125 compositions, many of which have become jazz standards and have been recorded by other artists including Art Farmer, Cannonball Adderley, Clark Terry, Chet Baker, Miles Davis, James Moody, Milt Jackson, Ahmad Jamal, Ray Charles, Dizzy Gillespie J.J Johnson and Dexter Gordon. Jimmy has also composed extended works – seven suites and two string quartets – and he premiered his first symphonic work, "Three Ears," in 1988 at Queens College (CUNY) with Maurice Peress conducting.
After having just concluded eleven years as Professor of Music at the Aaron Copland School of Music at Queens College, Heath maintains an extensive performance schedule and continues to conduct workshops and clinics throughout the United States, Europe, and Canada. He has also taught jazz studies at Jazzmobile, Housatonic College, City College of New York, and The New School for Social Research. In October 1997, two of his former students, trumpeters Darren Barrett and Diego Urcola, placed first and second in the Thelonious Monk Competition.
Heath's enduring dedication to jazz as well as his musicianship prompted the following tributes:
"All I can say is, if you know Jimmy Heath, you know Bop." – Dizzy Gillespie
"Trane was always high on Jimmy's playing and so was I. Plus, he was a very hip dude to be with, funny and clean and very intelligent. Jimmy is one of the thoroughbreds." – Miles Davis
"My pick from the world's talent would be Diz as leader, John Lewis or Hank Jones on piano, Ray Brown bass, Milt Jackson vibes, Jimmy Heath tenor, and Sonny Stitt alto." – Kenny Clarke
"I had met Jimmy Heath, who – besides being a wonderful saxophonist – understood a lot about musical construction. I joined his group in Philadelphia in 1948. We were very much alike in our feeling, phrasing and a whole lot of other ways. Our musical appetites were the same. We used to practice together, and he would write out some of the things we were interested in. We would take things from records and digest them. In this way, we learned about the techniques being used by writers and arrangers." – John Coltrane, Downbeat, 1960