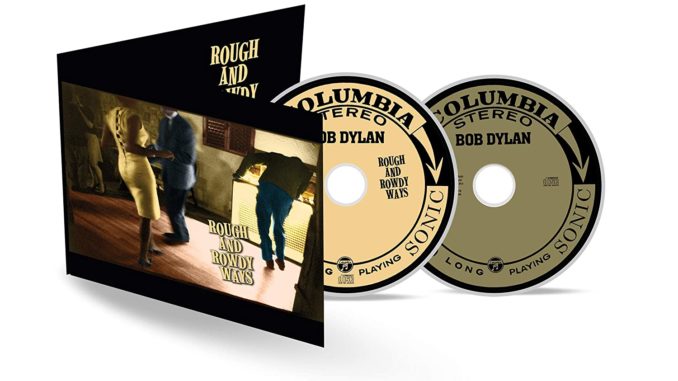 What a great album! "Rough and Rowdy Ways" by Bob Dylan is a look at life and death – from a man who is not afraid of either one or the other. Dylan has once again immersed himself deeply in his soul, scattering literature and pop references over long songs with minimal melodies, songs that feel like washed out driftwood, powerful but vulnerable, stories that fly through the open window like a gentle breeze and make the curtains gently blow. A great album with a lot to discover. The album will be released on CD this Friday, June 19, and will only be released on vinyl in July.
By Dylan Cem Akalin
The first track on the album "I Contain Multitudes" begins with a great, enthusiastic gesture. "Today, and tomorrow, and yesterday, too/The flowers are dyin' like all things do." These introductory lines are borrowed from Shakespeare's Macbeth monologue and are then quoted from a poem by the Irish poet Antoin Ó Raifteirí ("The Lass from Bally-na-Lee"). And so Dylan continues to dream walking with us through the imaginary halls of his literary ancestors. There are lines full of pictures, full of evidence of traces of his poetic passion. The title is already taken from Walt Whitman's "Song of Myself, 51". A piece about the miracle of experiencing nature and the ability of man to become one with himself and with nature. Dylan reminds us of Whitman's finest lines, depicting the "past and present" as withered plants that were once alive and sensitive, but are now being emptied of the present of their lives.
"I sleep with life and death in the same bed"
And this is how the song continues. His heart beats through the wooden floorboards as in Edgar Allen Poe's short story "The Tell-Tale Heart", and he paints watercolors like the wonderful little film hero Sam in Wes Anderson's "Moonrise Kingdom". Through this crazy dream, the Rolling Stones buzz to a song by Bob Luman. Dylan pays homage to Anne Frank, Indiana Jones and the English poet, naturalist and painter William Blake, plays sonatas by Beethoven and preludes by Chopin and asks at the end: "What more can I tell you? I sleep with life and death in the same bed."
And he sings all of this with an omniscient nonchalance and indifference to extremely economical instrumentation.
And what about this song "False Prophet"? The music is based on Billy "The Kid" Emerson's "If Lovin 'Is Believin" "(1954). " I ain't no false prophet," Dylan growls over a creeping blues groove that is driven by an almost dirty guitar riff. " I just know what I know." The text moves between the existential weariness of an immortal, tired Satan, his casual boldness and a number of spiritual allusions. And at the end of the song, he casually remarked "Can't remember when I was born/
And I forgot when I died".
"My Own Version Of You"
Dylan never wanted to be called a prophet himself, not even a poet. In an early interview he said of himself that he was just doing dance music. "Elvis maybe. I could easily imagine becoming him. But prophet? No."
"My Own Version Of You" sounds like a humorous Frankenstein story when he's looking for body parts. "I'll take the Scarface Pacino and The Godfather Brando". But there are far too many biblical references for that. There is Jerome (Hieronymus) von Stridon, the theologian and historian who translated the Bible into Latin, and Saint Peter, John the Apostle. It all sounds like a quirky version of the book of Isaiah and the making of the images of the gods. And of course he doesn't get by without references to his personal heroes like Frank Sinatra.
"I dont wanna fight, at least not today."
On "I've Made Up My Mind to Give Myself to You" Dylan sings a fragile and delicate song about love and death, in the background a male choir hums the melody motif of Barcarole from Offenbach's "Hoffmann's Tales" like in an old Western movie. Gentleness of age, one would think. A cozy look back at "a long way of despair". "I met no other traveler there/Lot of people gone, lot of people I knew". And in the end he hopes the gods will make it easy for him …
With "Black Rider" it is no less dark. Here, too, he is concerned with death, and that with the inwardness of an Italian minstrel. Death is on his heels, but he hardly wants to oppose him anymore: "I don't want to fight, at least not today." But this man does not want to be put down by him, instead he threatens death, he will cut off his arms.
"Goodbye Jimmy Reed"
The song "Goodbye Jimmy Reed" is a soothing homage to one of the early kings of Chicago blues. When Bob Dylan sings the muses with the folk ballad "Mother Of Muses", it is also a song about his own country. He already did it with songs like "With God On Our Side", or with the great, almost 17-minute epic "Murder Most Foul", which he already published in March and can also be found on this album. With the song about the "Mother of the Muses" he drives the contradictions of enlightenment, fame and freedom to extremes: With two lines, he spans the arc from the civil wars to the campaigns against the Native Americans to the two world wars. "Sing of Sherman, Montgomery, and Scott./ And of Zhukov, and Patton, and the battles they fought." It's about the morality of waging wars in the sense of freedom of all kinds, be it before the English, the conquest of the country or against invaders like the Germans at Stalingrad.
For Dylan, these questionable stages in human struggle lead to musical revolutions like that of an Elvis, to upright civil rights fighters like Martin Luther King. All of this determined American history and its legacy of slavery and racism, which has not been worked through to this day.
"Crossing The Rubicon"
The phrase "crossing the Rubicon" describes an action after which there is no going back. And in "Crossing The Rubicon" Dylan looks grimly on this path. If Dylan's prevailing mood for "Tempest" was murderous rage, it's a brooding, impending doom that is somehow threatening. The music is a subdued R'n'B shuffle, the vocals have a good reverb. And then he sings these lines:
"I can feel the bones beneath my skin
And they're tremblin' with rage
I'll make your wife a widow
You'll never see old age"
Of course, it has been one of Dylan's methods for a long time to grumble that everything is going down the drain. But this time the message seems to have shifted slightly. Do we also hear hope in the songs?
"I feel the holy spirit inside
See the light that freedom gives
I believe it's in the reach of
Ever' man who lives".
"Key West is fine and fair"
And finally, he gives us a wonderful ballad about the philosophical meaning of Key West, the right place if you are looking for immortality: "Key West is fine and fair / If you lost your mind you'll find it there."
It's the songs of a 79 year old who still has something to say. And with the strength and rage of one that you shouldn't mess with. Dylan snorts, growls, he teaches, tells and roars like a man who has nothing to prove. After all, he threatens to make someone's wife a widow or to cut off his arm. Dylan is still there. And that's so good.