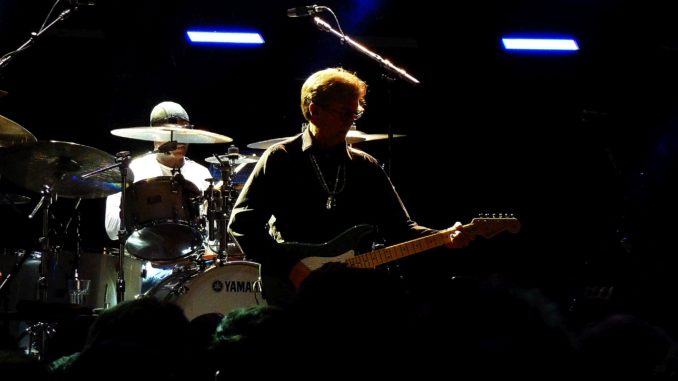 Eric Clapton at the Royal Albert Hall. It's as if the 74-year-old wanted to prove again how much energy is in him. In 104 minutes, he teaches us the full range of his emotions – the man tormented by the painful loss ("Tears in Heaven") to the virtuoso rock star who makes his guitar scream and dance like no other. And the Londoners celebrate the man from Ripley, Borough of Guildford, like the Lion King. It is the start of the European tour, followed by two more concerts in "his" Royal Albert Hall.
By Dylan Cem Akalin
There's the anxious question: Will Eric Clapton still be in his old form? After all, in 2013 he was diagnosed with peripheral neuropathy, a nerve disease that causes tingling in the extremities and painful "shocks" that make guitar playing and playing difficult. And yet the 74-year-old has embarked on a world tour, coming back from Japan. And then the three-time Rock'n'Roll Hall of Fame winner takes the stage, followed by drummer Sonny Emory, guitarist Doyle Bramhall II, keyboardist and vocalist Paul Carrack, keyboardist Chris Stainton and singers Sharon White and Sharlotte Gibson. He straps on the black Fender Stratocaster while the audience already stands up and cheers him. And what does he play as an opening song? "Que sera sera" as a gorgeous ballad in memory of Doris Day, who died 97 years old that day.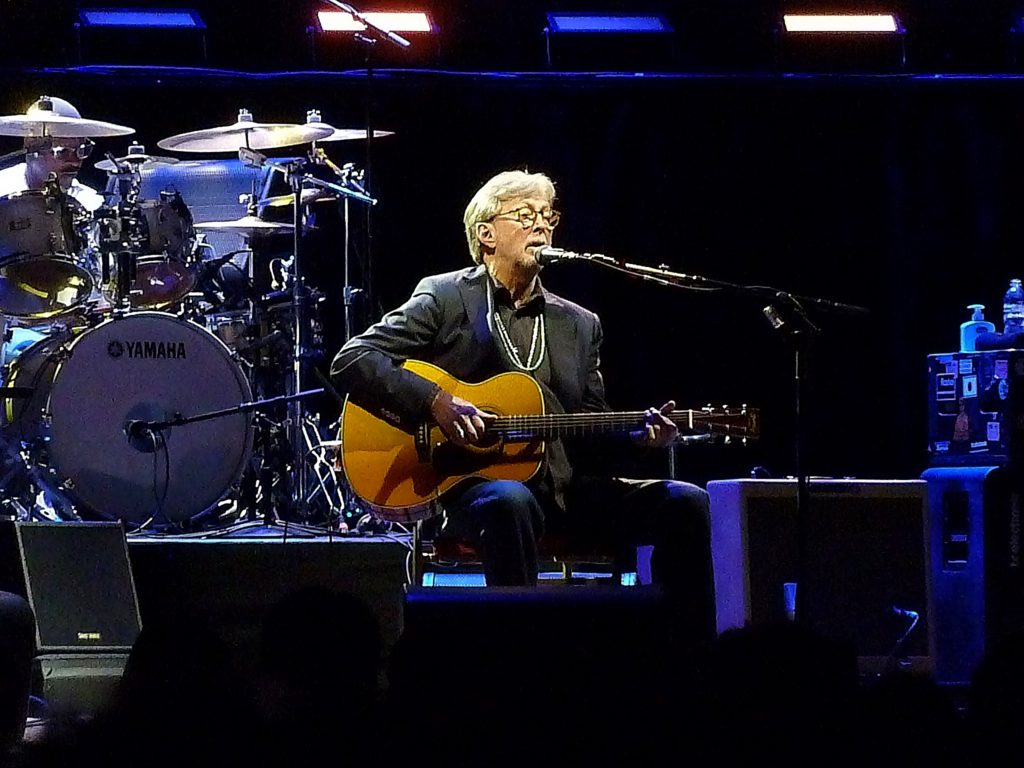 But then comes the wonderful Blind-Willie-Johnson cover "Motherless Children" with a light country feel to the rhythm, and Clapton plays an exciting slide guitar solo – with the well-known, stylish Clapton sound. With this and the next, "Key to the Highway" by Charles Segar, he makes it unmistakably clear where his deepest roots are: in Blues. The song he had already recorded in 1970 on the album "Layla and Other Assorted Love Songs" with Derek and the Dominos. The song retains its classic blues character this evening and after an honky tonk piano performance by Chris Stainton, Paul Carrack moans his organ.
Doyle Bramhall II is playing a fantastic solo
Wah-wah-distorted and wild is Clapton's solo on "Pretending", as I have not heard him for a long time. And he gets that round, metal, almost bell-clear sound out of the Fender Stratocaster, as if cutting it out of soft butter. Doyle Bramhall II plays a fantastic solo on "I'm Your Hoochie Coochie Man", actually a song by Willi Dixon that I do not like very much, but Clapton adds a certain amount of sharpness to the song becoming a dynamic rock number.
The slight reggae rhythm lets you guess what's coming, but only when Clapton strikes the well-known riffs, the audience is almost back on its feet. "I Shot The Sheriff" with a truly divine guitar part: Eric Clapton has set his fender on a clear tone. No distortion, no unnecessary sound changes. He lets the pure fender sound out of the strings, the solo has almost the elegance and the spirit of a flamenco.
The acoustic set starts with the beautiful "Driftin 'Blues" (Johnny Moore's Three Blazers). And as he sings that he's floating like a ship on the high seas and has no one to take care of him, one inevitably thinks of his biography with the many personal breaks and crashes, with the self-doubts and the abysses.
Where pain and joy unite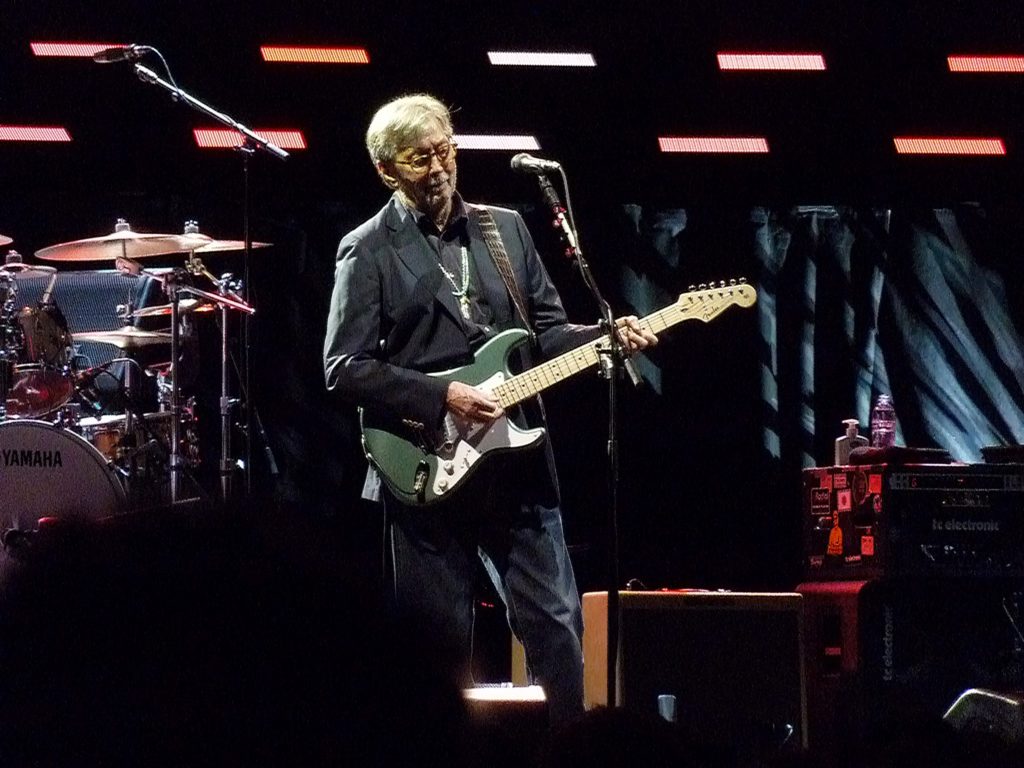 That's probably what the fans love about him. Clapton was not and is not one who has a linear biography, he is one who knows exactly what pain means. And maybe it's how he conjures up that incomparable guitar sound from his fingers, a sound that unites pain and joy – both of these emotions are in the same key. Incidentally, Bramhall plays an almost flute-like solo on this piece. Very wonderful.
"Nobody Knows You When You're Down and Out" is swinging.
And as the artificial smoke on the stage wraps itself in blue and the first notes of "Tears In Heaven" resound, Carol from Oxford, who is sitting next to me, is not the only one in the audience who shakes his hand with emotion. It is a beautiful version, accompanied by a slide guitar by Bramhill that sounds almost like a violin. With "Change the World" some fists go up and when I look back at "Running on Faith", I look into the tear-filled eyes of a fan. What kind of song is this that hits you right in the bone marrow?
Eric Clapton is a musician who has already been compared to God at a young age, but he is approachable. The fans feel the feelings he conveys, even with his voice so fragile. By the way: The man sounds and plays in no way like a 74-year-old, he sounds so youthful, so fresh and energetic that you really can hardly believe it.
The soul has to resonate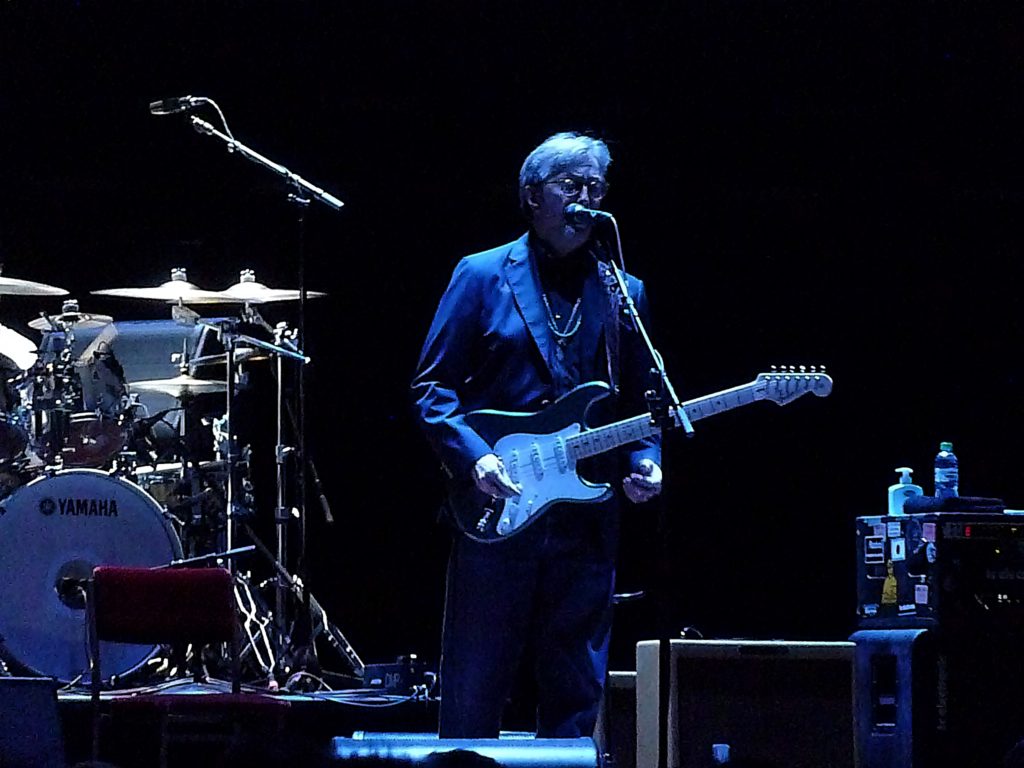 Whether on the acoustic or the electric guitar: the soul has to resonate. And the guitar is always kind of cultivated. For Clapton, the guitar is like a wild stallion he does not want to tame completely, he wants to give him enough freedom to shout out his pain. At "Tearing Us Apart" he lets his guitar dance on a tightrope while the band rages around him.
"Holy Mother" is such an example where mourning and bliss are so musically united. The maestro starts "Five Long Years" under the bright beam of light before the band jumps. His teammates excel at "Crossroads". "Layla" is the song of the song with which Eric Clapton ends the evening – and then returns to the stage for a mega version of Prince's "Purple Rain". An evening that will never be forgotten.