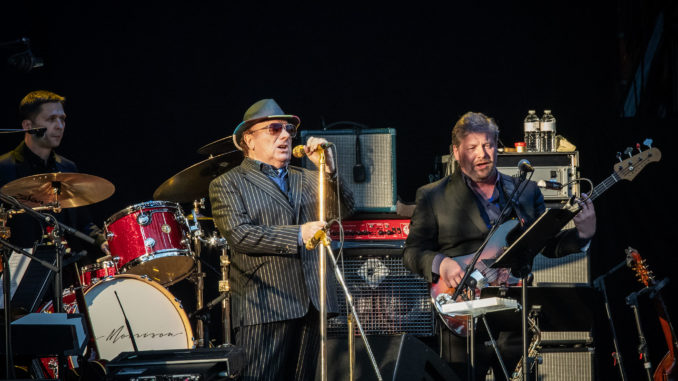 Another new album by Van Morrison? He is considered by far the most diligent old rocker. Northern Ireland's blues rock legend releases a new album almost every three months. Now with The Prophet Speaks
again a proven mix of jazz, soul and blues. Where does all this energy of the 73-year-old come from? And he's on tour again – first for several concerts at Caesar's Palace in Las Vegas, then in Los Angeles and Chicago. European tour dates are not yet known.
by Dylan Cem Akalin
And his voice has such a refreshing youthfulness! On the cover of The Prophet Speaks
, his fourth album in a year, Van Morrison is seen wearing a ventriloquist doll, resting a finger on his lips. This fourteen-track album follows a series of critically acclaimed albums ("Roll With The Punches", "Versatile" and "You're Driving Me Crazy"), each of which has gone deep into the musical styles that Van has throughout his life have inspired: Vocal jazz and R & B. According to the official census, this is his 40th studio album, and it ties seamlessly to the other records, with which he celebrates the sounds of his youth since September 2017. The fans will not discover anything surprisingly new, but they reflect an overwhelming joy in music.
Six new Morrison originals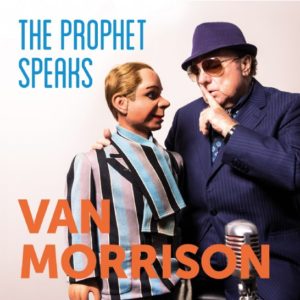 For any other artist, such music would sound like honest bar music. With "Van the Man" it still sounds ravishingly cool. In addition to cover versions such as Sam Cooke's "Laughin 'And Clownin'", John Lee Hooker's "Dimples" or Solomon Burke's "Gotta Get You Off My Mind", six new Morrison originals can also be heard on the record.
"The Prophet Speaks" is again the result of a collaboration with the incredible organist / multi-instrumentalist Joey DeFrancesco (who is also responsible for You're Driving Me Crazy) and his band, including Dan Wilson on guitar, Michael Ode on drums and Troy Roberts on tenor saxophone.
Vulnerabilities? None!
As expected, it's the new Morrison songs that impress the most. "Is not Gonna Moan No More" honors some of his musical inspirations, including Jon Hendricks and Louis Armstrong. "Got to Go Where the Love Is" has this wonderfully laid-back, relaxed feeling, which is largely due to the game of DeFrancesco and his band. Vulnerabilities? None!
Tour dates
Fri Jan 25th, The Colosseum at Caesars Palace, Las Vegas
Sat Jan 26th, The Colosseum at Caesars Palace, Las Vegas
Wed Jan 30th, The Colosseum at Caesars Palace, Las Vegas
Fri Feb 1st, The Colosseum at Caesars Palace, Las Vegas
Sat Feb 2nd, The Colosseum at Caesars Palace, Las Vegas
Tue Feb 5th, The Wiltern, Los Angeles
Wed Feb 6th, The Wiltern, Los Angeles
Fri Feb 8th, The Colosseum at Caesars Palace, Las Vegas
Sat Feb 9th, The Colosseum at Caesars Palace, Las Vegas
Wed Apr 24th, Chicago Theatre, Chicago
Thu Apr 25th, Chicago Theatre, Chicago