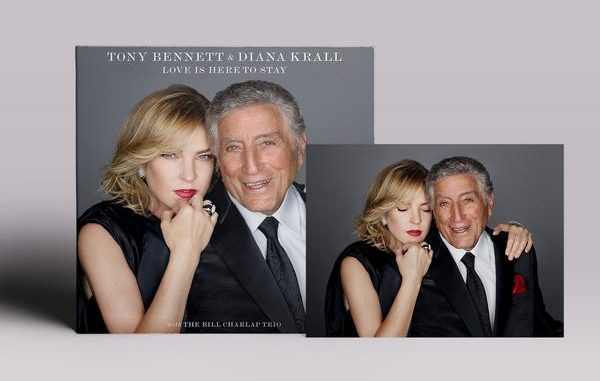 Well, the song selection is not really exciting. But Tony Bennett could sing my tax return and bring in some elegant class. Hard to believe that the man is 92 years old. He still has a gorgeous voice, this viscous honey on the vocal cords may not be as sweet as it was 30 years ago, but he's unmistakably there. And then in a duet with the wonderful Diana Krall, who brings a little Lauren Bacall in the matter. Coolness and beauty. So who needs more arguments to buy Tony Bennett & Diana Krall's album "Love Is Here To Stay"? I would not have to list more now.
By Dylan Cem Akalin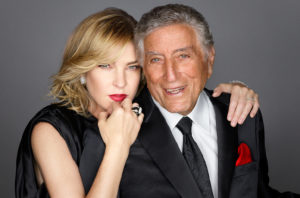 Anyone listening to the songs, all by George and Ira Gershwin, will of course immediately have Fred Astaire in mind, including Frank Sinatra and Ella Fitzgerald, of course. But so far, hardly anyone embodied this ease of songs as much as Astaire. Of course, Tony Bennett also has this weightlessness in his interpretation, but he has found his own way of reconciling youthfulness and serenity. The man is a real star!
Diana Krall, with her somewhat bulky piano, the broken sequences, brings in a healthy dose of modernity, singing her cool, casual way of singing. This is really like cinema at its best.
Mischievous and seductive
And then this casualness, the elegance, the cunning and the seductive in Krall's voice. The two interpret the old classics with ease and cautiousness, which somehow leaves everything in the balance between seriousness and irony. That's what makes this performance complete. And then, of course, there is another factor that makes this tribute to the Great American Songbook so special: The two are equally knowledgeably supported by the trio of pianist Bill Charlap, son of a Tin Pan Alley songwriter.
Jazz singers from the golden age
At the age of 92, Tony Bennett is the last jazz singer of the Golden Age. His career goes back so far that an overview would not fit on an album, from classic big band arrangements to the groundbreaking recordings of the 1970s with pianist Bill Evans. The fact that he is still an active artist, showing no signs of old age fatigue or weakness, carelessness or indolence, testifies not only to his relentless work ethic, but also to his almost unrivaled ability to sing and perform songs. His approach is one that expresses ease, his vocals sound almost like a confidential conversation, musically creating a direct, intimate listening experience.
Like Humphrey Bogart and Lauren Bacall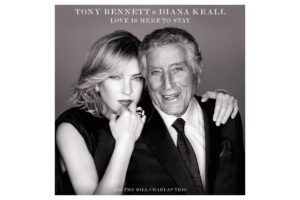 Singer and pianist Diana Krall released her first album 25 years ago, more like the third generation who worshiped the songs of Bennett and his contemporaries. Krall's approach to interpreting the Great American Songbook and jazz standards was more a reserved and respectful one, she never overdid it with the revision. Maybe it was her approach to this jazz culture that brought her and Bennett together, as did Humphrey Bogart and Lauren Bacall – on a professional level, of course. In the year 2000, the two were on a short tour, so the friendship has been around for a few years, so that "Love Is Here to Stay" is really no big surprise.
If there is anything to criticize about the work, then that they are actually a bit too respectful of the Gershwin material, rarely deviate from the original tune. Even if, as in "S Wonderful", they enthrall the listeners, they take you into a candlelit club atmosphere. Above all, they could have harmonized with phrases, instead of singing unison lines throughout.
Little thrill
The imaginative reworking of "I Got Rhythm" is a clear highlight on the album. The melody races around a gently fluttering snare pattern that plays with the beat rather than serving the rhythmically pleasing. On the piece, the Charlap trio proves its playful strength. Her presentation of "Fascinating Rhythm" is a small thrill. The lovely thing is that it was Bennett's debut single in 1949. And during those nearly 70 years separating the recordings, Bennett has lost absolutely none of his penchant for entertainer and his qualities as a singer. Incredible!