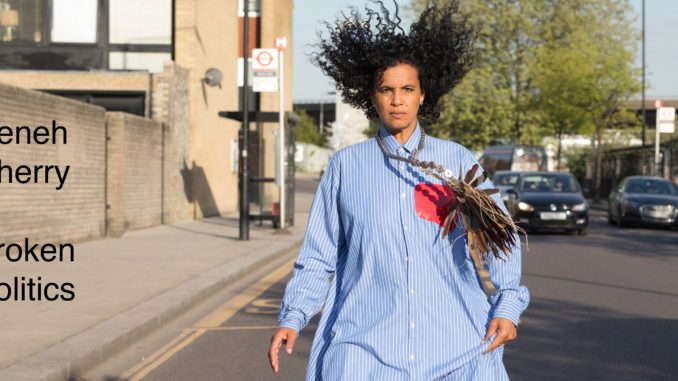 Broken Politics will be out Friday 19th October 2018 on Smalltown Supersound via AWAL Recordings.
Following the release of her first earth-quaking single in 4 years at the beginning of August, counter-culture pop icon Neneh Cherry shares a new song Shot Gun Shack, produced by Four Tet. Neneh also reveals the name and track list of her fifth solo album Broken Politics, which was produced in its entirety by Four Tet.
Shot Gun Shack
Continuing her blurring and conflation of the personal and the political, new single Shot Gun Shack tackles the link between violence and deprivation using poetic logic. A 'shot gun shack' or 'shot gun house' was the most popular type of house in the Southern United States from the end of the Civil War to the 1920s, originating in New Orleans.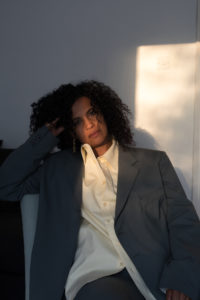 The track deals with the ever-present and always-global issue of gun violence in society. The track's name was the result of inspiration that sprung from a half-remembered conversation Cherry had at the funeral of late jazz great Ornette Coleman. "I don't even remember who said it, but I was like, 'Shotgun shack! That's a cool term," she says with a laugh—but the themes dealt with in the song are far from funny. "It's about gun culture—the notion of war zones and the tragedies that guns bring there," Cherry explains matter-of-factly. "The dealing of arms. Street culture. The gun is a powerful thing—dangerous, but powerful."
The single is another creative meld of avant-pop that could only be Neneh; the daughter of jazz great Don Cherry who grew up in rural Sweden, early 80s Alphabet City, NYC and post-punk era Bristol and London.
Also shared today is the artwork for Broken Politics by the Turner Prize winning Wolfgang Tillmans. Wolfgang is the most important documentarian of his generation of London and Berlin's club and gay scenes who recently created the photo art for Frank Ocean's 2016 album Blonde and the physical magazine that accompanied it Boys Don't Cry.
Truly singular and potent music
Neneh's new record pointedly asks the question; how do we conduct ourselves in extraordinary times? In an era where the signal-to-noise ratio is more uneven than ever, what are the measures we must take to retain and remember our own personhood? It searches for answers, patiently and with great care, and with a fearlessness to acknowledge that sometimes the answers don't even exist. It's a record that's equal parts angry, thoughtful, melancholy, and emboldening, as Cherry and her collaborators continue to expand her ever-widening sonic palette to craft truly singular and potent music.
Work on Broken Politics began as touring wound down behind Cherry's previous full-length, 2014's Blank Project, and she felt a drive to continue creating after collaborating on that record with Kieran Hebden (Four Tet). "That last album was much angrier and forceful, whereas this one is quieter and more reflective," she states. "I haven't always been so good at getting things out so quickly, and it still took a while—but that's okay."
Cherry, writing partner Cameron McVey, and Hebden decamped to Woodstock, New York for a week-long recording session at the Creative Music Studio, a recording space founded by jazz pianist Karl Berger—who, in a stroke of providence, was a band member of Neneh's stepfather and Don Cherry as well as being friends with her mother Moki. "Being in a studio with them was like being in a familiar space. It was easy to reach into myself for the feelings I needed to be in tune with a song—and at night, Cameron and I would have dinner with Ingrid and Karl and they'd tell stories about my father. There were deep threads."
"I like writing from a personal perspective"
"It was one of the best writing periods I've had in a really long time," Cherry continues while discussing the creative process behind Broken Politics. "I got out of the waiting room and into the inner sanctum."
"I'm very shy about taking on big themes with the airs that I've got a solution—who has the fucking solutions?" Cherry admits while talking about the album's title. "I like writing from a personal perspective, and the time we live in is so much about finding your own voice. People have been left feeling misheard, misunderstood, and disillusioned. What the fuck can I do? Maybe politics starts in your bedroom, or your house—a form of activism, and a responsibility. The album is about all of those things: feeling broken, disappointed, and sad, but having perseverance. It's a fight against the extinction of free thought and spirit."
"I have a name. You have a name. We're not just these faceless mounds you can put in the ground," Cherry proclaims when talking about her worldly vision that seeped into Broken Politics. "We're human beings with lives and stories." Art can often remind us of how it feels to live in the moment, and it can also be instructive in helping understand how to preserve that moment. Broken Politics finds Cherry at her most generous and benevolent towards a world that is often anything but. She puts it best in the chorus of LP track "Fallen Leaves," in her own defiant way: "Just because I'm down/ Don't step all over me."