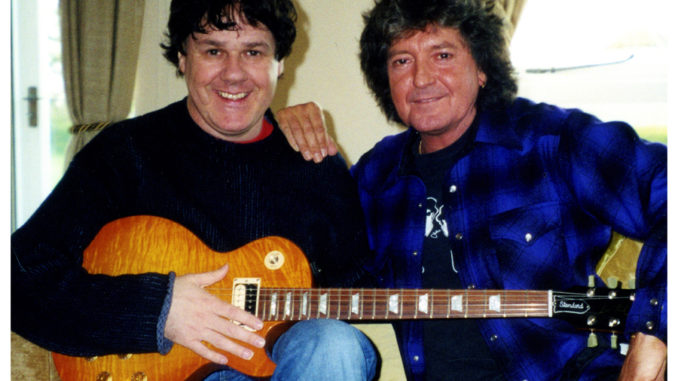 Gary Moore
hat nicht nur eine ganze Generation von Gitarristen, sondern auch das Gitarrenspiel selbst beeinflusst.
Bob Daisley, ebenfalls bekannt für sein Mitwirken u. a. bei Rainbow,
Ozzy Osbourne
und
Mungo Jerry
, ist die treibende Kraft hinter
"Moore Blues For Gary"
. Der Bassist und Produzent spielte mit
Gary
seit den 1980er und war maßgeblich mit dafür verantwortlich, dass
Gary
sein erstes Blues Album aufnahm –  der Rest ist Geschichte, denn "Still Got The Blues" wurde ein weltweiter Erfolg, auf den eine Serie von klassisch modernen Blues Alben folgten.
Mit "Still Got The Blues" wird nun auf dem offiziellen YouTube Kanal von earMUSIC ein erster Einblick in das Tribite-Album gewährt. Aufgenommen wurde der Titel von Bob Daisley, Danny Bowes, John Sykes & Deep Purple Keyboarder Don Airey.
hier die Trackliste:
01. 'That's Why I Play The Blues' 
Vocals – Jon C. Butler; Guitars – Tim Gaze; Bass Guitar – Bob Daisley; Drums – Rob Grosser; Keyboards – Clayton Doley
02. 'The Blues Just Got Sadder' 
Vocals – Joe Lynn Turner; Lead Guitar – Steve Lukather; Rhythm Guitar And Slide Guitar – Tim Gaze; Bass Guitar – Bob Daisley; Drums – Rob Grosser; Keyboards – Clayton Doley
03. 'Empty Rooms' 
Lead Vocal, Keyboards – Neil Carter; Bass Guitar, Harmonica, Backing Vocals – Bob Daisley;    Drums – Rob Grosser;  Guitars – Illya Szwec; Backing Vocals – Rosanna Daisley
04. 'Still Got The Blues (For You)' 
Vocals – Danny Bowes; Guitars – John Sykes; Keyboards – Don Airey; Bass Guitar – Bob Daisley; Drums – Rob Grosser
05. 'Texas Strut' 
Vocals – Brush Shiels; Bass Guitar – Bob Daisley; Guitars – Tim Gaze; Drums – Rob Grosser
06. 'Nothing's The Same' 
Vocals – Glenn Hughes; Fretless Acoustic Bass – Bob Daisley; Cello – Ana Lenchantin; Guitars – Luis Maldonado
07. 'The Loner' 
Guitars – Doug Aldrich; Drums – Eric Singer; Bass Guitar – Bob Daisley; Keyboards – Don Airey
08. 'Torn Inside' 
Vocals, Lead Guitar – Stan Webb; Bass Guitar, Riff Guitar – Bob Daisley; Drums – Darrin Mooney; Keyboards – Lachlan Doley
09. 'Don't Believe A Word' 
Vocals, Lead Guitar – Damon Johnson; Bass Guitar – Bob Daisley; Drums – Rob Grosser; Rhythm Guitar – Illya Szwec
10. 'Story Of The Blues' 
Lead Vocal – Jon C. Butler; Bass Guitar, Riff Guitar, Backing Vocals – Bob Daisley; Lead And Rhythm Guitar – Tim Gaze; Drums – Rob Grosser; Keyboards – Lachlan Doley; Backing Vocals – Rosanna Daisley
11. 'This One's For You' 
Vocals – Gus Moore; Lead Guitar – Jack Moore; Bass Guitar – Bob Daisley; Drums – Rob Grosser; Rhythm Guitar – Illya Szwec
12. 'Power Of The Blues' 
Vocals – Joe Lynn Turner; Lead Guitar – Jeff Watson; Bass Guitar, Riff Guitar – Bob Daisley; Drums – Darrin Mooney; Rhythm Guitar – Illya Szwec
13. 'Parisienne Walkways' 
Guitars – Steve Morse; Vocals – Ricky Warwick; Bass Guitar – Bob Daisley; Drums – Rob Grosser; Keyboards – Clayton Doley
"Moore Blues For Gary" erscheint am 26.10.2018und kann ab sofort vorbestellt werden:
https://earmusic.lnk.to/MooreBluesForGaryPR