All you have to do is listen to "Turn This Into Gold" to be carried away by this album. A song that takes your breath away, so insistent, right at the heartbeat, a guitar that sounds like coming from the sultry delta of the Mississippi, very close to your ear, that you almost feel the guitarist's breath. Layla Zoe's "Gemini" is a double album in which she shows her two souls, the acoustic, the vulnerable and the rocky, uninhibited.
By Dylan Cem Akalin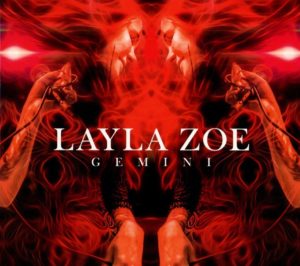 And "Turn This Into Gold" sounds like Janis Joplin sang along. There are so many wonderful moments in which the Canadian sings in a rich voice as if she were praying, a prayer, breathed in intoxication, on her knees in a dungeon in the province of Louisiana, out of her deepest, with devotion, with a certain bitterness. Great!
Layla Zoe, who lived in the Cologne / Bonn region for a long time and has meanwhile moved to Holland, has fulfilled a dream. It was probably time to record an album without constraints, without labels. The award-winning vocalist from Vancouver Island, BC has been working with record labels for the past nine years, her latest "baby" being self-directed, funded through crowdfunding. On her meanwhile 13th album "Gemini" there are 20 songs of different gait. Layla Zoe presents pieces that only have one thing in common: to be written with love and devotion, regardless of whether it's a pure blues or blues rock and fits in the pack provided, it's a honest, hard one , gentle, vulnerable, rugged. Something popish can be there as well as folk and country shine through. And such a ballad as "Let Go" is even suitable for the radio. And then this heaviness, the power-driven heavy rock songs!
"Fragile" and "Courage"
The acoustic CD rightly bears the title "Fragile", while CD-2 stands for "Courage". The electric side is, of course, cheekier, emotions raw, but anger, jealousy, love and compassion also play a big role in the glossy lyrics. Again and again it is about the pain of the emotions, but without giving yourself up.
"Gemini" is interspersed with a haunted restlessness that reflects her dichotomous personality, possibly based on features of the "Gemini" star sign. Who knows. Your birthday is a well-kept secret. The piece has something of the early Tina Turner. Overall, "Gemini" comes across more uncompromising. Songs such as "Weaknesses", "Bitch With The Head Of Red" and "White Dog" may also play a large part in this impression, as they seem like confessions of an unresolved part of their lives.
Jan Laacks also plays a large part
Their guitarist Jan Laacks also plays a large part in the work. The songs were created in his studio in Bad Godesberger.
Only the guitar and her voice. "The Deeper They Burry Me" is a showpiece for an epic. A strong blush about Herman Wallace, the man who robbed a bank and then sat in one of the most infamous high security jails in Louisiana and later founded a branch of the civil rights movement Black Panther in prison. There can not be more power than in this song.
And there can be no more gentleness than with her singing in "Mumbai", a completely different state of mind, a beautiful, almost poppy declaration of love to the Indian metropolis. After a classic blues, then light country sounds. It is always amazing how much Layla can model her expression. What a lightness for example on "Rainbow Pacmen And Unicorns"! The tattoos on her skin show that she is influenced by different musicians – Frank Zappa, Tom Waits, Neil Young, Muddy Waters and Janis Joplin.
The title "Weakness" is a mockery! A force like Black Sabbath! "Dark World" comes along as Classic Rock, with a fat hookline of the guitar and a roaring-strong voice. "Roses And Lavender" is goosebumps feeling for many minutes. "White Dog" blazing funk rock, "Automatic Gun" heavy rock for head banners, "Are you still alive inside" should make Joe Bonamassa jealous, and finally there is "Little Sister", a small reggae number sung with velvety, deep voice , You really can not expect more from an album!