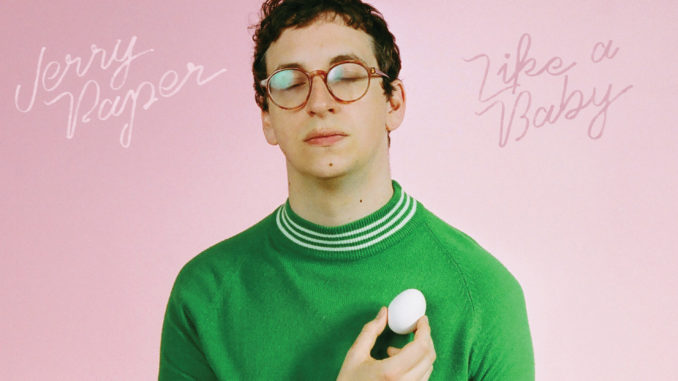 "Try to make you laugh and cry regretfully," says Lucas Nathan, aka Jerry Paper, about his music. In fact, his musical horizons lie between acid jazz and synth pop, based on Steely Dan, Prefab Sprout and Connan Mockasin (Connan Tant Hosford), the New Zealand psychedelic rock singer, so somehow quite crazy, maybe cranky, very modern and hypnotic. No music off the shelf! "Like A Baby", Jerry Papers first album for Stones Throw, will be released on October 12, 2018.
By Dylan Cem Akalin
"Gray Area" is a piece that sounds as if it had been written by the Beatles incorporating the classical soul and a reference to Dean Martin with synthetic pop elements. Sounds crazy? But is in a cranky way awesome. It's "a song about the never-ending sense of being in between, I'm waiting for stability, waiting for the moment, and all I ever really feel is that I'm living in constant transitions." The song explores the uneasiness of life as "Like A Baby", Jerry Paper's first album for Stones Throw, will be released on October 12, 2018. On the album Nathan was supported by people like MattBavares of BadBadNotGood as co-producer, Weyes Blood, Alex Brettin of Mild High Club and singer Charlotte Day Wilson.
Unconditional diversity
The LA native has a penchant for the strange, likes to walk in ugly yellow jersey dresses and makes strange, wonderful pop music in which the listener can lose himself. Years ago, under the name of Jerry Paper, the multi-instrumentalist began to develop himself and his music as a stylistically open and experimental project. The philosophy: unconditional diversity in the unremitting creative process. After all, he also changes himself as a human being, "and these changes ultimately form the core of my music," says Nathan. "On stage and in the recordings, I impersonate an exaggerated version of myself and push it to a limit where I transcend my ego to make the audience lose their ideas of themselves, lose their egos and be free Jerry Paper is my freest person, an ego victim, to make people do the same. " The lyrics to "Your Cocoon" ultimately describes exactly this release when Nathan sings, , "I'm here dressed up like a cartoon / Asking please please burn your cocoon".
Tour starts this sunday
On the new album "Like A Baby" he brought this process to a common denominator. The songs sound mature, seem to have a consistently comprehensible core, because certain sound elements and the singing style are consistently maintained, the melody is again more in the foreground. A unique album.
This October, Jerry Paper will tour with Stones Throw label-mates Kiefer, Prophet and Stimulator Jones (and one show w/ Mndsgn as well). See below for a full list of confirmed dates.
Jerry Paper 2018 Tour Dates
Oct 7 – San Francisco, CA – Swedish American Hall
Oct 9 – Salt Lake City, UT – Metro Music Hall
Oct 10 – Denver, CO – Globe Hall
Oct 12 – Minneapolis, MN – Icehouse
Oct 13 – Chicago, IL – Virgin Hotel
Oct 14 – Toronto, ON – Adelaide Hall
Oct 16 – Montreal, QC – Bar Le Ritz
Oct 17 – Burlington, VT – Nectar's Restaurant
Oct 19- New York, NY – National Sawdust
Oct 20 – Philadelphia, PA – Everybody Hits
Oct 22 – Washington, DC – Union Stage
Oct 23 – Raleigh, NC – Kings Barcade
Oct 24 – Atlanta, GA – 529
Oct 27 – Austin, TX – Come and Take It Live
Oct 30 – Tucson, AZ – 191 Toole
Nov 1 – San Diego, CA – SPACE
And Europe-Dates:
Fri February 01 2019 – LEEDS Headrow House
Sat February 02 2019 – GLASGOW Blue Arrow
Sun February 03 2019 – MANCHESTER Castle Hotel
Mon February 04 2019 – BRISTOL Crofters Rights
Tue February 05 2019 – LONDON Waiting Room