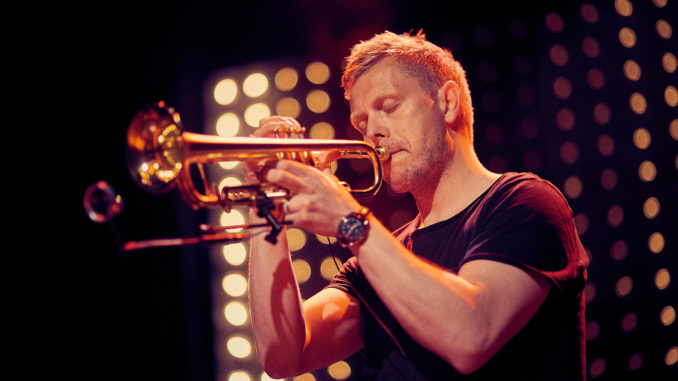 (English version, please scroll down!) Ein Ton. Eine einzige, persönliche Note, besonders der Trompete. Schon erkennt man die Musik von Nils Wülker. Besonders eindeutig, intensiv und mitreißend in den knapp achtzig Minuten dieses Albums. Es passt perfekt, dass "Decade – Live" sein zehntes Album und ein Konzertalbum ist. "Wann gibt es denn endlich ein Live-Album?", ist die mit Abstand häufigste Frage, die Nils Wülker nach Konzerten gestellt wurde. Dreizehn Eigenkompositionen blühen auf, entfalten mehr denn je im Moment ihre besondere Kraft und Schönheit. Die Musiker beleben die Vision des Leaders, im Bandsound ebenso wie in ihren fantastischen Soli.
Mit einer echten All-Star Band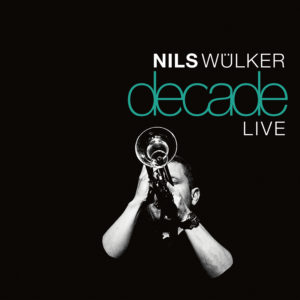 "Live-Alben sind oft ein Anhängsel", weiß Nils Wülker. "Für mich ist dies aber ein wichtiges und vollwertiges zehntes Album, nicht nur eine Dokumentation, wie das Studiowerk auf der Bühne klingt. Einfach weil dahinter eine für mich wesentliche musikalische Entwicklung steht und die interaktive Live-Seite bisher so eben auch noch nicht auf Album dokumentiert war." Nils Wülkers musikalischer Weg wird hier nicht etwa rückschauend illustriert, vielmehr auf den Punkt gebracht – mit Musik von vier verschiedenen Studioalben, live eingespielt an drei Orten auf zwei Deutschland-Touren.
Mit einer echten All-Star Band: der Gitarrist Arne Jansen und der Bassist Edward Maclean sind seit fast einem Jahrzehnt in der Band, Pianist und Keyboarder Maik Schott seit der Albumproduktion von "On", Drummer Simon Gattringer spielt seit gut vier Jahren mit Nils Wülker. Drummer Felix Lehrmann spielt gern mal im Konzert mit, so wie auch Keyboarder Jan Miserre, der hier auch auf einer Nummer in Erscheinung tritt. So deutlich seine Entwicklung war – vom reduzierten, akustischen Sound hin zu immer greifbareren Songs und schließlich zu den eingespielten Hip-Hop-Beats des letzten Albums "On" – so konsequent klingt hier das Ganze. Natürlich und sehr direkt überträgt sich das hier live auf den Hörer.
Murphy's Law
So geplant wie es vielleicht klingt, kam das Album allerdings nicht zustande. Bei einer Tour im November 2017 hatte Nils Wülker erstmalig drei der Konzerte professionell mitgeschnitten. "Ich hatte das Gefühl, dass wir an einem guten Punkt sind – die Energie und der Sound waren für uns auf der Bühne ideal. Ich war eigentlich nur neugierig, wie sich die Musik draußen im Saal anhört." Die Aufnahmen überraschten ihn selbst und er beschloss, auch die drei Konzerte im darauffolgenden Februar mitzuschneiden.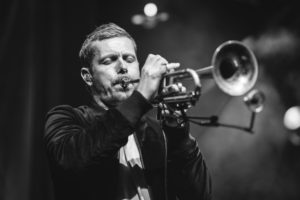 Nun kam Murphy's Law ins Spiel: Am ersten Abend war der langjährige Tour-Mischer, der die Konzerte aufnehmen sollte, krank. Am zweiten fiel zum ersten Mal in der Bandgeschichte das Mischpult aus. Der Druck auf den dritten und letzten Termin war auch deshalb erhöht, weil hier, in der Zeche Carl in Essen, auch eine Film-Crew vor Ort war. "Wir bekamen kalte Füße und nahmen uns vor, ein paar der Stücke schon beim Soundcheck aufzunehmen. Aber am Ende haben wir davon nichts verwendet. Vor Publikum zu spielen ist eben doch etwas ganz anderes." Das hat nicht nur mit der Stimmung im Raum und der direkten Reaktion des Publikums zu tun. "Es bringt nichts, bei dieser Musik auf Nummer Sicher zu gehen. Im Gegenteil. Und auch nach all den Jahren kann ich mich auf mein Lampenfieber verlassen", gibt der Leader zu. "Fünfzehn Minuten vor dem Auftritt kommt dieses Kribbeln. Was sehr gut ist, weil es mich aus allem was sonst drum herum geschieht herausreißt und die Konzentration auf den Moment erhöht."
Das Resultat all dieser zielführenden Umwege, die außerdem über den Stadtgarten in Köln und den Jazzclub Nordhausen lenken, ist "Decade – Live". Es bringt dreizehn Wülker-Stücke aus ebenso vielen Jahren in einen Fluss – kraftvoll, dynamisch, beeindruckend frisch.
"Decade – Live" von Nils Wülker erscheint am 28.09.18 als CD, 2LP und digital.
Nils Wülker – Live 2018
19.10.2018 Illingen, Illipse
21.10.2018 Freiburg, Jazzhaus
23.10.2018 München, Ampere
24.10.2018 Münster, Jovel Club
25.10.2018 Hamburg, Mojo Club
26.10.2018 Herdecke, Werner Richard-Saal
27.10.2018 Berlin, Quasimodo
10.11.2018 Leverkusen, Jazztage
29.11.2018 Karlsruhe, Tollhaus
03.12.2018 Oldenburg, Kulturetage
05.12.2018 Mainz, Frankfurter Hof
06.12.2018 Reutlingen, Franz K.
08.12.2018 Rostock, Jazzclub
English
A sound. A single, personal touch, especially the trumpet. You can already see the music of Nils Wülker. Especially clear, intense and rousing, the almost eighty minutes of this album. It fits perfectly that "Decade – Live" is his tenth album and a concert album. "When are you finally going to make a live album?" Is by far the most common question Nils Wülker asked after concerts. Thirteen original compositions are flourishing, unfolding their special power and beauty more than ever. The musicians fill the leader's vision with life, as much for the band's sound as for their fantastic solos.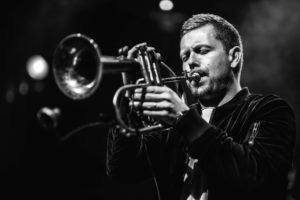 "Live albums are often an appendage," says Nils Wülker. "For me, this is an important and full-fledged tenth album, not just a documentation of how the studio work sounds on stage. Simply because this is an essential musical development for me and my interactive live-existence so far has not been documented on an album yet. "Nils Wülker's musical path is not illustrated in retrospect, but in a nutshell – with music from four different ones Studio albums, recorded live at three locations on two Germany tours. With a real all-star band: guitarist Arne Jansen and bassist Edward Maclean have been in the band, pianist and keyboarder Maik Schott for almost a decade since the album's production of "On." Drummer Simon Gattringer has been playing with Nils Wülker for over four years Drummer Felix Lehrmann likes to play in concert, as well as keyboarder Jan Miserre, who appears on one of his tracks.
The album was not planned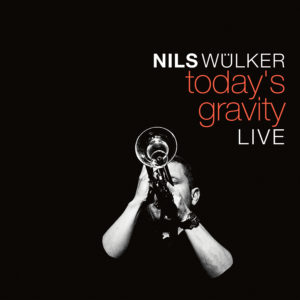 As clearly as his development was – from the reduced, acoustic sound to ever more tangible songs and finally to the well-rehearsed hip-hop beats of the last album "On" – the whole thing sounds so consistent here. That sounds very natural and pretty direct.
However, the album was not planned. During a tour in November 2017, Nils Wülker first recorded three of the concerts professionally. "I felt we were at a good point – the energy and sound were ideal for us on stage. I was just curious how the music sounds outside in the hall. "The recordings surprised him and he decided to record the three concerts in the following February as well. Now Murphy's Law came into play: on the first evening, the long-time tour mixer who was supposed to record the concerts was sick. On the second, the mixer failed for the first time in the band's history. The pressure on the third and final date was also increased, because here, in the Zeche Carl in Essen, a film crew was on site.
"We got cold feet"
"We got cold feet and decided to record some of the pieces at the soundcheck. But in the end we did not use it. Playing in front of an audience is something completely different. "This is not just about the mood in the room and the direct reaction of the audience. "There's no point playing safe with this music. On the contrary. And even after all these years I can rely on my stage fright, "the leader admits. "Fifteen minutes before the show, this tingling comes. Which is very good, because it pulls me out of everything else that happens around it and increases my concentration on the moment. "
The result of all these purposeful detours, which also lead over the Stadtgarten in Cologne and the Jazzclub Nordhausen, is "Decade – Live". It combines thirteen Wülker pieces from as many years – powerful, dynamic, impressively fresh.
"Decade – Live" by Nils Wülker will be released on 28.09.18 as CD, 2LP and digital.