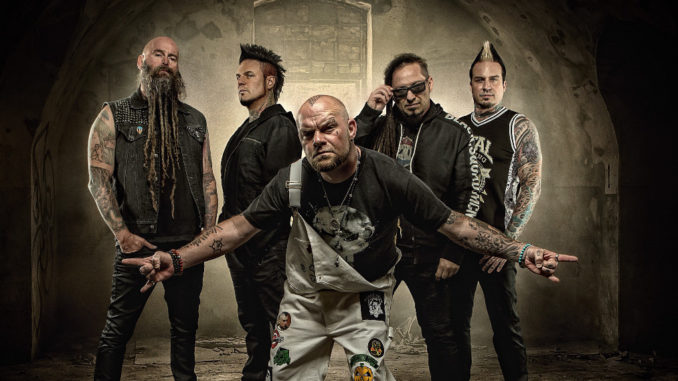 (Deutsch bitte runterscrollen!) FIVE FINGER DEATH PUNCH have released the clip of their new song "When The Seasons Change" today, Friday, September 14. Written by FIVE FINGER DEATH PUNCH guitarist ZOLTAN BATHORY, the video is dedicated to those Police Officers and First Responders around the world who selflessly put their lives on the line every day. Amongst them a hometown hero of the band – fallen Army Veteran and Las Vegas Police Officer Charleston Hartfield – lost his life in the 2017 Las Vegas mass shooting using his own body to shield and save others from the hail of bullets. Watch the video for "When The Seasons Change" here:
When asked for a comment ZOLTAN BATHORY said: "Instead of giving you a typical quote about the music video, let me give you some data to ponder … Medical malpractice is the 3rd leading cause of death in the USA right behind heart-disease and cancer. Some research says an average of 250,000 people die every year because of medical errors. In contrast, Police Officers make an average of 50 fatal errors annually, that's 245,950 less – and most of them are due to split-second decisions in high-risk situations. Of course, loss of life is always tragic but we don't put all medical professionals on blast or call them names, disrespect them and demonize them. Of course not. They're doing their best and it would be just as ridiculous as the current, grossly unfair rhetoric against Police as a whole."
A rare voice of support in the entertainment world
A rare voice of support in the entertainment world, FIVE FINGER DEATH PUNCH have been longtime supporters of veteran and law enforcement entities. Just this week the group again made good on this promise and donated a portion of the ticket sales from their massive summer North American Outdoor Amphitheater Tour equaling $95,000 to C.O.P.S – Concerns Of Police Survivors – whose mission is rebuilding shattered lives of survivors and co-workers affected by line of duty deaths, through partnerships with law enforcement and the community.
Due to fan-demand, FIVE FINGER DEATH PUNCH and BREAKING BENJAMIN announced an expansion of this summer's most-successful co-headlining North American Outdoor Amphitheater tour with additional dates that take both bands through Fall 2018 in Arenas. Co-produced by Live Nation and Frank Productions, the tour featured special guests Nothing More and Bad Wolves on the summer leg. On the Fall leg, global 2018 breakout rock band Bad Wolves will once again join the trek on select dates and Swedish heavyweights In Flames on other select shows. Chart toppers From Ashes To New will be support on all fall dates. The artists on the tour are also dominating the rock charts with their most current singles: Five Finger Death Punch at #1 last week with "Sham Pain",  Breaking Benjamin at #3 with "Torn In Two", Nothing More at #8 with "Just Say When", Bad Wolves at #9 with "Hear Me Now (feat. DIAMANTE)", and From Ashes To New coming off a #2 hit. For tickets to the biggest rock event of the year, VIP offerings and more info, visit here and here.
AND JUSTICE FOR NONE
After a three-year wait, the multi-platinum group exploded onto the album charts earlier this summer with their seventh studio album AND JUSTICE FOR NONE, which is now the best-selling hard music album of 2018 and hit #1 chart positions in Germany, Austria and Switzerland. AND JUSTICE FOR NONE has generated 170 million U.S. on-demand streams and over 300,000 U.S. digital song sales. At 15 weeks, AND JUSTICE FOR NONE has surpassed all 2018 hard music albums that preceded it in terms of commercial volume–on-demand and programmed streams, digital song sales and album sales. In the U.S. alone, FIVE FINGER DEATH PUNCH have sold over 4.3 million albums, over 9.7 million digital songs and generated just under 2 billion streams.
DEUTSCH:
FIVE FINGER DEATH PUNCH haben den Clip zu ihrem neuen Song "When The Seasons Change" veröffentlicht. Das Video wurde von FIVE FINGER DEATH PUNCH Gitarrist ZOLTAN BATHORY geschrieben und ist den Polizeibeamten und Ersthelfern auf der ganzen Welt gewidmet, die jeden Tag selbstlos ihr Leben aufs Spiel setzen. Unter ihnen starb ein Held der Band – der gefallene Army Veteran und der Las Vegas Police Officer Charleston Hartfield – bei den Massenerschießungen in Las Vegas im Jahr 2017 mit seinem eigenen Körper, um andere abzuschirmen und andere vor dem Kugelhagel zu bewahren. Sehen Sie das Video zu "When The Seasons Change" hier:
Das sagt Zoltan Bathory
Auf die Frage nach einem Kommentar sagte ZOLTAN BATHORY: "Anstatt Ihnen ein typisches Zitat über das Musikvideo zu geben, lassen Sie mich einige Daten zum Nachdenken geben … Ärztliche Kunstfehler sind die dritthäufigste Todesursache in den USA direkt hinter Herzkrankheiten und Krebs . Einige Forschungsergebnisse sagen, dass durchschnittlich 250.000 Menschen jedes Jahr aufgrund von medizinischen Fehlern sterben. Im Gegensatz dazu machen die Polizeibeamten im Durchschnitt 50 tödliche Fehler pro Jahr, das sind 245.950 weniger – und die meisten davon sind aufgrund von Entscheidungen in Sekundenbruchteilen in Situationen mit hohem Risiko. Natürlich ist der Verlust von Leben immer tragisch, aber wir offenbaren ja auch nicht alle medizinischen Fachleute, veröffentlichen ihre Namen und dämonisieren sie. Natürlich nicht. Sie tun ihr Bestes und es wäre genauso lächerlich wie die aktuelle, grob unfaire Rhetorik gegen die Polizei als Ganzes. "
Eine seltene Stimme der Unterstützung in der Unterhaltungswelt, FIVE FINGER DEATH PUNCH, sind langjährige Unterstützer von Veteranen und Vollzugsbehörden. Erst diese Woche hat die Gruppe dieses Versprechen erneut erfüllt und einen Teil der Ticketverkäufe von ihrer riesigen nordamerikanischen Outdoor-Amphitheatre-Tour im Wert von 95.000 US-Dollar an COPS – Concerns Of Police Survivors – gespendet, deren Aufgabe es ist, zerstörte Leben von Überlebenden und Mitarbeitern wiederaufzubauen Opfer von Todesfällen durch Todesfälle, durch Partnerschaften mit Strafverfolgungsbehörden und der Gemeinschaft.