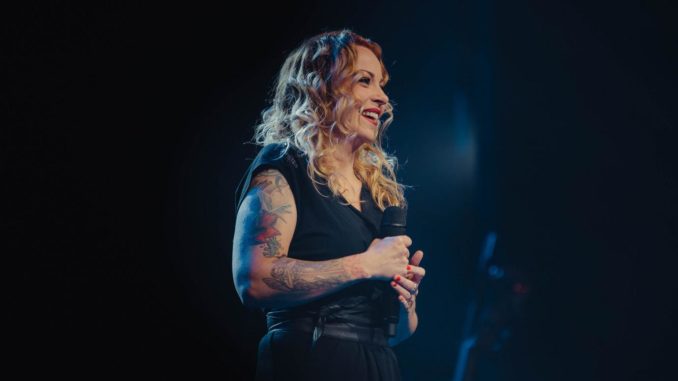 Im Mai 2018 gab Anneke van Giersbergen zusammen mit dem Residentie Orkest Den Haag zwei Konzerte mit Orchesterarrangements einer Auswahl ihrer Songs. Das Live-Album mit elf Songs erscheint am 16. November 2018.
(English scroll down!)
Zur Aufführung kommt Material aus jeder Phase ihrer Karriere. Sie präsentiert eine Vielzahl von Songs von VUUR, The Gentle Storm und The Gathering sowie Solo-Material.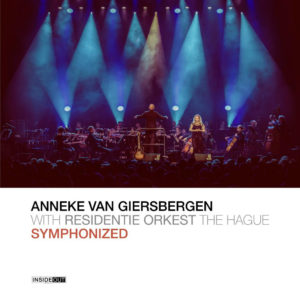 Anneke kommentiert: "'Symphonized' wurde letzten Mai in den niederländischen Veranstaltungsorten 013 (Tilburg) und Paard (Den Haag) aufgenommen. Das Orchester ist eines der führenden niederländischen Symphonieorchester und initiiert regelmäßig Cross-Over-Projekte. Als der künstlerische Leiter Sven Arne Tepl mich einlud, neue Versionen von Liedern zu schaffen, die ich bereits aufgenommen habe, war ich sofort begeistert. Ich dachte, es den perfekten Auftakt zu meinem 25-jährigen Jubiläum im nächsten Jahr war, wie ich mit der Sammlung mein Bühnendebüt 1994 Die überzeugenden Arrangements von Marijn van Prooij geschrieben wurden, dass und Gijs Kramers. Statt einer Band mit zusätzlicher symphonischer Begleitung haben wir uns entschieden, nur das Orchester zu benutzen, und ich bin sehr stolz auf das Ergebnis! "
Das Album erscheint als CD Digipak, als 2LP + CD & Digital-Audio-Download
Die vollständige Tracklist:
1. Feel Alive
2. Amity (originally released by The Gathering)
3. Your Glorious Light Will Shine – Helsinki (originally released by VUUR)
4. Two Souls (originally released by Lorrainville)
5. When I Am laid In Earth (aria by Henry Purcell)
6. Travel (originally released by The Gathering)
7. Zo Lief (unreleased song in Dutch)
8. You Will Never Change
9. Freedom – Rio (originally released by VUUR)
10. Forgotten (originally released by The Gathering)
11. Shores Of India (originally released by The Gentle Storm)
Bekannt als Sängerin der Melancholic Metaller The Gathering
Die niederländische Sängerin Anneke van Giersbergen ist eine der am härtesten arbeitenden Künstlerinnen in der Szene, eine, die sich dem Genre entzieht. Bekannt ist sie als Sängerin der Melancholic Metaller The Gathering, aber seit sie sich 2007 selbständig gemacht hat, hat sie ihre Solokarriere gefestigt, mehrere Male mit dem kanadischen Metal-Genie und Gitarristen Devin Townsend aufgenommen und gespielt und ihre sowohl einschmeichelnde als auch kraftvolle Stimme für Leute wie Anathema, die isländische Folk-Gruppe Árstíðir, Within Temptation, Ayreon-Mastermind Arjen Lucassen, Moonspell, John Wetton und Napalm Death geliehen.
Das Residentie Orkest Den Haag wurde 1904 von seinem ersten Chefdirigenten Henri Viotta gegründet und zog schnell Komponisten wie Richard Strauss, Igor Strawinsky und Maurice Ravel an. Der Ruf des Orchesters als eines der besten Orchester Europas macht es zu einem geeigneten Aushängeschild für die niederländische Stadt Den Haag als kosmopolitischen Ort der Gerechtigkeit, des Friedens und der Kultur.
"Everything is Changing" ist ein Meilenstein
Nachdem sie 13 Jahre als Frontfrau von The Gathering ihre Referenzen und ihr immenses Gesangstalent bewiesen hatte, fühlte Anneke van Giersbergen 2007, dass es Zeit war, ihre eigene Solokarriere zu beginnen. Zusammen mit ihrer neuen Band Agua de Annique etablierte sich die charismatische Sängerin schnell als Solokünstlerin und veröffentlichte mehrere Alben.
2012 ist "Everything is Changing" ein Meilenstein in Annekes Solokarriere. Das Album, das als erstes unter ihrem eigenen Namen veröffentlicht wurde, hat sie für zwei Edison-Preise nominiert – Hollands prestigeträchtigsten Musikpreis – in den Kategorien "Bester weiblicher Künstler" und "Bestes Album".
Am 20. März 2015 veröffentlichten Anneke van Giersbergen und Arjen Lucassen (Ayreon) ihr gemeinsames Album "The Diary" unter dem Namen The Gentle Storm.
Annekes neue Progressive-Metal-Band VUUR veröffentlichte am 20. Oktober 2017 ihr mit Spannung erwartetes Debütalbum "In This Moment We Are Free – Cities". Das Album ist mit Van Giersbergens bisher höchstmöglicher Chartposition in der Top 100 des niederländischen Albums.
In May 2018, Anneke van Giersbergen performed two career-spanning concerts with orchestral arrangements together with Residentie Orkest The Hague. Now those special concerts will be available for all to hear when they are released as 'Symphonized', an 11-track live album due out on the 16th November 2018.
Taking in material from across her career, she performs stunning versions of songs by VUUR, The Gentle Storm and The Gathering as well as solo material. Anneke comments: "'Symphonized' was recorded last May in Dutch venues 013 (Tilburg) and Paard (The Hague), as I performed alongside the wonderful Residentie Orkest The Hague conducted by Arjan Tien. The orchestra is one of the leading Dutch symphony orchestras and regularly initiates cross-over projects. When artistic director Sven Arne Tepl invited me to create new renditions of songs I have previously recorded, I was immediately enthusiastic. I thought it was the perfect prelude to my 25-year anniversary next year, as I made my stage debut with The Gathering in 1994. The compelling arrangements were written by Marijn van Prooijen and Gijs Kramers. Instead of a band with additional symphonic accompaniment we chose to solely use the instruments of the orchestra and I'm very proud of the result!"
Dutch vocalist Anneke van Giersbergen is easily one of the hardest working people in music, and an artist that defies being pigeonholed by genre. She will forever be known as the vocalist for melancholic metallers The Gathering, but since striking out on her own in 2007, she has solidified a solo career, recorded and performed multiple times with Canadian metal genius Devin Townsend, and lent her honey-sweet, yet powerful voice to the likes of Anathema, Icelandic folk group Árstíðir, Within Temptation, Ayreon mastermind Arjen Lucassen, Moonspell, John Wetton and Napalm Death.
Residentie Orkest The Hague was founded by its first principal conductor Henri Viotta in 1904 and quickly attracted composers like Richard Strauss, Igor Stravinsky and Maurice Ravel. The orchestra's reputation as one of the finest orchestras in Europe makes it an appropriate figurehead for Dutch city The Hague as a cosmopolitan place of justice, peace, and culture.
Having proven her credentials and immense vocal talent for 13 years as front woman of The Gathering, in 2007 Anneke van Giersbergen felt it was time to begin her own solo career. Along with her new band Agua de Annique the charismatic singer quickly established herself as a solo artist, releasing several albums to critical and popular acclaim.
2012's 'Everything is Changing' was something of a milestone in Anneke's solo career. The album, which was the first to be released under her own name got her nominated for two Edison awards – Holland's most prestigious music prize – in the categories 'Best Female Artist' and 'Best Album'.
On March 20 2015, Anneke van Giersbergen and Arjen Lucassen (Ayreon) released their collaborative album 'The Diary' under the name The Gentle Storm.
Anneke's new progressive metal band VUUR released their much-anticipated debut album 'In This Moment We Are Free – Cities' on October 20 2017. The album entered the Dutch Album Top 100 at number 2, Van Giersbergen's highest-ever chart position. Watch the bands video for 'My Champion – Berlin' here:
ANNEKE VAN GIERSBERGEN online:
www.annekevangiersbergen.com
www.facebook.com/annekevangiersbergenofficial
https://instagram.com/annekeannique
https://twitter.com/AnnekeAnnique
www.youtube.com/AguaDeAnniqueMusic