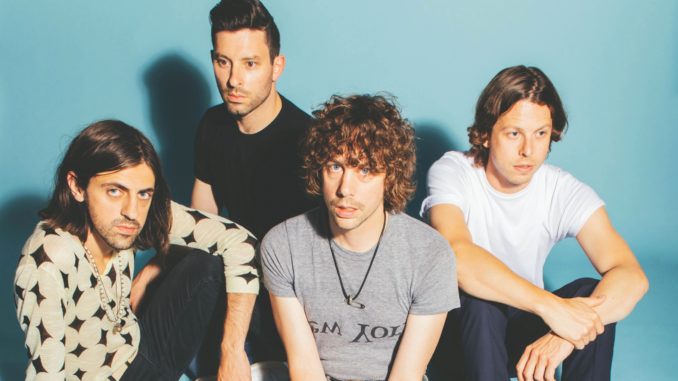 Razorlights Debüt knallte 2004 auf wie ein übervolles Bierglas auf einer spiegelglatten Theke. Und Johnny Borrell ist keiner, der profane Geschichten erzählt. Er macht Songs als Wochenmagazin für sensible Seelen. Die Songs sind verwundbar und weltvergessen – trotz rauer Power-Akkorde. Jetzt verkündigt Isabel Sihler von belle-music.de die frohe Botschaft, dass die englische Rockband nach zehnjähriger Pause endlich ein neues Album herausbringt.
Ihr viertes Album Olympus Sleeping erscheint am 26. Oktober und ist ab sofort vorbestellbar. Und einen kleinen Vorgeschmack dazu liefert Isabel gleich mit.
Mit Olympus Sleeping, Sorry?, Japanrock sowie Got To Let The Good Times Back In To Your Life gibt es ab heute gleich vier neue Singles samt Performance-Videos.
2002 von Frontmann Johnny Borrell gegründet, verkörperten Razorlight mit dem Sound ihres Debüts Up All Night (2004) die Energie der verschwitzten Musikclubs Ost-Londons wie keine andere Band ihrer Zeit. Mit dem zweiten Album Razorlight (2006) feierten sie auch über die Grenzen Englands hinaus große Erfolge, erspielten sich mit hymnischen "Indie-Evergreens" wie In The Morning oder Before I Fall To Pieces eine stetig wachsende Fan-Base und waren v.a. mit America auch omnipräsente Dauergäste in den hiesigen Airplay-Charts. Das dritte Album Slipway Fires (2008) landete erstmals in den TOP 10 der Deutschen Charts und erreichte Gold. Für ihre, hierzulande bislang erfolgreichste Single, Wire To Wire wurde die Band sogar mit Platin ausgezeichnet.