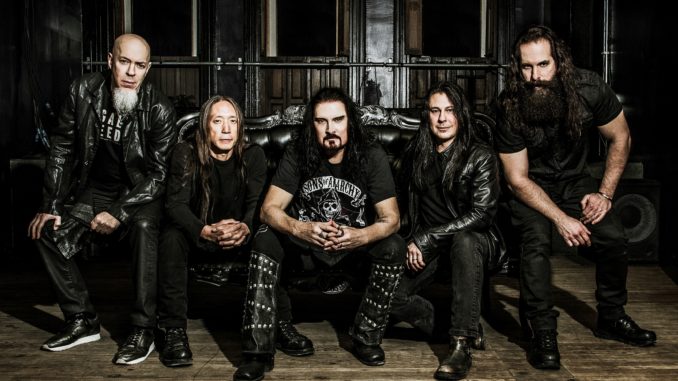 Dream Theater arbeitet an ihrem 14. Studioalbum. Ende 2017 hatte die New Yorker Progrock-Band beim Label InsideOutMusic von Sony Music unterzeichnet. Jetzt bereiten sie also ihr erstes Album bei dem großen Label vor. Kürzlich haben John Petrucci und James LaBrie ein kurzes Video-Update von den Schreib-Sessions auf der offiziellen Facebook-Seite der Band geteilt.
James kommentiert: "Wir sind seit einer Woche hier und es wird sensationell. Jeder ist in diesem einen Raum … und ich muss euch sagen, wenn die erste Woche ein Hinweis darauf ist, wo dieses Album hinführt, dann wird das fantastisch."
Here's a brief video tour of Dream Theater's new remote writing haven. So pumped to get started!

Gepostet von John Petrucci am Freitag, 8. Juni 2018
John ergänzt: "Es gibt viele Ideen, die fließen, und wir waren bereits nach einer Woche sehr produktiv. Bisher ist die Musik heavy, progressiv, melodisch, schreddernd und episch."
Die Band wird während ihrer Zeit im Studio am 28. Juni um 15:00 Uhr Eastern Time / 20:00 Uhr britischer Zeit ein live Facebook Q & A mit Fans abhalten. https://www.facebook.com/dreamtheater
In ihrer mehr als 30-jährigen Karriere, in der sie mehr als acht Millionen Alben verkauft hat, hat die zweifache Grammy-nominierte US-amerikanische Progressive-Metal-Band Dream Theater noch nie das Vorhersehbare getan. Dies zeigte sich bei der Veröffentlichung ihres ambitionierten 2015er Konzeptalbums "The Astonishing" und der aufwändig produzierten Tour, die folgte, heißt es in einer Mitteilung der Band.