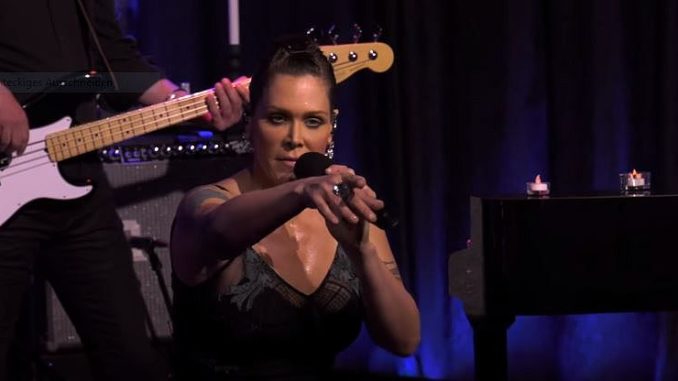 Gerade erst hat sie mit Joe Bonamassa ein neues Album herausgebracht, da kündigt Beth Hart schon ihr neues Projekt an: ihre erste Live-Veröffentlichung nach 13 Jahren – "Live von New York – Front und Center". Das DVD / CD-Set wird am 13. April 2018 via Provogue Records / Mascot Label Group veröffentlicht
Am 7. März 2017 gab die von GRAMMY nominierte "Powerhouse-Sängerin" (Rolling Stone) Beth Hart ein ganz besonderes, intimes Konzert im New Yorker Iridium Jazz Club mit Songs aus ihrem letzten Album "Fire on the Floor" und während ihrer gesamten Karriere.
Nun, 13 Jahre nach der Veröffentlichung ihrer unglaublich erfolgreichen Live-Veröffentlichung Live at Paradiso, bereitet Hart den Fans eine DVD / CD-Veröffentlichung dieser herausragenden Performance mit Live From New York – Front & Center, am 13. April über Provogue Records / Mascot vor Etikettengruppe. Die Performance wird auch in der Premierenepisode von Public Television, der von Kritikern gefeierten Konzertreihe Front und Center, gezeigt.
LIVE FROM NEW YORK – FRONT AND CENTER erscheint als 2-Disc DVD / CD-Set, gemischt in 5.1 und Stereo, mit noch nie gesehenem Bonusmaterial, inklusive einem exklusiven Interview mit Beth.
Tracklisting:
CD:
01 Let's Get Together
02 Baddest Blues
03 Jazz Man
04 Delicious Surprise
05 Broken And Ugly
06 Saint Teresa
07 Isolation
08 Tell Her You Belong To Me
09 Fat Man
10 Love Gangster
11 Leave The Light On
12 As Long As I Have A Song
13 Can't Let Go Sonny
14 For My Friends
15 No Place Like Home

DVD: 
01 Let's Get Together
02 Baddest Blues
03 Jazz Man
04 Delicious Surprise
05 St. Teresa
06 Tell Her You Belong To Me
07 Fat Man
08 Leave The Light On
09 Can't Let Go
10 As Long As I Have A SongAudio: PCM 2.0 / DD 5.1Bonus features:
* Full band Bonus Content (Love Gangster – Broken And Ugly – For My Friends)
* Acoustic Bonus Content (Isolation – My California- No Place Like Home)
* Beth Hart Interview