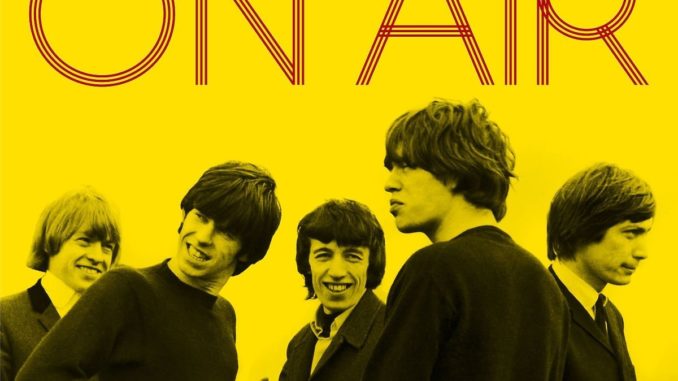 Mit dem Album "The Rolling Stones – On Air" erscheint am 1. Dezember 2017 eine ganz besondere Compilation der Rolling Stones mit selten gehörten Radio- und TV-Aufnahmen aus ihrer Gründungszeit – bevor sie zur "Größten Rock 'n' Roll Band der Welt" wurden. Nachdem die Rolling Stones im vergangenen Jahr mit "Blue & Lonesome" die Rückkehr zu ihren musikalischen Wurzeln, dem Blues, gefeiert haben, erscheint mit "On Air" der perfekte Leitfaden für ihre Anfangszeit. Die Rolling Stones spielten damals genau jenen Blues, dazu R&B, Soul und sogar einige Country-Songs Nacht für Nacht in Clubs und Tanzhallen und perfektionierten ihren Sound mit Liebe und Hingabe. "The Rolling Stones – On Air" ist ein einzigartige Retrospektive auf ihre Anfänge und ersten Radio- und TV-Auftritte.
Die Songs auf dem Album, acht davon bisher unveröffentlicht, wurden ursprünglich in den BBC Shows wie Saturday Club, Top Gear, Rhythm and Blues und The Joe Loss Pop Show in den Jahren 1963 bis 1965 live performt. Ende September ist bereits das Buch "On Air in the Sixties" erschienen mit einem bilderreichen Rückblick, wie u.a. den ersten TV-Auftritt damals noch in einheitlichen Anzügen bis hin zur spektakulären TV-Live-Übertragung ihres Konzerts im Hyde Park 1969. Mit dem Album "The Rolling Stones – On Air" kommt nun der dazugehörige Sound der größten Rockband der Welt auf den Markt.
Das Album "The Rolling Stones – On Air" erscheint am 01. Dezember als Standard Version, 2CD Deluxe Edition, Vinyl sowie als bunte Special Limited Vinyl Edition. "The Rolling Stones – On Air" gibt einen faszinierenden Einblick in die damaligen Live-Auftritte und Performances einer immer wieder überraschenden und energiegeladenen Band um Frontmann Mick Jagger. Mit ihren unzähligen Besuchen beim Sender BBC in den 60er Jahren schufen die Rolling Stones einen ganz eigenen Maßstab bei ihren Auftritten, immer anders, immer unerwartet, auch weil sie oft Songs performten, die niemals auf Singles oder Alben erschienen sind. Sieben Songs auf "The Rolling Stones – On Air" wurden das erste Mal überhaupt in einer der Shows gespielt, bevor sie später auf EPs oder Alben veröffentlicht wurden.
Unter den 32 Songs auf "The Rolling Stones – On Air" sind u.a. Coverversionen der Klassiker von Chuck Berry, Tommy Tucker, Buster Brown und Bo Diddley. Und auch ihre Debütsingle "Come On", die nun als erste Single der Compilation erhältlich ist. (universal)
'The Rolling Stones – On Air' Tracklisting
1. Come On Saturday Club, 1963
2. (I Can't Get No) Satisfaction Saturday Club, 1965
3. Roll Over Beethoven Saturday Club, 1963
4. The Spider And The Fly Yeah Yeah, 1965
5. Cops And Robbers Blues in Rhythm, 1964
6. It's All Over Now The Joe Loss Pop Show, 1964
7. Route 66 Blues in Rhythm, 1964
8. Memphis, Tennessee Saturday Club, 1963
9. Down The Road Apiece Top Gear, 1965
10. The Last Time Top Gear, 1965
11. Cry To Me Saturday Club, 1965
12. Mercy, Mercy Yeah Yeah, 1965
13. Oh! Baby (We Got A Good Thing Goin') Saturday Club, 1965
14. Around And Around Top Gear, 1964
15. Hi Heel Sneakers Saturday Club, 1964
16. Fannie Mae Saturday Club, 1965
17. You Better Move On Blues in Rhythm, 1964
18. Mona Blues In Rhythm, 1964
Bonus Tracks (Deluxe)
19. I Wanna Be Your Man Saturday Club, 1964
20. Carol Saturday Club, 1964
21. I'm moving On The Joe Loss Pop Show, 1964
22. If You Need Me The Joe Loss Pop Show, 1964
23. Walking The Dog Saturday Club, 1964
24. Confessin' The Blues The Joe Loss Pop Show, 1964
25. Everybody Needs Somebody To Love Top Gear, 1965
26. Little By Little The Joe Loss Pop Show, 1964
27. Ain't That Loving You Baby Rhythm And Blues, 1964
28. Beautiful Delilah Saturday Club, 1964
29. Crackin' Up Top Gear, 1964
30. I Can't Be Satisfied Top Gear, 1964
31. I Just Want to Make Love To You Saturday Club, 1964
32. 2120 South Michigan Avenue Rhythm and Blues, 1964