Die texanische Post-Hardcore-Band At The Drive-In kommt auf Tour. Und wer sich das aktuelle Album "in•ter a•li•a" anhört, der denkt, die Zeit wäre seit ihrem letzten Album im Jahr 2000 stehengeblieben. Damals veröffentlichten sie das ungezügelte Werk "Command of Command" und waren auf dem Höhepunkt ihrer Popularität – und trennten sich ein Jahr später. Seitdem gab es zwei Wiedervereinigungstouren, und nun knüpft die Band mit dem vierten Album dort an, wo sie aufgehört haben. Die Taktsignaturen sind genauso schwindelig, die Texte genauso nihilistisch und philosophisch, und die Lieder, die ebenso voller politischer Angst und Paranoia sind, sind ungeheuer spannend. Omar Rodríguez-López' außerirdischen Gitarrenmelodien und Cedric Bixler-Zavalas knirschender Gesang sind bahnbrechende Offenbarungen schrillen Hardrocks.
Wer die hochexplosiven Live Konzerte im vergangenen Jahr gesehen hat, weiß, dass hier alles andere als eine Nostalgie Revival-Show geboten wurde, sondern eine Band mit wieder entfachtem Furor, die nichts an ihrer legendären Intensität eingebüßt hat und der es nun gelungen ist, diese Energie auch im Studio festzuhalten.
Cedric Bixler-Zavala (voc), Omar Rodriguez-Lopez (git), Paul Hinojos (b), Tony Haijar (dr) und Keeley Davis (git) kommen für vier Shows nach Deutschland. Gleich zwei weitere Schwergewichte sind als Special Guests dabei: Das Indie-Rock Duo Death From Above und Le Butcherettes mit ihrer charismatischen Frontfrau Teri Gender Bender.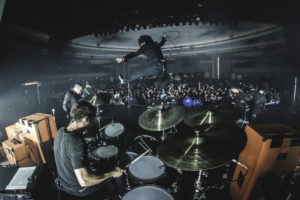 TERMINE
Wiesbaden, Schlachthof: So, 25.02.18, 19:30  TICKETS
Berlin, Columbiahalle: Mo, 26.02.18, 19:30  TICKETS
Hamburg, Sporthalle: Fr, 02.03.18, 19:30  TICKETS
Köln, Palladium: Sa, 03.03.18, 19:30  TICKETS