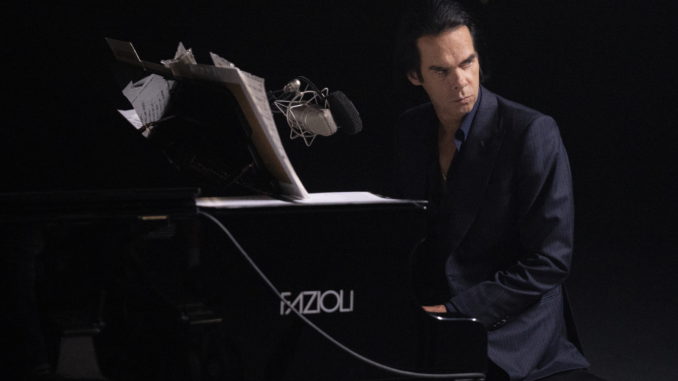 (English – scroll down, please!) Nick Cave tritt in Idiot Prayer als Solist am Klavier auf: Nick Cave Alone at Alexandra Palace, ein Film, der im Juni dieses Jahres am berühmten Londoner Veranstaltungsort gedreht wurde. Der globale Streaming Event findet am 23. Juli 2020 statt.
Nick Cave gibt dazu ein persönliches Statement ab:
"Idiot Prayer" entstand aus meinen "Conversations With …" – Veranstaltungen, die im letzten Jahr oder so durchgeführt wurden. Ich habe es geliebt, bei diesen Shows dekonstruierte Versionen meiner Songs zu spielen und sie in ihre wesentlichen Formen zu bringen – mit Schwerpunkt auf der Übermittlung der Wörter. Ich hatte das Gefühl, die Songs wiederzuentdecken, und begann irgendwann darüber nachzudenken, in ein Studio zu gehen und diese neu interpretierten Versionen aufzunehmen – wann immer ich Zeit fand.
Dann geriet die Welt aber ins Stocken. Die globale Tour 2020 von Bad Seeds wurde verschoben. Studios geschlossen. Veranstaltungsorte geschlossen. Und die Welt geriet in eine unheimliche, selbstreflexive Stille.
In dieser Stille begann ich über die Idee nachzudenken, die Songs nicht nur aufzunehmen, sondern auch zu filmen – und so begannen wir, ein kleines Team zusammenzustellen, darunter den großartigen Kameramann Robbie Ryan, den Tonmann Dom Monks und Herausgeber Nick Emerson – mit der Absicht zu filmen, sobald es machbar wurde, auf irgendeine Weise wieder ins Geschäft zu kommen.
In der Zwischenzeit saß ich zu Hause und arbeitete daran, wie man mehr Songs im "Conversations" -Format spielt – neue Songs und Songs aus dem Ghosteen-Album, Grinderman-Songs und frühes Bad Seeds-Zeug und alles dazwischen.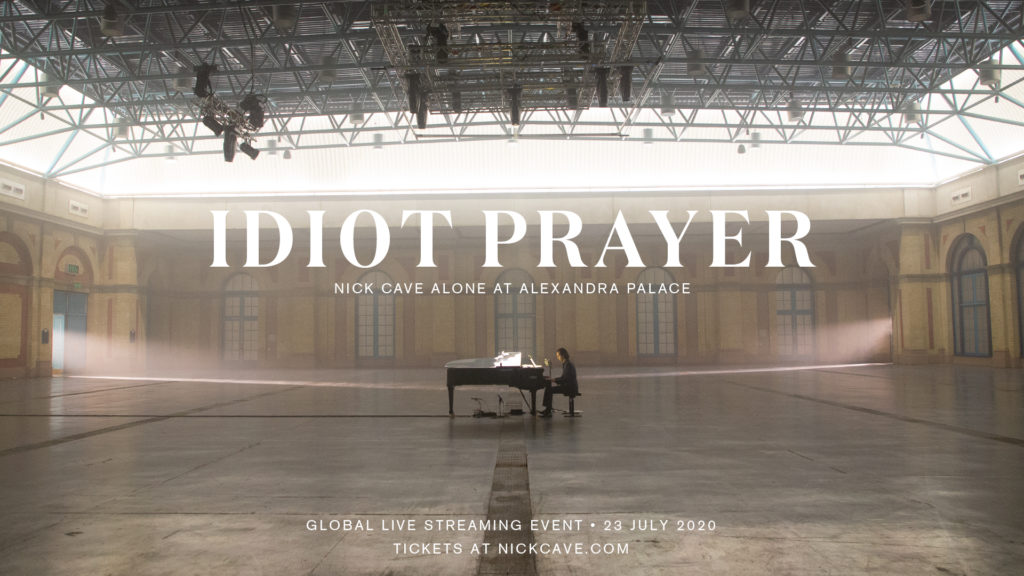 Wir haben mit dem Team von Alexandra Palace – einem Veranstaltungsort, wo ich gespielt habe und den ich liebe – zusammengearbeitet, um einen Termin für den Film zu sichern, sobald sie das Gebäude für uns wieder öffnen durften. Wir hatten ein großartiges Produktionsteam und eine großartige Crew, und was sie in dieser außergewöhnlichen Situation taten, war ein Wunder. Umgeben von Covid-Offizieren mit Maßbändern und Thermometern, maskierten Gaffern und Kameramännern, nervös aussehenden Technikern und Eimern mit Handgel haben wir zusammen etwas sehr Seltsames und sehr Schönes geschaffen, das in diesen unsicheren Moment ansprechend ist, aber in keiner Weise von diesen Zeiten verbogen wurde.
"Idiot Prayer" dient als letzter Film in einer Trilogie – zusammen mit " 20,000 Days on Earth" und " One More Time with Feeling" – und ist der leuchtende und von Herzen kommende Höhepunkt. " Idiot Prayer" ist ein Gebet ins Leere – allein im Alexanderpalast. Ich hoffe, es gefällt euch genauso gut wie mir." Nick Cave
Bei dieser einzigartigen Aufführung hat das Publikum auf der ganzen Welt die Möglichkeit Songs von Cave's Back Katalog spielen zu sehen, sowie rare Tracks, die die meisten Fans zum ersten Mal hören werden. Die Songs stammen aus der gesamten Bandbreite von Cave's Karriere, einschließlich der frühen Bad Seeds und Grinderman, bis hin zum neuesten Album von Nick Cave & the Bad Seeds, Ghosteen.
Die Performance wurde von dem preisgekrönten Kameramann Robbie Ryan gefilmt (The Favourite, Marriage Story, American Honey) in der atemberaubenden West Hall des Alexandra Palace. Editiert hat Nick Emerson (Lady Macbeth, Emma, Greta).
Tickets, um den Film online zu streamen sind ab sofort weltweit drei Mal erhältlich:
Australien & Asien: 8pm AEST (12 Uhr Mitteleuropäischer Zeit)
UK & Europa: 8pm BST / 9pm CEST (21 Uhr Mitteleuropäischer Zeit)
Nord & Süd America: 7pm PDT / 10pm EDT (4 Uhr Mitteleuropäischer Zeit)
Der Film wird als Live-Stream übertragen und steht im Anschluss nicht mehr online zur Verfügung!
Bitte beachten Sie, dass Sie während der Veranstaltung den Stream nicht pausieren, zurück- oder vorspulen können.
Für Tickets und Informationen zu den lokalen Zeiten clicken Sie bitte hier: https://nickcave.lnk.to/idiotprayerPR
Nick Cave & The Bad Seeds Europa Tour im Frühjahr/ Sommer 2021. Weitere Informationen und Tickets ab sofort zu kaufen via www.nickcave.com
ENGLISH
Nick Cave appears in Idiot Prayer as a soloist on the piano: Nick Cave Alone at Alexandra Palace, a film that was shot in June this year at the famous London venue. The global streaming event will take place on July 23, 2020.
Nick Cave makes a personal statement.
"Idiot Prayer' evolved from my 'Conversations With…' events, performed over the last year or so. I loved playing deconstructed versions of my songs at these shows, distilling them to their essential forms—with an emphasis on the delivery of the words. I felt I was rediscovering the songs all over again, and started to think about going into a studio and recording these reimagined versions at some stage—whenever I could find the time.
Then, of course, the world went into lockdown. The Bad Seeds' global 2020 tour was postponed. Studios shut down. Venues shut down. And the world fell into an eerie, self-reflective silence.
It was within this silence that I began to think about the idea of not only recording the songs, but also filming them – and so we started to assemble a small team, including the great cinematographer, Robbie Ryan, sound man, Dom Monks, and editor, Nick Emerson, with the intention to film as soon as it became feasible to get back to business in some way.
Meanwhile, I sat at home working out how to play more songs in the 'Conversations' format—new songs and songs from the Ghosteen album, Grinderman songs and early Bad Seeds stuff, and everything in between.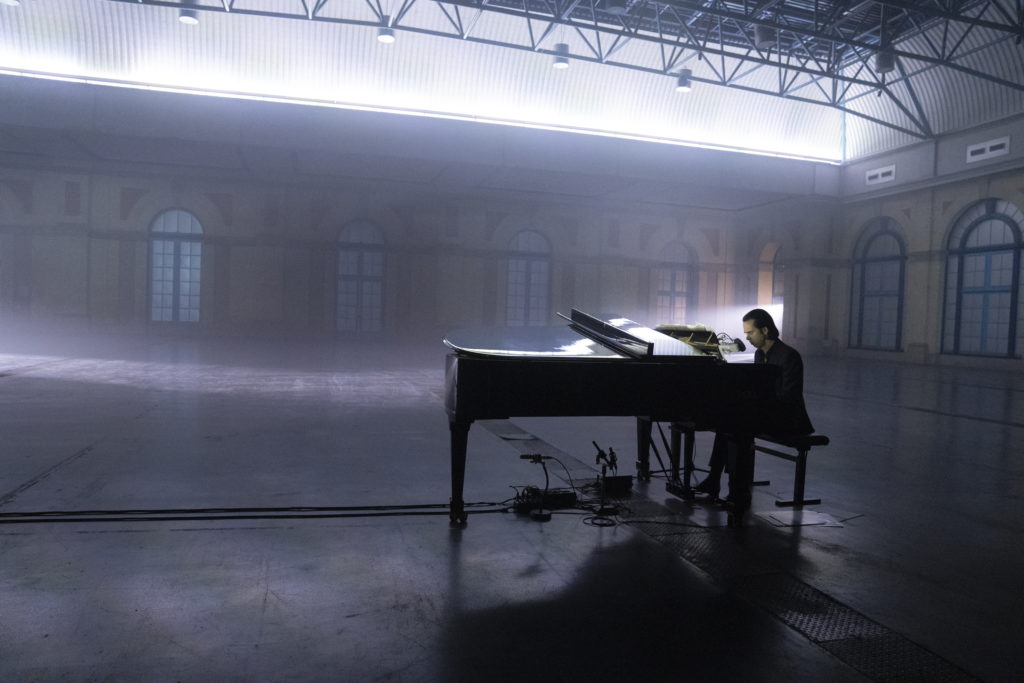 We worked with the team at Alexandra Palace – a venue I have played and love – on securing a date to film just as soon as they were allowed to re-open the building to us. We had an amazing production team and crew, and what they did within this extraordinary situation was a marvel. Surrounded by Covid officers with tape measures and thermometers, masked-up gaffers and camera operators, nervous looking technicians and buckets of hand gel, together we created something very strange and very beautiful that spoke into this uncertain moment, but was in no way bowed by it.
'Idiot Prayer' serves as the final film in a trilogy— along with '20,000 Days on Earth' and 'One More Time with Feeling'—and is its luminous and heartfelt climax. 'Idiot Prayer' is a prayer into the void—alone at Alexander Palace. I hope you enjoy it as much as I enjoyed making it."
Nick Cave
This unique performance gives audiences around the world the opportunity to see songs from Cave's Back catalog, as well as rare tracks that most fans will hear for the first time. The songs come from the full range of Cave's career, including the early Bad Seeds and Grinderman, to the latest album by Nick Cave & the Bad Seeds, Ghosteen.
The performance was filmed by award-winning cameraman Robbie Ryan (The Favorite, Marriage Story, American Honey) in the breathtaking West Hall of Alexandra Palace. Edited by Nick Emerson (Lady Macbeth, Emma, ​​Greta).
Tickets to stream the film online are now available worldwide:
Australia & Asia: 8pm AEST (12pm Central European Time)
UK & Europe: 8pm BST / 9pm CEST (9pm Central European Time)
North & South America: 7pm PDT / 10pm EDT (4am Central European Time)
The film will be broadcast as a live stream and will then no longer be available online!
Please note that you cannot pause, rewind or fast-forward the stream during the event.
For tickets and information on local times, please click here: https://nickcave.lnk.to/idiotprayerPR
Nick Cave & The Bad Seeds Europe Tour in Spring / Summer 2021. More information and tickets available now via www.nickcave.com