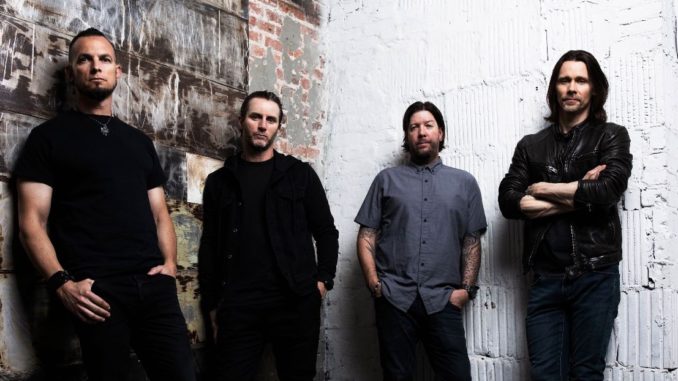 (für deutsche Version bitte runterscollen!) Band announces European headline tour with special guests Shinedown, Sevendust & The Raven Age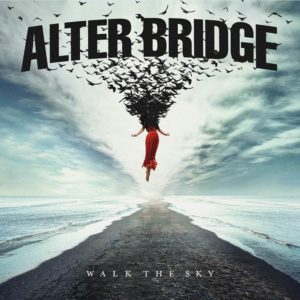 For over 15 years, ALTER BRIDGE has been a band known for blurring the line between hard rock and heavy metal. Building upon the sound that has won the band worldwide critical acclaim and a devoted global fan base, the band returns with their sixth studio album, Walk The Sky.

The album is scheduled for worldwide release on October 18th via Napalm Records. The fourteen-track opus marks a creative high point for the quartet – comprised of Myles Kennedy on vocals/guitars, Mark Tremonti on guitars/vocals, Brian Marshall on bass, and Scott Phillips on drums. Walk The Sky draws upon elements from each of the band's previous releases to create something new.
Never Done Before
Recorded in a way the band have never done before, the album was born from complete song ideas created by Kennedy and Tremonti. These songs would then be worked on by the entire band to craft the fourteen songs that would make Walk The Sky the listening experience it is. This varies from the band's previous method (going back to their second release Blackbird) where Kennedy and Tremonti would combine individual ideas and riffs alongside producer Michael "Elvis" Baskette to form some of the band's most revered songs.
Released in on Friday 28th June
From the opening vocal melody on "One Life" to the moving finale of "Dying Light," ALTER BRIDGE have created a formidable addition to their music catalogue. Songs like "Godspeed," "Native Son", and "Walking On The Sky" are sure to be early additions to the live set. "Forever Falling" also marks a lead vocal return from Tremonti with Kennedy taking the chorus as done previously on the Fortress favourite, "Waters Rising." The first single "Wouldn't You Rather" is quintessential ALTER BRIDGE and will be released in two weeks, on Friday 28th June.
The track listing for Walk The Sky is:
1) One Life
2) Wouldn't You Rather
3) In The Deep
4) Godspeed
5) Native Son
6) Take The Crown
7) Indoctrination
8) The Bitter End
9) Pay No Mind
10) Forever Falling
11) Clear Horizon
12) Walking On The Sky
13) Tear Us Apart
14) Dying Light
ALTER BRIDGE are also pleased to confirm their return to Europe for headline arena shows in November and December, accompanied by special guests SHINEDOWN (all dates), SEVENDUST (UK dates only), and THE RAVEN AGE (all dates excluding UK).
Tourdates:
Join the pre-Christmas festivities at:
12-Nov-19 DEN, Copenhagen KB Hall
14-Nov-19 FIN, Helsinki Ice Hall Black Box
16-Nov-19 SWE, Stockholm Hovet
17-Nov-19 NOR, Oslo Sentrum Scene
19-Nov-19 GER, Hamburg Sporthalle
20-Nov-19 GER, Berlin Columbiahalle
22-Nov-19 GER, Leipzig Hause Auensee
23-Nov-19 POL, Warsaw Hala Kolo
26-Nov-19 GER,Cologne Palladium
27-Nov-19 GER, Munich Zenith
29-Nov-19 AUT, Vienna Gasometer
01-Dec-19 SWI, Zurich Halle 622
02-Dec-19 ITA, Milan Mediolanum Forum
04-Dec-19 SPA, Barcelona St. Jordi Club
06-Dec-19 POR, Lisbon Sala Tejo
07-Dec-19 SPA, Madrid Vistalegre
09-Dec-19 FRA, Paris Olympia
10-Dec-19 HOL, Amsterdam AFAS Live
12-Dec-19 BEL, Brussels Cirque Royal
14-Dec-19 ENG, Nottingham Motorpoint Arena
15-Dec-19 ENG, Manchester Arena
17-Dec-19 SCO, Glasgow SSE Hydro Arena
18-Dec-19 ENG, Birmingham Arena
20-Dec-19 WAL, Cardiff Motorpoint Arena
21-Dec-19 ENG, London 02 Arena

Pre-sale tickets are available from 10am on Wednesday 19th June. Tickets then go on general sale from 10am, Friday 21st June. Buy online from www.livenation.co.uk and www.ticketmaster.co.uk. See VIP meet & greet packages and all ALTER BRIDGE tour dates at: www.alterbridge.com.

The band has recently been announced as a headliner of the sold-out 2020 sailing of Shiprocked.
ALTER BRIDGE's Mark Tremonti enthuses, "We are honoured to be returning to with our friends in SHINEDOWN, SEVENDUST, and THE RAVEN AGE this winter. See you all very soon, we couldn't be happier with the lineup and can't wait to share our new tunes with you!"
Brent Smith, SHINEDOWN frontman adds, "It is such a profound and distinct honour to be accompanying ALTER BRIDGE on tour this November and December. We have such deep respect for them and their fans. When the opportunity was presented to us, we jumped at the chance to be able to tour with our friends in A.B. So come one, come ALL to the rock n' roll event of the year, and let's celebrate…TOGETHER!"
SEVENDUST singer Lajon Witherspoon concludes, "So excited to come back to the UK and to be with our brothers in ALTER BRIDGE and SHINEDOWN. It's going to be an amazing run!"
Deutsch
Alter Bridge ist seit über 15 Jahren dafür bekannt, die Grenze zwischen Hard Rock und Heavy Metal zu verwischen. Aufbauend auf dem Sound, der die weltweite Anerkennung der Band und eine engagierte globale Fangemeinde gewonnen hat, kehrt die Band mit ihrem sechsten Studioalbum, Walk The Sky, zurück.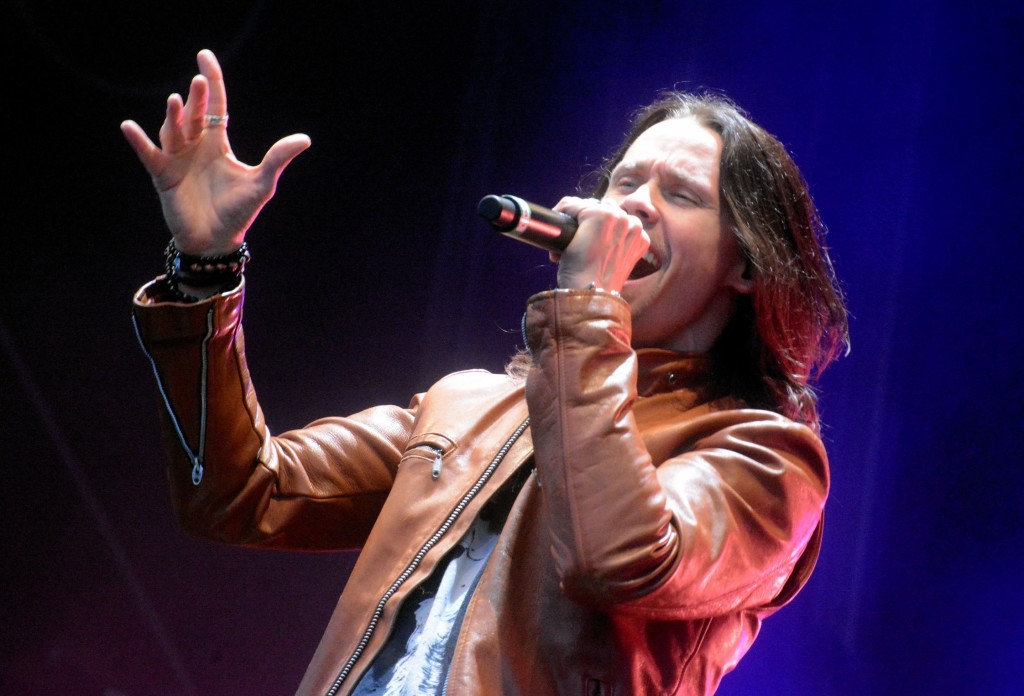 Das Album soll am 18. Oktober über Napalm Records weltweit veröffentlicht werden. Das 14-Song-starke Opus markiert einen kreativen Höhepunkt für das Quartett – bestehend aus Myles Kennedy (Gesang / Gitarre), Mark Tremonti (Gitarre / Gesang), Brian Marshall (Bass) und Scott Phillips (Schlagzeug). Walk The Sky greift auf Elemente der vorherigen Veröffentlichungen der Band zurück, um etwas Neues zu schaffen.
Das Album wurde auf eine Art und Weise aufgenommen, wie es die Band noch nie zuvor getan hat. Es wurde aus kompletten Songideen von Kennedy und Tremonti geboren. Diese Songs wurden dann von der gesamten Band bearbeitet, um die vierzehn Songs zu schaffen, die Walk The Sky zu dem Hörerlebnis machen würden, das es ist. Dies unterscheidet sich von der vorherigen Methode der Band (seit ihrer zweiten Veröffentlichung Blackbird), bei der Kennedy und Tremonti zusammen mit dem Produzenten Michael "Elvis" Baskette individuelle Ideen und Riffs kombinierten, um einige der am meisten verehrten Songs der Band zu formen.
Vom Opener "One Life" bis zum bewegenden Finale von "Dying Light" hat Alter Bridge eine beeindruckende Erweiterung ihres Musikkatalogs geschaffen. Songs wie "Godspeed", "Native Son" und "Walking On The Sky" sind sicherlich frühe Ergänzungen zum Live-Set. "Forever Falling" markiert auch eine Lead-Vocal-Rückkehr von Tremonti, bei der Kennedy den Refrain übernimmt, wie zuvor bei "Waters Rising", dem Lieblingsstück von Fortress Wochen, am Freitag, den 28. Juni.
Alter Bridge eroberte die Musikszene im Jahr 2004 mit der Veröffentlichung ihres Gold-Debüts One Day Remains. Im Jahr 2007 veröffentlichte die Band Blackbird, das Album, das das Ansehen der Band weltweit steigerte. Das epische Solo im Titeltrack "Blackbird" wurde vom Guitarist Magazine zum "Greatest Guitar Solo Of All Time" gewählt.
ABIII wurde 2010 veröffentlicht, und die Single "Isolation" bescherte der Band ihre erste Nummer 1 Single. 2013 erreichte die Band mit Fortress ein hohes kreatives Niveau und erreichte Platz 12 der Billboard Top 200. Die Platte erzielte gute Kritiken.